Published Dec 19, 2018
2018 at Full Sail: Accolades and Awards
2018 saw many members of the Full Sail community recognized by their peers with some of their industries' biggest honors, picking up nominations, awards, and accolades for their achievements.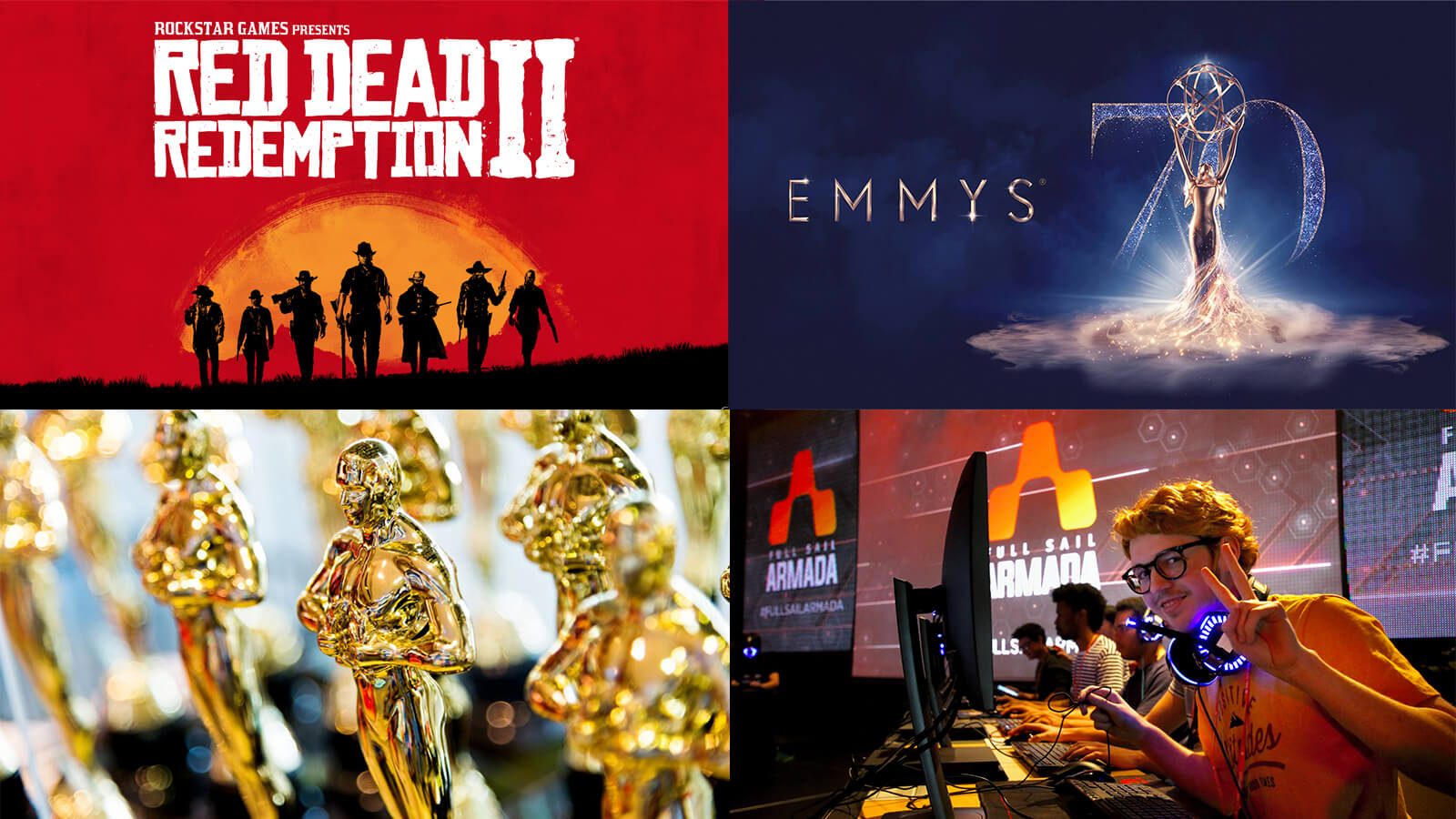 Here's a look at the accomplishments Full Sail students, grads, faculty and staff proudly celebrated in 2018:
Full Sail hit an early stride in January at the 60th Annual GRAMMY Awards – where 16 grads were credited on 10 GRAMMY-winning projects.
Full Sail's Collegiate DECA chapter competed in a three-day annual competition, where they placed first in seven events – with four first-place finishes.
In March, the 90th Annual Academy Awards saw 28 graduates credited on eight Oscar-winning films across 14 categories. Winners included Hall of Fame inductee Gary Rizzo, who secured his second Oscar for his work on Dunkirk.
The Princeton Review honored Full Sail as one of the best schools to study game design – placing us on both the "Top 50 Undergraduate Schools for Game Design" as well the "Top 25 Graduate Schools for Game Design."
80 LEVEL ranked Full Sail University as one of the "10 Best Universities for Game Development."
Full Sail University's Dan Patrick School of Sportscasting was named by Orlando mayor Buddy Dyer as one of "60 reasons to love Orlando and to be excited about our future."
Full Sail University was named one of the "Top 100 Colleges and Universities for Latinos" by Hispanic Outlook on Education magazine and ranked at the top of the magazine's list of Visual and Performing Arts Schools.
Full Sail University President Gary Jones appeared on Florida Trend magazine's "Florida 500" list that identified Florida's most influential business leaders. The list also included notable names like Derek Jeter, Jimmy Buffet, Gloria Estefan, and Jeb Bush.
Full Sail University appeared at #5 on College Magazine's "Top 10 Best Colleges for Video Game Design" list.
Animation Career Review listed Full Sail at #3 on their "Top 5 Animation Schools and Colleges in Florida – 2018 Rankings".
Animation Career Review also named Full Sail to their "Top 50 Animation Schools and Colleges U.S. – 2018 Rankings."
Over 34 Full Sail grads were credited on Emmy-winning projects across a variety of genres and titles such as Game of Thrones, The Marvelous Mrs. Maisel, and Westworld.
Full Sail grad and Marine Corps veteran Claudio Gonzalez was named one of 2018's Veterans of Influence by Orlando Business Journal.
Full Sail was once again named one of the "Top 50 Film Schools" by The Wrap.
Dozens of Full Sail grads contributed to the success of the critically acclaimed blockbuster game Red Dead Redemption 2. In total, 35 graduates had a hand in the game's development and creation.
Over 99 grads were credited on award-winning projects at 2018's The Game Awards. Winning titles featuring Full Sail grad contributions included God of War, Red Dead Redemption 2, and Fortnite.