Published Jan 02, 2023
2022 Holiday Blockbusters: Grads Credited on Multiple Hit Films and Shows
At least 80 Full Sail grads worked on some of 2022's biggest blockbusters.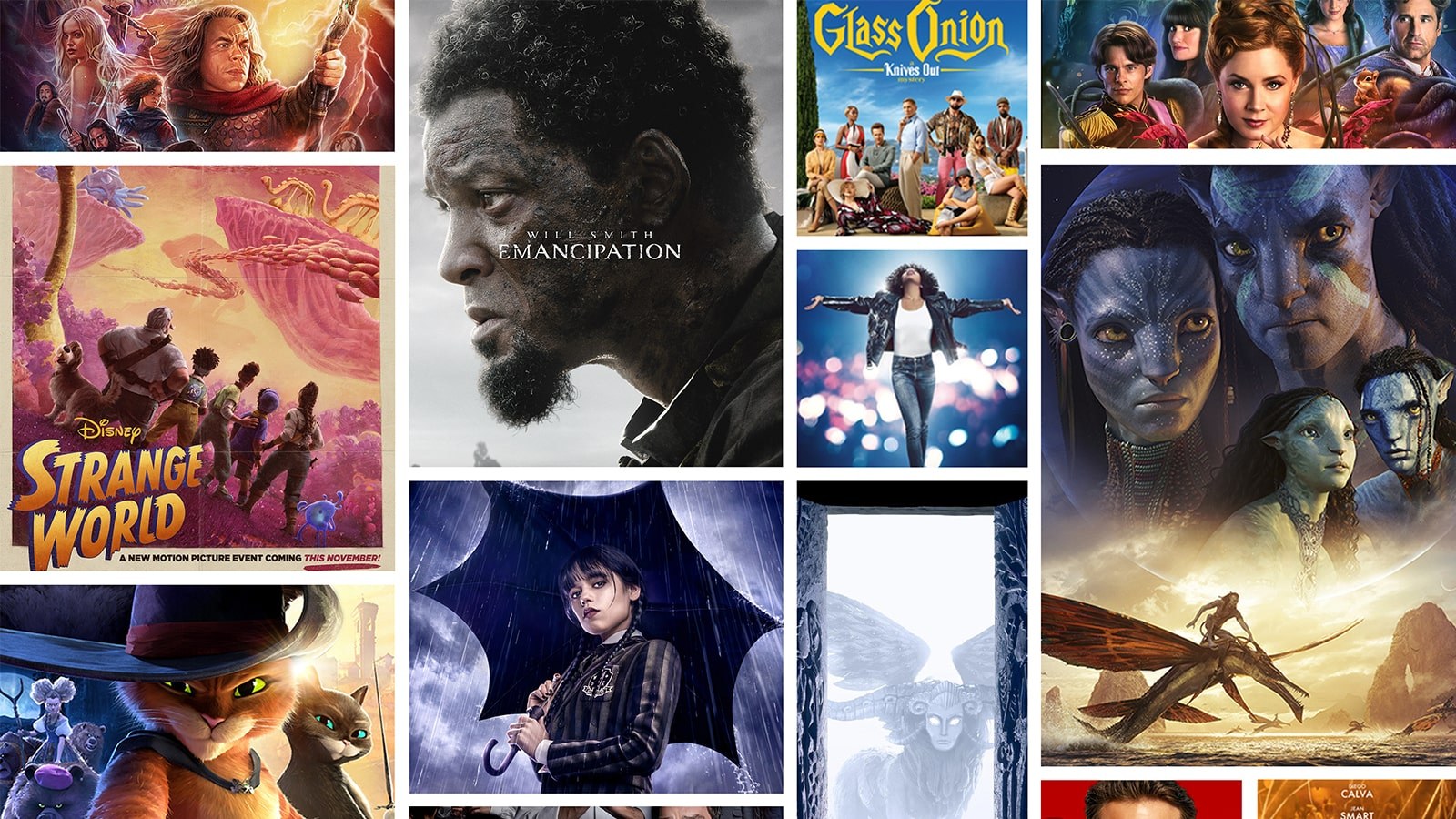 Full Sail grads helped create some of this holiday season's most successful films and television shows. Grads worked on several films that made it to the big screen, like Avatar: The Way of Water and The Menu. But small screen successes like Wednesday and Pinocchio made equally large waves, thanks to several Film, Recording Arts, and Computer Animation grads.
Cinematic Hits
At least 20 grads were credited on the much-awaited sequel Avatar: The Way of Water, bringing Pandora and all its fantastical creatures to life. Film bachelor's grad Nicklas Puetz was the Character Technical Director for Disney's new animated comedy and adventure film Strange World and executed the integral role of animating the adventurous Clades family. Puss in Boots has made a name for himself outside the Shrek universe with his latest film Puss in Boots: The Last Wish starring Antonio Banderas and Salma Hayek; Computer Animation grads Joe Hughes (Character Effects Artist) and Lyndsey K. Horton (Character Rigger) both helped develop the iconic Puss in Boots characters.
Grads also helped pull heartstrings in theaters across the country for the emotional films Empire of Light, Babylon, The Whale, The Menu, and the Whitney Houston biopic I Wanna Dance with Somebody. Michael Ritter was Empire of Light's Supervising Digital Cinema Producer and helped keep the production running smoothly, while Paola Serrano transported Margot Robbie, Brad Pitt, and Tobey Maguire into the 1920s as an Additional Costumer. Computer Animation grad Nha Hoan Le helped oversee the production of the thrilling Christmas action film Violent Night as the Visual Effects Global Tracking Supervisor.
Streaming Successes
Recording Arts and Computer Animation grads took part in creating the supernatural and aesthetically evocative worlds featured in Netflix's Wednesday, directed by Tim Burton, and Pinocchio, directed by Guillermo del Toro. Viewers were left on the edge of their seats while watching the dramatic season five of The Crown and the hit murder-mystery film Glass Onion: A Knives Out Mystery. While The Crown tells the story of a royal family blessed with seemingly unlimited generational wealth, Recording Arts grad Emma Fuller oversaw making sure the series' production adhered to its strict budget as First Assistant Accountant and Production Accountant.
Disney+'s Disenchanted whisked viewers into fairytale-like landscapes featuring princesses, dragons, and magic, and Computer Animation grad Marvin Yanez helped bring the spectacularly magical scenes in Disenchanted to life as a Visualization Artist.
At least 11 grads took part in creating Apple TV+'s emotional historical drama Emancipation, which follows Peter, a slave fleeing tyrannical enslavement in the 1860s, and Recording Arts grad Nick Searman helped the audio come to life as Foley Supervisor for Apple TV+'s Spirited, starring Will Ferrell and Ryan Reynolds.