Published Jan 05, 2016
Andrew Bongardt: On the Road with Clair Global
Andrew has found himself working in a variety of roles for artists such as Sir Paul McCartney, Miley Cyrus, Demi Lovato, and AC/DC.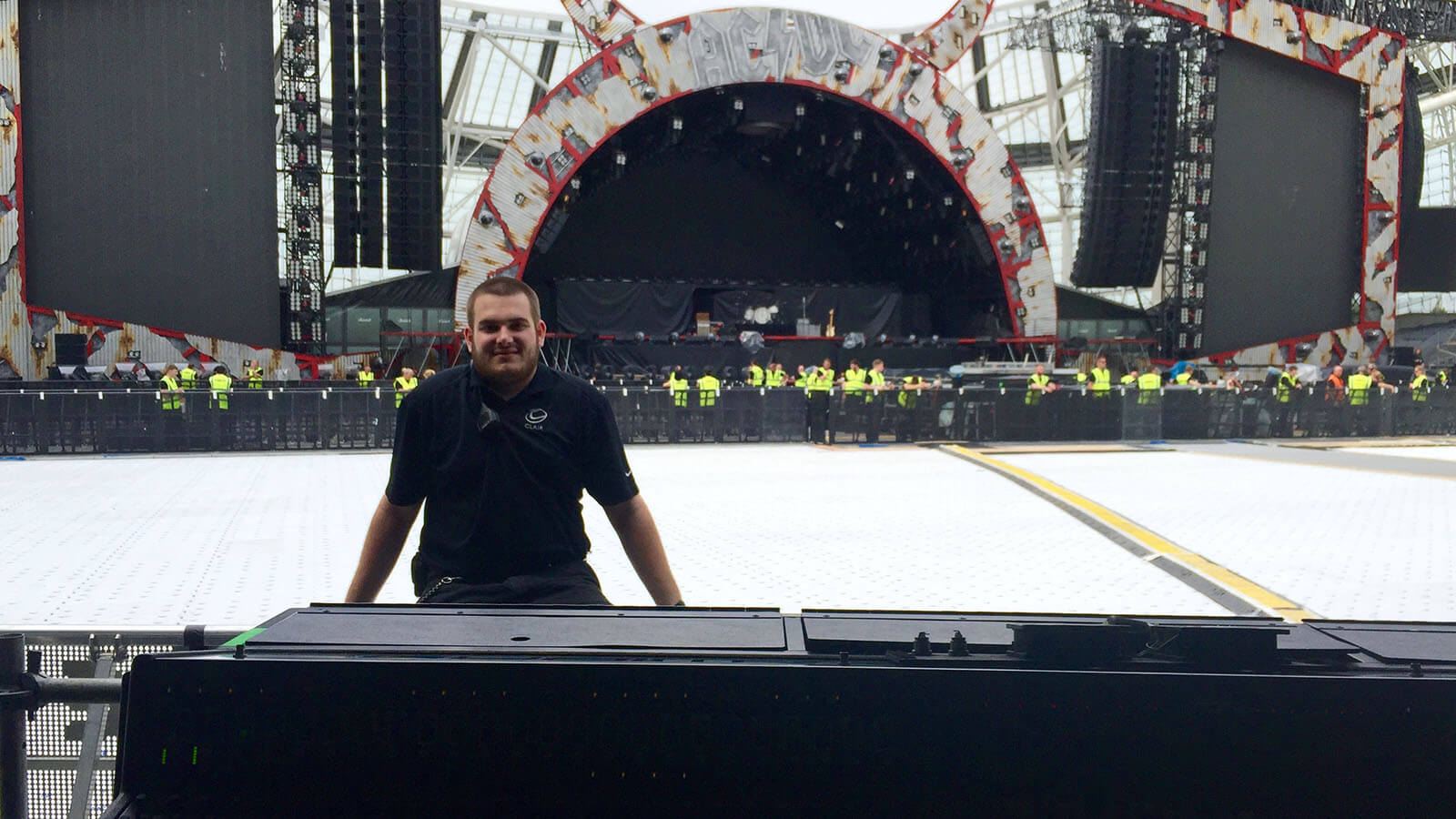 Only a couple years have passed since Andrew Bongardt graduated from Full Sail University's Show Production program, but it's been such a whirlwind of world travel since then that school can feel like a distant memory. As a Touring Audio Technician for large-scale tour and show production company Clair Global, Andrew has found himself working in a variety of roles – including PA tech and monitor system tech/engineer – for artists such as Sir Paul McCartney, Miley Cyrus, Demi Lovato, and AC/DC.
Andrew has had a desire to work behind the scenes in production since he was a child. After a string of local/regional production experiences during his high school years, he enrolled in Full Sail University's Show Production program. It was there that he learned more about large-scale touring production companies; Clair Global in particular stood out, not just because of the company's history in hiring so many Full Sail graduates, but also because of its all-star client roster list and world class sound reinforcement systems.
And although he made it one of his primary goals to work for Clair after graduation, he was still pleasantly surprised and excited to get hired by the company three weeks before he actually graduated from Full Sail. Just a few weeks after graduating and starting at Clair headquarters in Lititz, Pennsylvania, Andrew was on his first national run with boy band Big Time Rush on their Summer Break Tour with Victoria Justice – and fully immersed in the culture of both Clair Global as well as the world of touring in general.
"I've worked for Clair for about two-and-a-half years now, and I still love it. Everyone who works here is very like-minded, which is incredibly helpful when you're on the road. It doesn't matter who you have out there – you know they're going to go through the same troubleshooting steps, even down to the fact that they're going to hang the PA the same way," he says. "I've been asked to come out and replace people on tour, whether due to injury or family emergencies, and was able to fit right in to the tour. Knowing that anybody in your company can step in and cover for you is amazing. And the sheer resources we're able to bring to our clients is great. It helps us get our job done efficiently and continue to make our clients happy, which is always the number one goal."
Keeping the client happy and ensuring that operations run smoothly can be a challenge for any job; especially when the client is an iconic performer like Sir Paul McCartney or AC/DC and the operation entails a full-blown stadium tour, things can get really tricky.
"Sir Paul McCartney's 'Out There' tour was my first stadium tour. It was also my first time dealing with a really big production and PA system. I had done similar setups before in smaller venues, but this was the first time that I needed to do three huge hangs and a 50 plus foot cable bridge by myself, with local stagehands help of course," he says. "But working with the group of people on that tour – most of whom have been there for years – was amazing, and definitely felt like a family experience. Sir Paul McCartney is an amazing person, too; someone who will come out in the middle of a load-in and shake your hand and say hi while you are working on getting the rig up."
The size and scope of the McCartney tour definitely helped prepare Andrew for his current gig on AC/DC's massive Rock or Bust stadium world tour, which will take up the majority of 2015 and beyond while taking the crew across the globe. The tour features four PA speaker hangs, each roughly 36 feet tall and weighing about 7.5 tons. Between crew, production, local labor, drivers, and the band, each show is driven by the contributions of over 300 people.
"It's one of those tours where you have an extremely large number of very experienced people – many of whom are actually over-qualified for their positions, but they have toured with AC/DC in the past and wanted to return to the family atmosphere that we have here," Andrew says. "Everyone knows one another, and you have people with so much knowledge who are willing to answer questions and share their experiences. It's a constant learning environment where you learn something new every day."
Being open to constantly learn new approaches and techniques has been a driving force in Andrew's career, even during his time at Full Sail. In addition to absorbing concepts and lessons in his Live Labs in the Show Production curriculum, he also played an active role in many opportunities hosted on-campus during his time as a student, including WWE NXT events and Full Sail Live Venue concerts like Christina Perri, Mark Broussard, and Matt Kearney.
"Everyone in Show Production should be taking advantage of using those outside events to get more knowledge of how things in the industry work. Getting involved in those environments, even just the Live Labs in class, can be daunting, but as soon as you get out of school, your system can be 10 times the size of what you used in Full Sail, and you've got to get the job done in half the time," Andrew says. "But if you're able to troubleshoot, you become such a valuable asset to any tour. Life on the road can be stressful, but at the end of the day when you see the crowd having fun and the band is on stage killing it, all of the stress goes away. I have always found a lot of joy in doing what I do."