Published Jun 17, 2016
Faculty Member Selected to Participate in the Inaugural 'Launch Pad' Diversity Initiative by Oculus
Robin Koman, Department Chair of the Game Design master's program, was one of those chosen for this experience.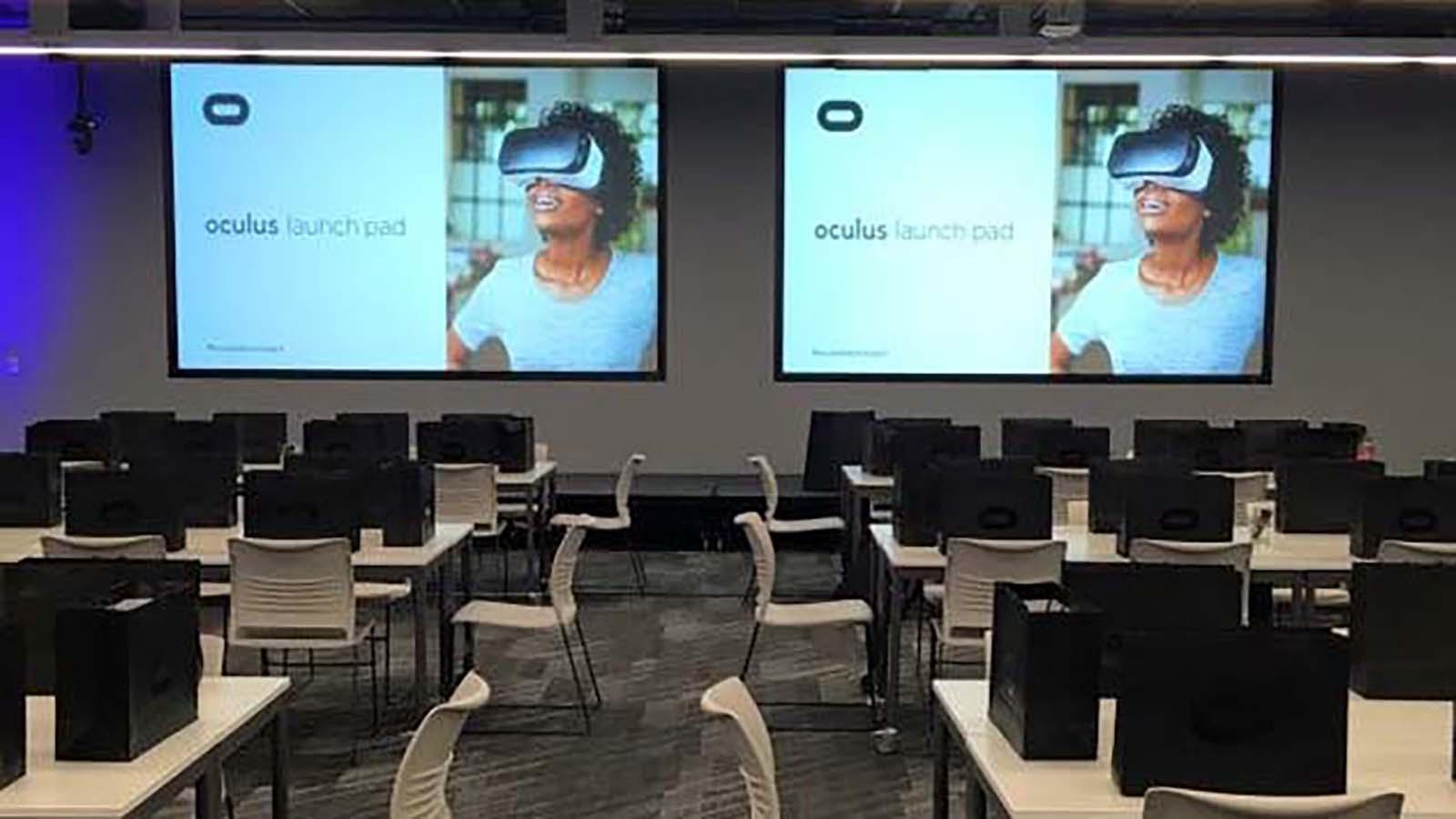 Earlier this year, Oculus announced Launch Pad: a first-of-its-kind diversity initiative designed to bring a varied audience of creators into the virtual reality space. Oculus was searching for applicants with experience in production, programming, design, or filmmaking, and who also identified as part of a minority group; someone of diverse ethnicity, age, sexual orientation, or gender identity. This inaugural event brought 100 people from around the country for a one-day boot camp at Facebook Headquarters, and equipped them with tools to create their own virtual reality experiences.
Robin Koman, Department Chair of the Game Design master's program, was one of those chosen for this experience. The event itself was a blend of networking and seminars, covering everything from storytelling in VR, to game development, cinematography, and how to combat simulation sickness.
Attendees had the chance to work with and learn from powerful figures in VR including Yelena Rachitsky, Creative Producer and Head of Education at Oculus Story Studio, Anna Sweet, Head of Oculus Developer Relations, Carl Callewaert, Director of Evangelism at Unity, and cinematographer Barry Pousman, amongst many other knowledgeable figures. The evening ended with a Q&A session with Palmer Luckey, creator of the Oculus.
"Virtual reality has a long history, with its last heyday between the late 80's and early 90's. During that time, VR tools included headsets and arcade installations and though many thought the technology was great, VR didn't gain traction with a broad audience. Like many products with a niche audience, VR faded and became labeled a fad," said Robin.
"With the reappearance of VR, Oculus has made it a mission to forge this new medium with diversity at its core. It was a message given from the beginning of the event, and one that continues to reverberate amongst this inaugural group and our new mentors: if we work to build diversity in VR now, VR will be a more diverse space in its longevity. This diversity in VR developers is critical if the VR products being created and marketed are going to have a hope of reaching a broader audience base. Without that diverse audience base, we risk repeating history, with VR relegated to fad status."
There are a multitude of low and no-cost tools available for someone who is looking to break into the VR world, such as Google Cardboard, Gear VR, Unity's VR tools, and Valve's Destinations.
While there is sometimes the misconception that working in VR means you have to be a programmer, it's important to know that storytelling, filmmaking, animation, and games are just a few other avenues to explore. For any aspiring VR creator, there are many trails to be blazed, and techniques to be refined. The best news of all is that everyone is welcome to be a part of this new, growing medium.