Published Aug 16, 2022
Faculty Spotlight: Dave Dean (Department Chair, Show Production)
Thanks to his decades of touring experience, Dave Dean's live audio production students get a behind-the-scenes look at what it takes to succeed in the industry.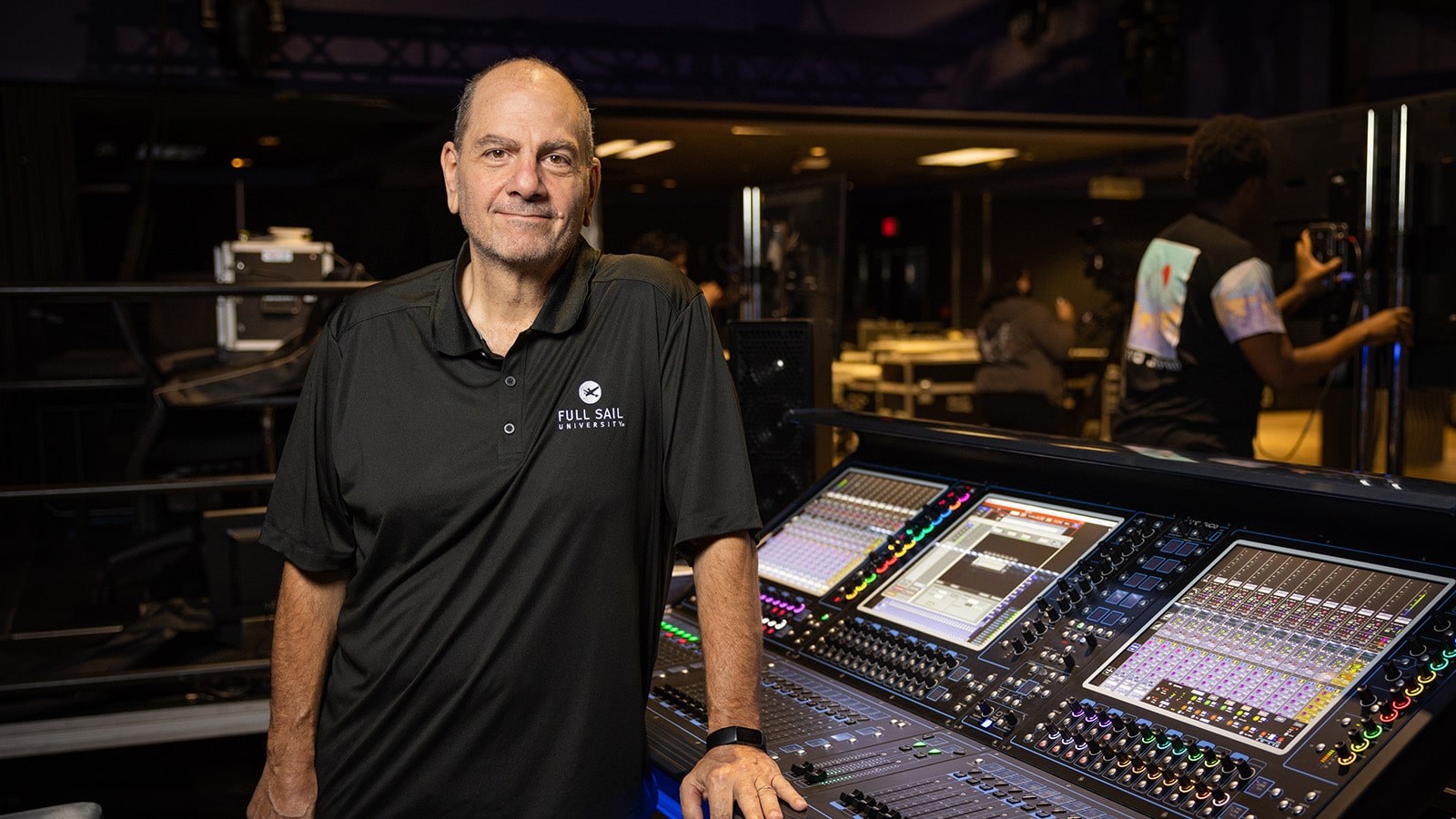 Dave Dean was touring with KC and the Sunshine Band in Singapore when he got a Facebook message from one of his former students. The grad had a curious question: What hotel was Dave staying in?
"It turned out we were in the same hotel in Singapore. He was touring with Halsey, and I was touring with KC. We were on the other side of the world [from Full Sail]," he says.
Dave's had plenty of time to rack up stories about running into students during his freelance gigs. He's been teaching at Full Sail for 27 years, and he's worked as a freelance audio production professional for more than 35 years. As the Show Production department chair and instructor for Live Production Management and Advanced Show Production, he draws on those decades of experience to teach students how to balance their technical skills and gear knowledge with the cultural demands of the live audio production industry.
Dave got started in audio production when he took specialized courses at Full Sail in 1989. He worked in music studios after he graduated, but he fell in love with live production after he worked at a Latin music event in Miami. Dave had a lot to learn as he shifted from studios to stages, but a few years of experience with small local companies sharpened his live audio skills. He wound up working as a front of house engineer for hip-hop artists like Notorious B.I.G. and Wu-Tang Clan, then spent 20 years touring with legacy acts including KC and the Sunshine Band and George Clinton and the P-Funk All-Stars. He kept going on the road when he started working at Full Sail in 1994.
"I would typically go out on a Friday afternoon after lecture, catch a plane, and I can remember a few times literally coming straight from the airport in to do a lecture," Dave remembers. His determination to continue gigging as he was teaching gave his students real-time stories about what it was like to work in the industry.
"It's definitely a lifestyle; it's beyond a job," Dave says. "I try to put that flavor into my lectures and I use the thousands of pictures I've taken over the years on gigs as case studies so that the students get a good sense of the culture they're going into."
Dave tries to make sure that his students understand the importance of staying professional and positive under trying conditions. Outdoor gigs can mean working in challenging weather, traveling on buses turns your teammates into roommates, and long days come with the territory. Common sense traits, like being on time, become difficult when you're on the road — and you're in danger of getting oil spotted if you don't keep your professional standards high.
"The last thing a production manager wants to do is get security to open your hotel room because you can't wake up [at a stop on a tour]. And we call that getting oil spotted, when the band and production crew leaves you in the hotel with a note at the front desk saying, 'Good luck finding a flight.' When you see that oil spot [in the now-empty spot where the crew transport was waiting for you], when you come out late, that's what you lose a gig over. Not, 'Oh, I didn't EQ the drums exactly correctly.' That's less likely to get you fired then one of these other important things," Dave explains.
Those real-world examples of life on tour have helped countless students find jobs after graduation. Dave taught Recording Arts grad James McDermott and mentored him during an early job at a high school battle of the bands contest. James went from being afraid to turn up the PA during that contest to winning touring awards from the Country Music Association for his front of house work at Dierks Bentley's concerts. Dave also taught Full Sail Hall of Famer Justin Rathbun during the early days of the Show Production program. Today, Justin has worked as an A1 and Production Sound Engineer for multiple Tony Award-winning Broadway musicals, including Hamilton.
In addition to learning from Dave's war stories, his students get to see him in action and benefit from his mentorship during Songs of the Season. The Full Sail and Rollins College-sponsored holiday concert takes place at Dr. Phillips Center in downtown Orlando every year. Show Production students working the concert get to see how Dave and other faculty members tackle logistics, gear setup, lighting, monitors, and mixing with a 100-person choir and a full hybrid orchestra. The technical experience they gain from the event is essential, but Dave always reminds his students that they won't get to work many events like it without the professional demeanor he's talked about in the classroom.
"You could be the best engineer on the planet. You could be Mixacles, God of Sound. But if nobody wants to be around you because you don't have good people skills, you're not going to get many gigs."