Published Jul 22, 2022
Full Sail Grads Credited on 2022's Summer Blockbusters
Big releases like Top Gun: Maverick and Stranger Things 4 had multiple Full Sail alumni in their credits.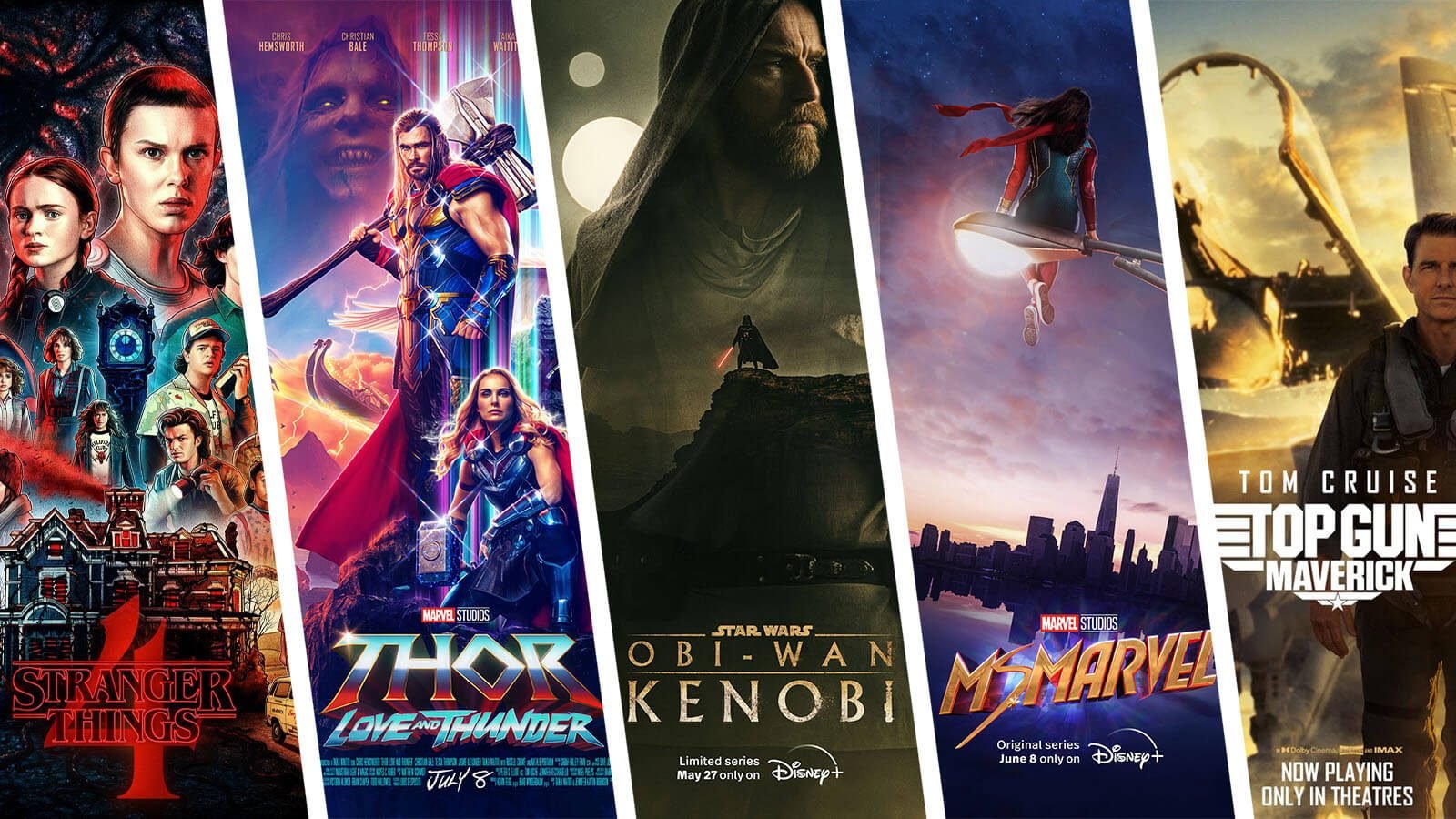 This year was a big summer for film and television buffs. Record-breaking movies like Top Gun: Maverick and streaming hits like Stranger Things 4 brought incredible visuals, perfectly pitched sound, and unforgettable stories to viewers around the world. Hundreds of Full Sail graduates were hard at work on this summer's largest productions.
Mega-Hit Movies
Top Gun: Maverick took theaters by storm this summer: The movie has already made more than $1 billion worldwide, making it the highest grossing film of 2022 and one of the all-time highest grossing Paramount releases. Fifteen Full Sail grads worked in pre-production, on set, and in post-production to help create the all-star sequel. Computer Animation grad Pravin Mahtani worked as a Lead Digital Artist; additional Computer Animation alumni Austin Judovsky, Mario Mediavilla, Amr Sharaki, and Steven Wade were also Digital Artists. Recording Arts grad Chuck Choi helped with the film's sound design as a Synth Programmer, while Film grads Jesse Crusing and Eric Felland got the movie's lighting just right as Set Lighting Technicians.
The Marvel cinematic universe grew this summer with Thor: Love and Thunder. Eight grads helped build Thor's latest adventure. Film grad Joshua Dobkin held a large role as the movie's Art Director. Computer Animation grad Harold Novella was a Senior Modeler/Texture Artist. Even more Computer Animation grads worked in senior roles: Philip Rosado was a Senior Layout Artist on the film, while Andrew Zink worked as a Visual Effects Supervisor.
America's spunky yellow sidekicks returned to the screen in Minions: The Rise of Gru. Film grad Brett Hoffman helped bring the story to theaters as an Executive Producer. Recording Arts grads Jeff King and Derek McGinley worked on the film's audio as Assistant Re-recording Mixers.
Additional graduates appeared in the credits of Lightyear and Jurassic World: Dominion, among other films.
Must-See Streaming Series
Netflix's long-awaited Stranger Things 4 was the series' most ambitious entry to date. This season's $270 million production budget ($100 million more than Top Gun: Maverick) gave viewers sprawling settings from Russia to California to Hawkins to the Upside Down, plus a new supervillain. Nineteen Full Sail grads got to work on the blockbuster-level show. Film alum Matthew Thiemann worked on set as a Chief Lighting Technician, while additional Film grads Jake Simmons and Britt Mock were both Grips. Recording Arts grad Michael P. Clark put his mixing skills to work as a Production Sound Mixer. Game Art grad Aundray Morris was one of the film's Digital Artists, and Digital Media grad Marion Spates was an Additional Visual Effects Supervisor.
Marvel fans got another superhero tale with Disney+ series Ms. Marvel. Eighteen grads helped tell the story of Kamala Khan gaining her powers. Computer Animation grad Kendall Darian Copeland was one of the series' Layout Artists; fellow Computer Animation grad Nha Hoan Le was a Tracking/Matchmoving Supervisor. Digital Arts & Design grad Andersyn West was an Art Assistant, and Film and Entertainment Business grad Matthew Austin Murray helped wow audiences with his work in Stunts.
Grads also contributed to popular shows like Obi-Wan Kenobi, season three of The Umbrella Academy, and more.