Published Nov 10, 2020
Full Sail Grads Discuss the Importance of Internships and Entry-Level Roles in the Tech Industry
Game Development and Simulation & Visualization grads share tips and tricks about finding those crucial first, post-graduation positions.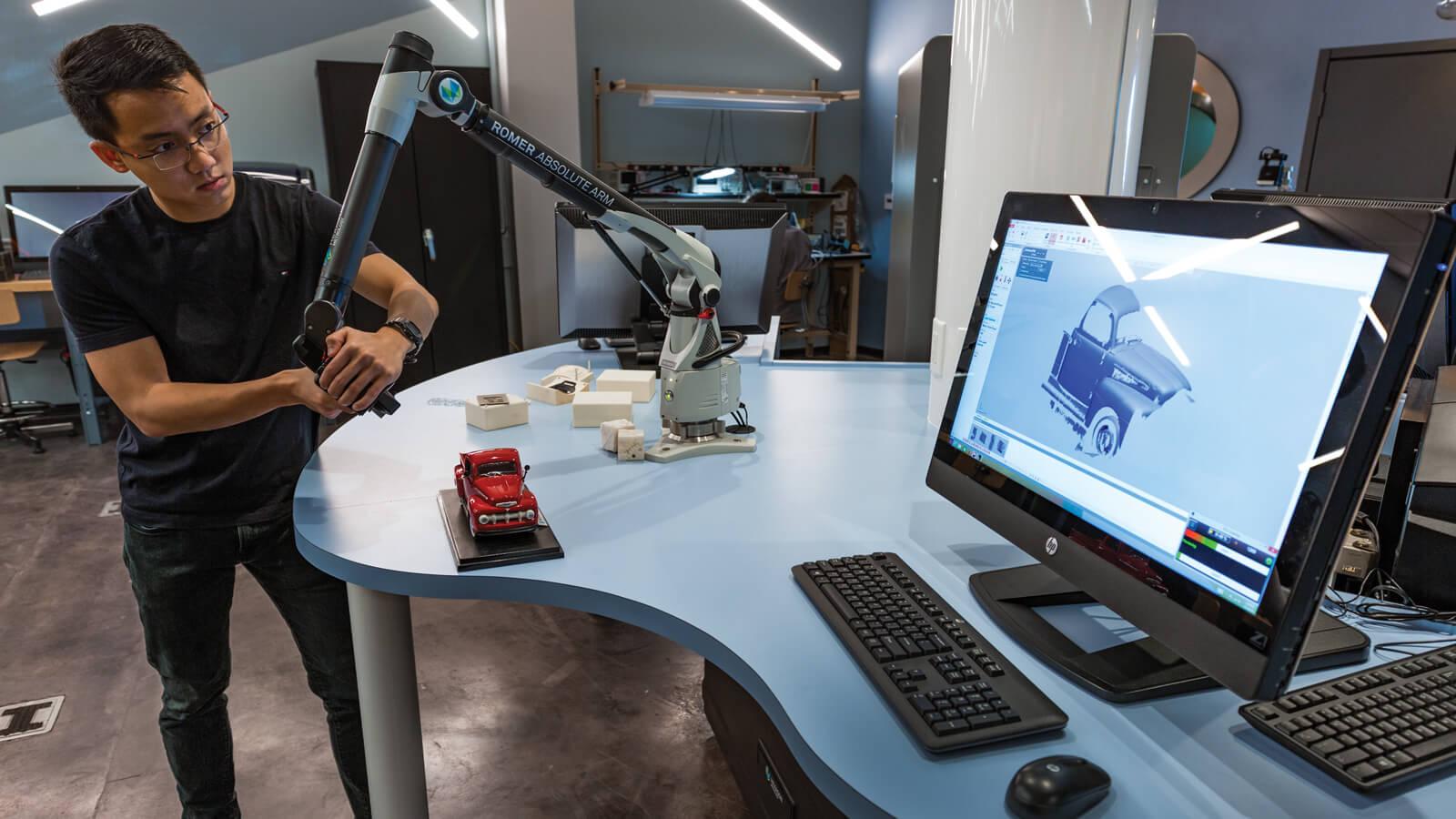 Thousands of college students hunt for jobs in technology after graduation, but navigating the industry without insider know-how can feel intimidating. Starting off on the right foot will smooth the bumpy road into the tech world, and these Full Sail grads have tips and tricks on how to handle your first foray into tech after college.
Make Connections
Expressing interest to industry pros was crucial for Ted DiNola (Game Development, 2010) and Ashley Bennett (Game Development, 2006). Ted was fascinated by a game he was playing called Sword of the Stars, so he reached out online to the game's creator and asked if the studio, Kerberos Productions, needed any interns. The answer was yes, and Ted spent the next three months in Vancouver helping with the game's expansion pack.
"My internship was phenomenal for really grounding me and getting me excited to work in games professionally," Ted says. His time working on the expansion pack laid some of the groundwork for his current position as a Developer Relations Engineer at Oculus VR.
Ashley also made the effort to reach out to a game developer online. Towards the end of his time at Full Sail, he registered to attend the Game Developer's Conference (GDC) in San Jose, CA. He researched the attendees before the conference, became interested in Electronic Arts Online, and wrote to one of their employees.
"I just kind of reached out, [saying] 'I see you do this, what does that mean?' Just getting the conversation started… he explained what he was looking for and asked if I would like to have a chat while I was there," Ashley says. That chat kicked off an interview process, and Ashley accepted a full-time job with EA before his Full Sail graduation date. Today, Ashley is a Technical Program Manager at Facebook.
Cultivate Campus Relationships
Finding new connections is one way to get your foot in the tech industry door, but cultivating relationships within the Full Sail community can be just as effective. Jonathan Ramos (Simulation & Visualization, 2017) is currently a software engineer at Engineering and Computer Simulations, but he says that Full Sail Course Director Pat Starace helped him land his first post-graduation job as a junior software engineer at Leidos. During his time at Leidos, Jonathan learned workflow basics that set him up for success.
"For example, there's a different software to keep track of tasks, what you have to do and how you want to do it," says Jonathan. "Different ways of testing software and implementing your changes and the way you get approval for being able to work on different stuff. That's really pretty standard in the industry."
Prepare to Push Yourself
All three of these Full Sail alums say that new grads should be ready to hit the ground running at their first industry job or internship. Ted DiNola worked on every step of the game design process at Kerberos Productions, helping out with scripting, design, debugging, and more. Ashley Bennett quickly fixed more bugs than anyone else on his engineering team at EA, and Jonathan Ramos was kicked out of his comfort zone and had to find solutions to problems he'd never encountered before.
Look for Active Roles
It's tough to know exactly what you'll be doing before you arrive at your first post-college gig, but there are a few ways to tell which internships will keep you the busiest.
"At large companies, internships tend to be more of a pre-hire, like, 'We're going to see what you think about the company, and how you like it, give you some small token work,'" says Ted. "At smaller studios, because they have fewer people, if you're an intern, you tend to be the person that [takes on] anything that nobody else has time to do."
Grads can also pursue internships that have well-known expectations and tasks. "At Facebook's internships, you get given real work," Ashely shares. "You have a real problem to go solve and some direction, but then it's on you to go do it."