Published Oct 18, 2021
Full Sail Grads Work Behind the Scenes During the 2021 Tokyo Olympics
Grads from the Entertainment Business and Show Production programs interviewed Olympians, brought clarity to live audio, and tackled technical issues for the summer games.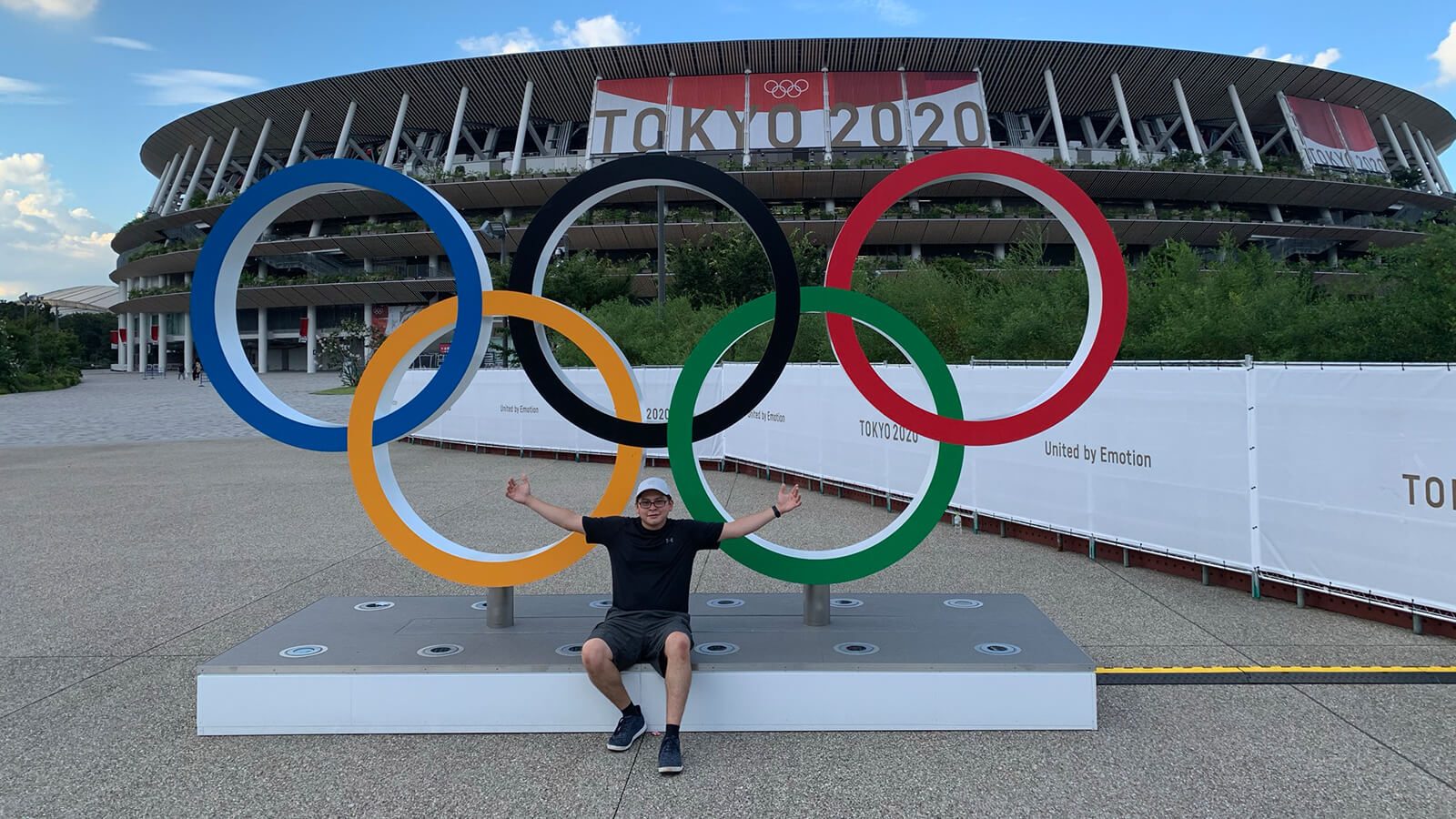 The Olympics is one of the most complex live events in the world, and it takes thousands of people to bring the games to viewers across the globe. Full Sail grads Ambre Moton (Entertainment Business master's), Niraj Patel (Show Production), and Andrew Molina (Show Production, Entertainment Business bachelor's) worked on every step of the Olympics production process, from shooting creative content before the games to providing technical support until the end of the closing ceremonies.
Ambre Moton — Creative Services Manager, NBC Northwest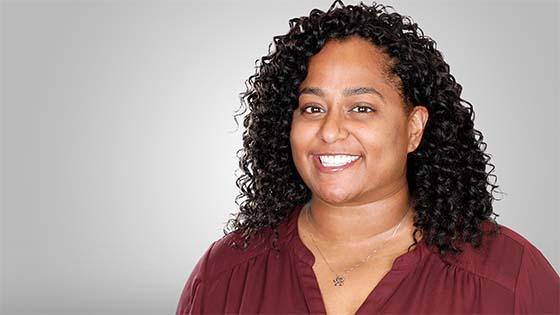 Entertainment Business grad Ambre Moton
Ambre Moton started behind-the-scenes work on the Olympics long before the opening ceremonies: As the Creative Services Manager for NBC Northwest, she helped audience members in the Pacific Northwest gear up for the 2020 games by preparing web and television content.
Ambre is in charge of a team of editors, producers, and graphic designers who create all of the promos, commercials, and marketing materials for the regional sports network. For the Tokyo Olympics, she helped create video interviews with current and former local Olympians and Paralympians that ran before and during the games.
"I worked with a producer and editor on my team to come up with questions and conduct the interviews, and had our shooters record specialty b-roll footage of equipment, photos, and the Olympians' medals," she explains.
Ambre also made some animated explainers within the first few days of the games. She used part of her interview with Mariel Zagunis, a two-time Olympic champion in sabre fencing, to make a fencing explainer video. "After the designer said she wanted to animate explainers, I figured who better to explain fencing than the most decorated US fencer?" she says.
The biggest challenge that Ambre and her team faced was navigating Olympic rules about using Olympians in different types of content. "There were a lot of people who needed to sign off on [our content] prior to running it both online and on television… Everyone seems to interpret [those rules] differently, so that was another hurdle to jump through," Ambre says.
Luckily, Ambre and her team completed most of their projects and handled those content requirements before the Olympics began, so she was able to relax and enjoy the events from home.
Niraj Patel — Broadcast Communications Engineer, NBC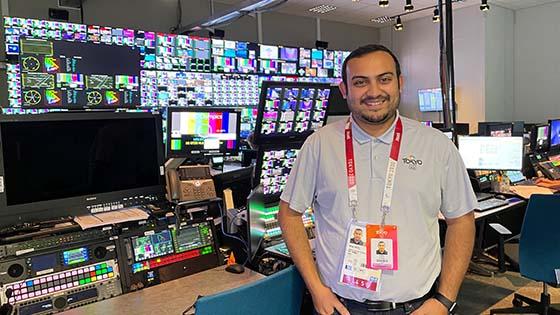 Show Production grad Niraj Patel
Clear communication is essential for any successful event, and keeping dozens of production teams in sync was more challenging than ever during the 2020 games. The COVID-19 pandemic presented Niraj Patel, a Broadcast Communications Engineer, with unprecedented production challenges. In addition to working 12-hour shifts to meet NBC's 24-hour coverage needs for a show that was taking place 13 time zones ahead of the US East Coast, Niraj had to work with newly designed technological setups.
"The Olympics were designed from a technical engineering setup like no other for the NBC Olympics [production] teams. Many teams were deployed all around the world and back in the US, so having those productions feel like they were in Tokyo was key for all departments and teams. Every day was a fluid situation and we had to be ready for ever-changing production requirements to help bring the show to life," says Niraj.
Niraj's technical engineering team facilitated all communications pathways for technical and production personnel in Tokyo, the United States, and globally for NBC Olympics. The team started off by integrating communications systems into the equipment at the International Broadcast Center's NBC facility in Tokyo, then they programmed and commissioned all of the equipment and resources needed for various Olympics productions. Niraj and his team saw the results of their hard work during rehearsals and show times, when they would conduct daily check-ins from inside the Broadcast Operations Center before any Olympics show went live on air.
Niraj had to know his equipment inside and out to keep all of those systems up and running. He worked with intercom frames, user key panels, Dante digital and analog interfaces, audio routers, phone systems, virtual digital intercom devices, and interfaces for remote setups throughout the games. But all of that hard work and technical knowledge paid off: Niraj will be joining the NBC Olympics Engineering team for the 2022 Winter Olympics in Beijing.
Andrew Molina — Audio Engineer, Olympic Broadcasting Services
Andrew Molina got an up-close view of the games as an Audio Engineer for Olympic Broadcasting Services, a company that produces the world feed broadcast for every Olympic sport and sells the feeds to other broadcasters and major rights holders (like NBC Sports) from around the world. Andrew and other engineers acted as the hands and feet of the Senior Audio Manager during the Olympics, dealing with audio issues across multiple venues.
Before the games began, Andrew and the other audio engineers were divided up and assigned to different venues. They supported each venue's production crew during setup, dress rehearsals, and technical rehearsals. Andrew helped fix any technical audio issues that the production crews encountered; he used equipment like his Qbox, XLR Sniffer/Sender, headphones, MM1 Line Amp, and a screwdriver set to fix audio snags. He also dealt with non-technical issues like finding bilingual crew members who could help with language barriers.
Staying in touch with his team members was crucial during the games. "Communication was our number one tool," Andrew says. "We constantly used Microsoft Teams, email, and phone calls to resolve any issues or challenges. Our phones and computers were key to helping us communicate effectively."
Andrew averaged 12-hour days during the Tokyo Olympics, but he was used to the schedule: Andrew has worked every Olympics since 2012. He's back in the US for now, but he will most likely be traveling to China next year for the 2022 Winter Olympics in Beijing.
Full Sail is proud of the grads who brought the 2021 Tokyo Olympics to life, and we're excited to see how they contribute to the games in 2022 and beyond.