Published Sep 07, 2016
Full Sail Launches Two New Labs For Emerging Technology
The new VR/AR Lab and Full Sail FabLab embody Full Sail's commitment to embracing innovation.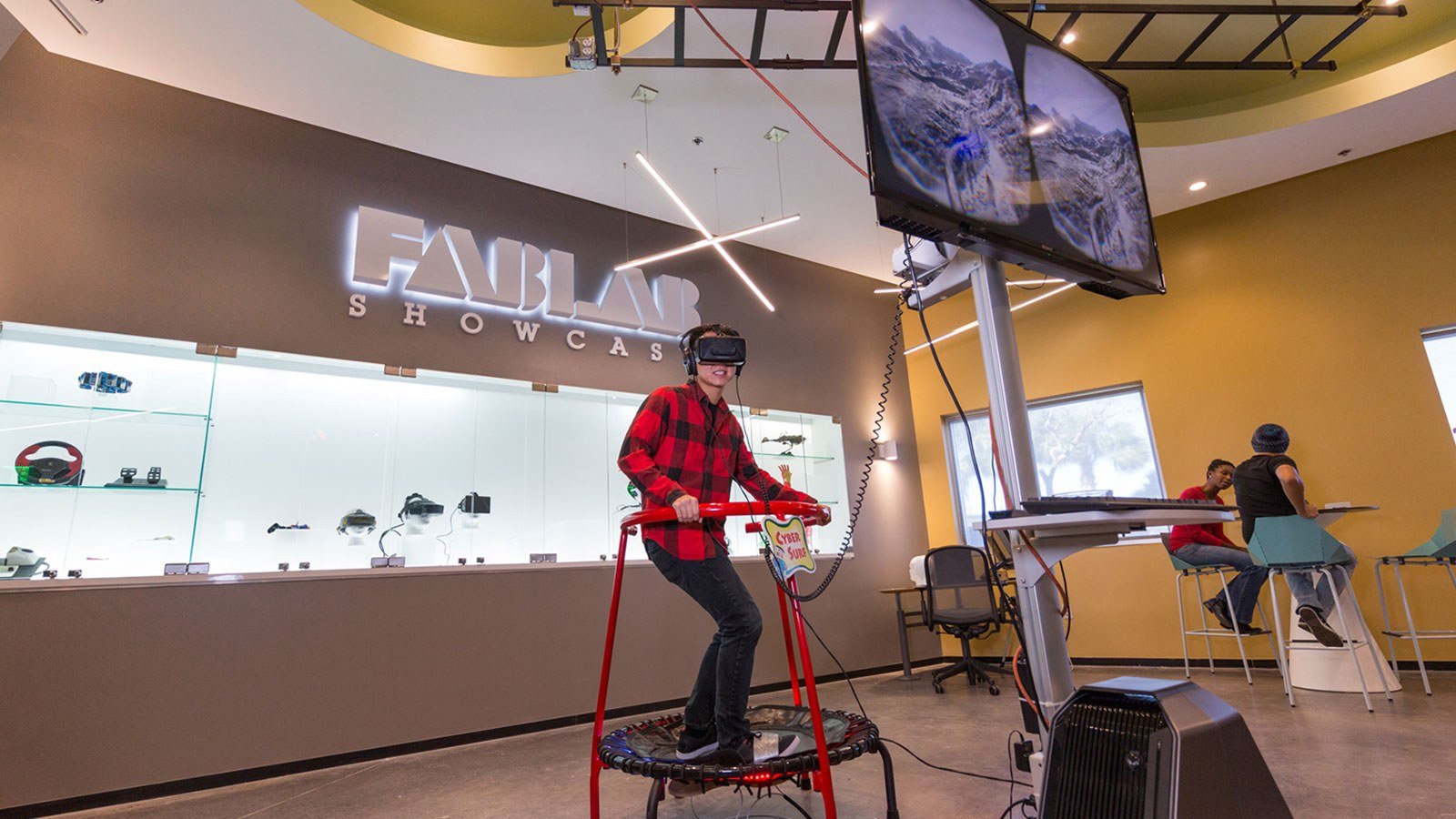 Earlier last month, Full Sail faculty, staff, students, and grads came together to celebrate the opening of two new campus spaces: the VR/AR Lab and the Full Sail FabLab. The opening of the labs marks nearly two years since Full Sail launched its Simulation & Visualization degree program, which combines software and hardware development into one cohesive track focused on emerging technologies.
The event also marked a personal milestone for Rob Catto, Director of Game Studies & Simulation.
"For me, this has been a 20-year journey," said Rob. "I came to work at Full Sail nearly two decades ago because I was interested in virtual reality, but the technology hadn't caught up to the concepts yet. Now, the technology is here and only getting better. We've come full circle."
Speaking to guests during the dedication ceremony, Full Sail President Garry Jones acknowledged the importance of embracing new technologies, both in traditional media industries and beyond.
"Today is a representation of how our industry is changing," he said. "Emerging technologies are important to every industry in existence, not just entertainment and media. By initiating and launching these labs today, we're are bettering the chances of our students to [work] in any number of creative fields."
Hall of Fame inductees Elbert Perez, Joey Morelli, and Jameson Durall joined Garry and friends in the ceremonial ribbon cutting. The event was particularly meaningful for Elbert, who worked as a Senior Software Engineer for the HTC Vive, one of a handful of virtual reality headsets featured in the VR/AR Lab.
"I'm excited to see what the students create using this product I helped to develop," said Elbert. "I imagine they'll think of something I never imagined myself, which is very exciting as a developer."
After the ceremony, guests were invited to tour the new spaces, which will provide students with a variety of tools for creative problem solving. Strolling through the FabLab, members of the community were able to observe the intricate workings of 3D printers, laser scanners, injection molding machines and more up close. Over in the VR/AR Lab, guests were treated to live virtual and augmented reality demonstrations featuring the Vive, the Oculus Rift, and the Microsoft HoloLens.
"I am constantly blown away by what this campus has to offer," said Winter Park Mayor Steve Leary. "As a community, we don't get better by standing still, and Full Sail is constantly moving toward a better and brighter future."
For more information on the new labs or the Simulation & Visualization program, head on over to our website.