Published Dec 18, 2020
Full Sail's Cautious, Safety-Focused Approach to Campus Reopening
The university is investing in new technology and creative solutions to support safe on-campus experiences.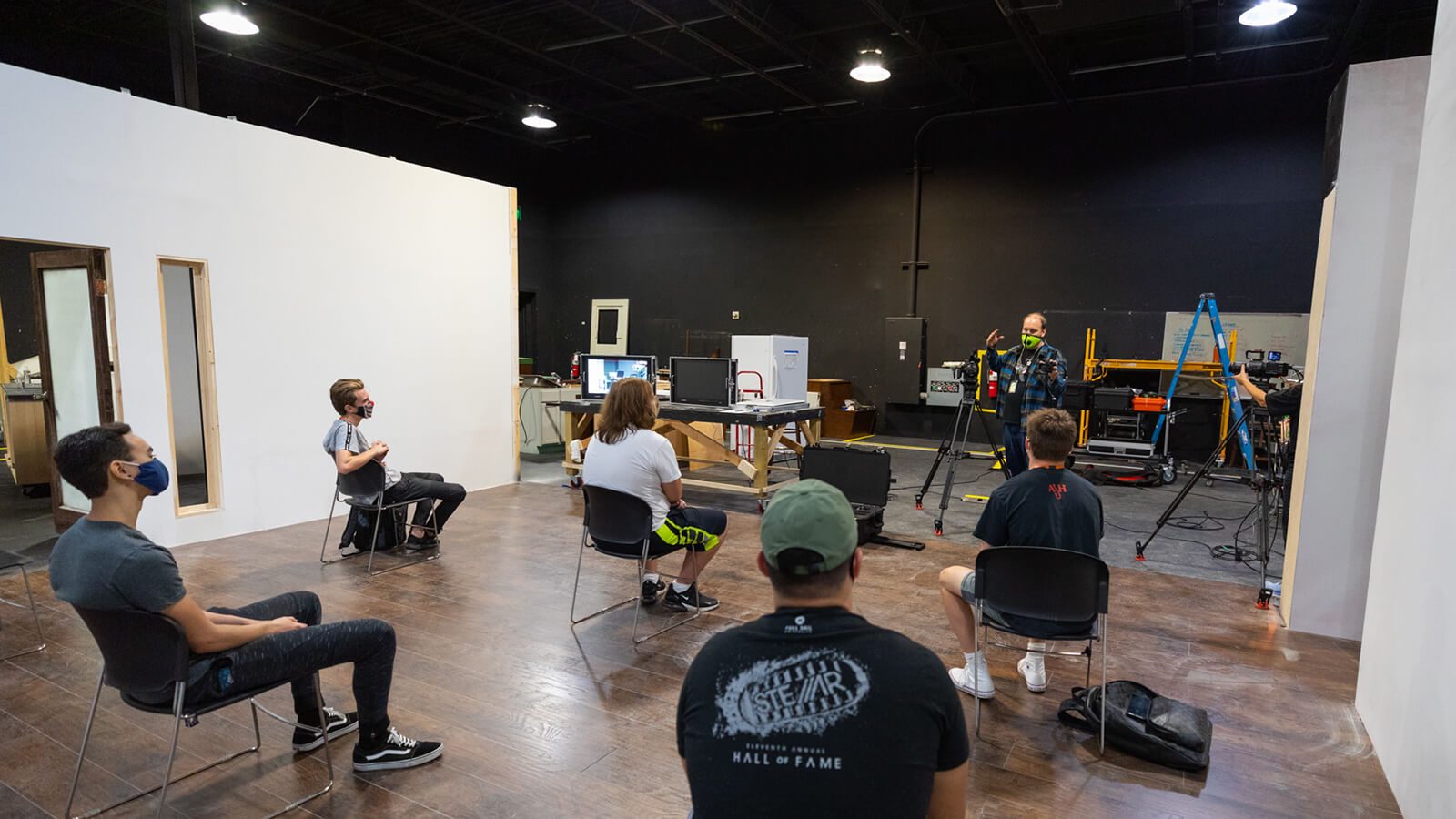 Since the COVID-19 pandemic began and forced schools around the country to close down in the spring, many universities have found it challenging to bring students safely back onto campus. While focused on keeping students and staff safe and engaged during this time, Full Sail also confronted the challenge of reopening campus by implementing a cautious, safety-based approach. The university consulted with Dr. Michael Lauzardo, Deputy Director of Emerging Pathogens Institute at the University of Florida, and followed guidelines from the Center for Disease Control to kick off a gradual campus reopening in July, then started offering limited on-site experiences for all students beginning in October.
Full Sail's commitment to following expert guidelines and using technology in innovative ways has created safe, robust educational experiences for both campus and online students during the pandemic.
In this video, Full Sail University President Garry Jones shares more details about what student can expect on Full Sail's campus.
Campus Safety Protocols
Each week, students are able to participate in campus experiences, including labs, projects, and production work, and there is a daily cap on the number of students and faculty allowed on campus to maintain social distancing.
Before arriving on campus, all students, faculty, and staff must complete video training sessions, sign a disclosure, and fill out daily attestation forms to confirm they aren't experiencing COVID-19 symptoms. Once they step on campus, they must check in at designated stations with individual QR codes. Everyone is screened for fevers using touchless temperature-check stations, and masks are required at all times. Full Sail also follows CDC-recommended cleaning protocols for the entire campus and supplies each classroom with personal protective equipment.
The campus also features an on-site nurse practitioner from Aventus Health to provide COVID-19 tests to symptomatic students or faculty members. The university is continuing to monitor national and local COVID-19 news, as well as the comfort level of students, faculty, and employees.
"The university talks to the students, as well as our employees," says Dave Franko, Full Sail's Vice President of Education. "We've sent out multiple surveys to the students just to understand their comfort level and to better understand what they want us to do. But safety is our number one concern for our students and employees, and I applaud their patience as we move forward."
Safety Protocols for On-Campus Labs
In addition to the safety protocols developed to ensure our students and faculty could safely return to campus, Full Sail has implemented multiple innovative technology solutions to keep our students engaged in hands-on learning for all degrees.
For example, for some of our audio degrees use DigiCo recording consoles to keep Recording Arts students safe as they learn how to record, mix, and master during the pandemic. The console's large-scale touchscreens are viewable at a distance, allowing students to attend in-person labs while maintaining social distancing protocols.
The university also prioritized giving lab space to students by building iPad carts with articulating arms. A proctor can wheel the cart into the room before class begins, then instructors can give directions and answer questions remotely. This reduces the total number of people on campus and allows extra students to safely use Full Sail's industry-standard equipment.
Dynamic Distance Classes
Figuring out how to recreate hands-on learning at a distance was challenging, but Full Sail's experience with online education, paired with a variety of new techniques, is paying off for both campus and online students. One example is how the school has leveraged on-campus facilities with inventive camera use and Synergy software.
Lab instructors can set up multiple cameras throughout a classroom or lab space, connect each camera to a separate Zoom session, then place each feed into a single Zoom window using Synergy. This creates a dynamic lesson with multiple vantage points that students can switch between in real time.
Full Sail's Studio A is just one of the spaces using this new technology. "We can show the control room, the live room, the vocal booth, or another view of the console," explains Mike Orlowski, Full Sail's Media Systems Engineer. "And then we control the audio of how it's sent to Zoom. It allows us to take the live feed out of the mixing console and send it to the distance students or a distance instructor."
The result is a 360-degree audio and visual experience that lets students see and hear the changes a lab specialist is making as they're working, even if they aren't in the room.
Another effort has seen Full Sail extending its Adobe Creative Cloud subscription to give students a richer creative experience. The expanded subscription opened up the school's Adobe Stock collection access to include video, motion graphics, audio clips, and 3D elements.
Looking Ahead
Full Sail's leadership always keeps an eye out for new technologies to better serve students, and that priority is serving the university well during the pandemic. The school will continue to explore these and other innovative solutions in the coming months, as it safely welcomes students back to campus to pursue their education.