Published Jul 24, 2020
Grad Spotlight: Jamaal Simmons (Film Production MFA) - Digital Media Producer, Florida State University
Jamaal Simmons, a passionate sports videographer, captures memorable moments for collegiate athletes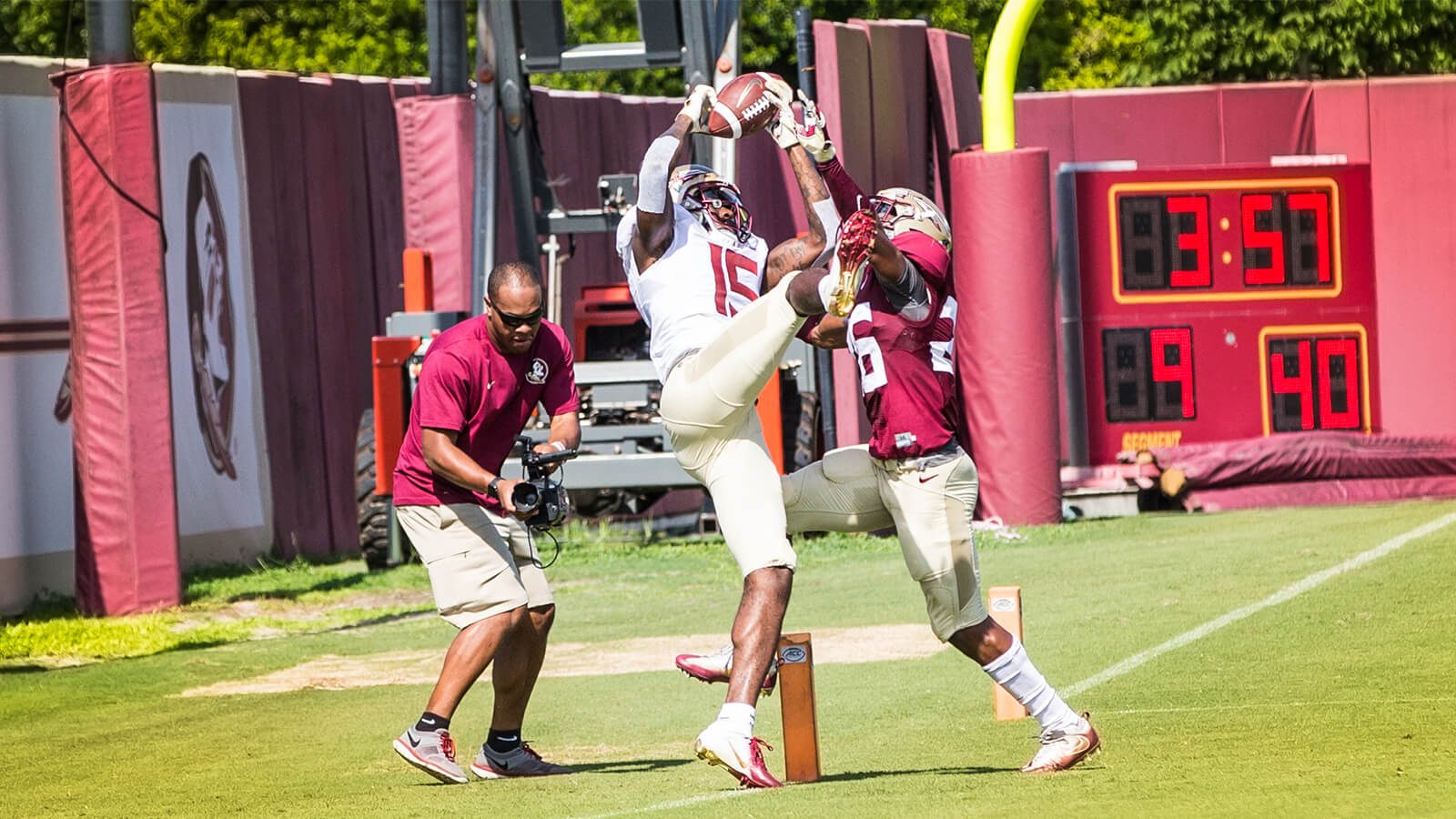 Jamaal Simmons, a Full Sail Film Production MFA graduate and Digital Media Producer for Florida State University's athletic department, knew he wanted to pursue a career in sports videography from an early age.
To achieve this goal, Jamaal pursued his undergraduate degree in Broadcast Journalism at the University of South Carolina, but after graduation, even though he had learned the technical aspects of his dream career, "I wanted to learn more about the creative side of filmmaking," he recalls. "I didn't really learn that when I was at South Carolina. I learned a lot more about my career in one year than I did when I was at South Carolina for four years."
One of the primary differences between the two programs, according to Jamaal, was that, during his MFA program at Full Sail, Jamaal learned to not just capture game footage, but to tell a story.
"I love the creative field and being able to tell a story from a visual standpoint and not just put it on air for a five-minute highlight."
Not interested in pursuing sports coverage for news outlets, Jamaal went after opportunities that gave him the chance to get on the field and capture players in their element. After struggling to find a full-time role, he landed a position working with Major League Baseball's Detroit Tigers as a camera operator for spring training games at their Lakeland, Florida, stadium.
At the training season's end, Jamaal once again found himself in search of an opportunity to film for sports. When he came across the chance to intern with NBA's Orlando Magic, the grad was faced with a tough decision.
"Prior to the Magic, I had already done two internships," he says. "I felt like I was going backward." But after consulting family and friends, Jamaal was resolved to stay in his dream field. "I felt like if I didn't take that internship with the Magic, I would have taken a position [outside of sports.]"
Luckily for Jamaal, the internship was worth it. The experience he gained led to his current position as Digital Media Producer at Florida State University where he plans, captures, and edits video and photo content for the university's athletic department.
Keeping true to his desire to tell stories, the grad applies the creativity he learned at Full Sail to his work. From capturing a player's final career touchdown to a coach's emotional locker-room farewell, Jamaal's focus on the story behind the game has made for memorable moments early in the grad's career journey.
"I try my best to get certain shots that nobody else would get," says Jamaal. "When the game's over, everybody goes to the center, to the middle of the field and they get the coaches shaking hands. Me? I'm looking around to see if any players have different reactions. One player could be jumping up and down and going in the stands and high-fiving everybody, or he could be on his knees praying or crying that they won the game."