Published May 10, 2023
Graphic Design Grad is an Associate Creative Director at Salesforce
Adam Cipoletti is excelling in the presentation design industry as the company's Associate Creative Director of Keynote Creative.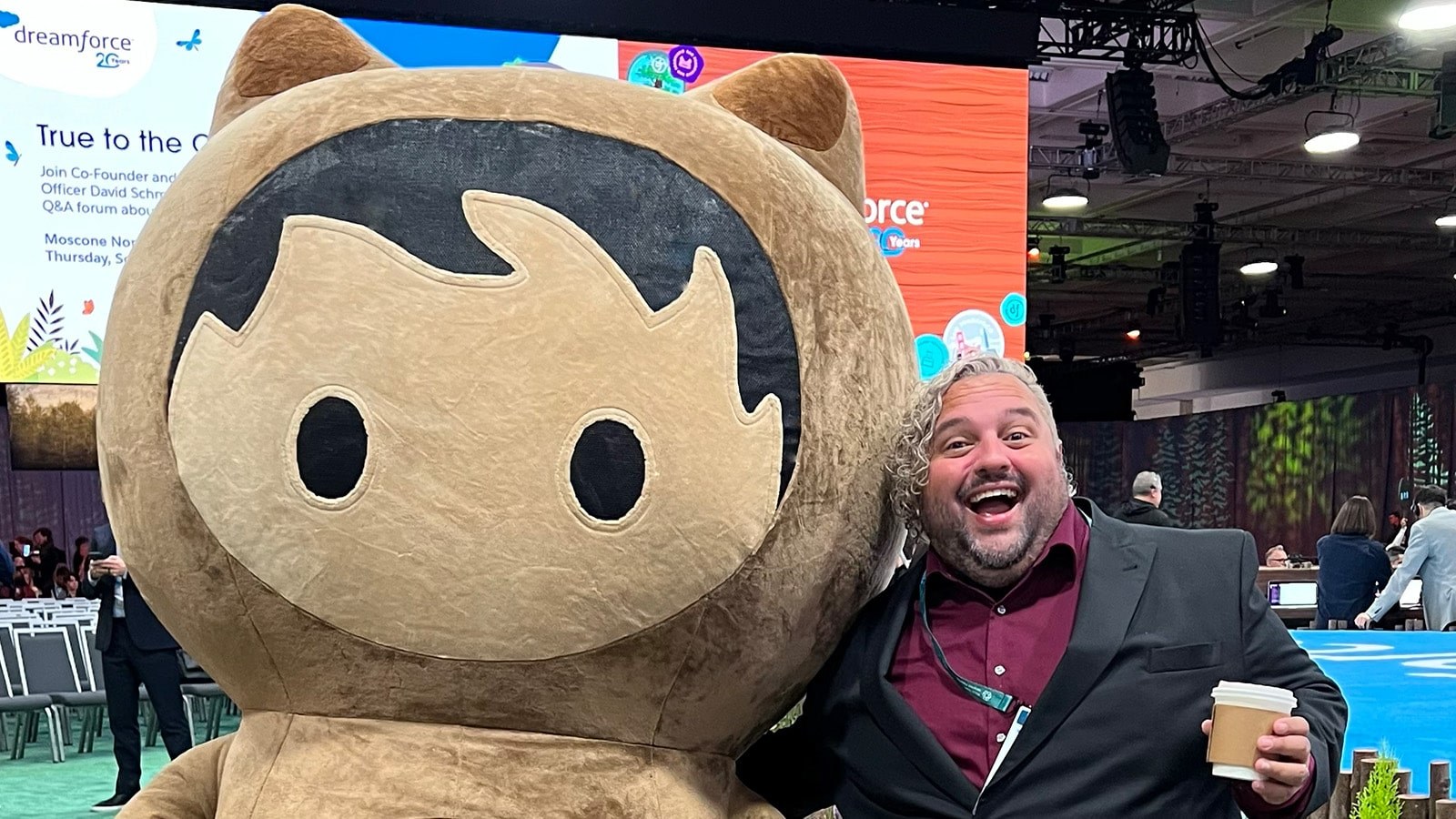 Saying that Graphic Design grad Adam Cipoletti makes a mean Keynote presentation would be an understatement. Adam is the Associate Creative Director of Keynote Creative at Salesforce, and at Dreamforce 2022, one of the largest tech conferences in the world, Adam demonstrated the dynamic possibilities of presentation design with a little help from Genie the Rabbit.
"[At Dreamforce], I had the opportunity to support our introduction of Genie the Rabbit, an adorable new addition to our Salesforce characters. Genie represents our Salesforce Data Cloud and its ability to harmonize thousands of customer data points into one unified profile," Adam says. "Working with multiple teams and agencies, we were able to animate Genie flying around the room from screen to screen. We even used a video overlay to get Genie to pop up onto the stage next to one of our co-CEOs. It was a really cool moment to bring to life."
Adam's road to success in the niche industry of presentation design started when he got a job at Apple in his early 20s. Adam focused on training, designing his own collateral, and eventually designing presentations for Apple's senior leaders. He started freelancing around the same time and worked with New York agencies like Mediacom, Omnicom, Interbrand, and McCann. But after 15 years in the design industry, Adam's career hit a roadblock. He realized that he needed a bachelor's degree if he wanted to manage teams and lead storytelling at larger companies, and Full Sail's Graphic Design program was a clear choice.
"I knew there were [more efficient] ways of doing things, so I wanted to finally get my degree… I needed something that was online [and Full Sail] just had a very structured curriculum that made that sense to me... And [the Graphic Design degree] was a great refresher, but also really got me back into being more efficient, because I learned new tools that I wouldn't have understood or looked for if I hadn't gone back to school. Which really was my goal, was make sure that I was up to date, I was competitive," he says.
Adam's new skills started paying off while he was still earning his degree. He landed a role as the Lead Designer with a focus on presentation design at a small digital agency, then was promoted to Creative Director six months later. He worked with senior leaders at companies like Gilead, Hershey, and Mondelez, designing their town hall presentations and investor decks. Adam applied to be the Associate Creative Director of Keynote Creative at Salesforce and got the job right before he graduated.
"[At Salesforce], I lead the teams and agencies responsible for our many events, like Dreamforce, TrailheadDX, and Connections" Adam explains. "I partner with the incredibly talented messenger team to take their talk track and translate it into easy-to-follow visual content. I want to make sure that all the key points are on a slide to empower our executive speakers and inform our global audience."
About 90 percent of Adam's time is devoted to creating presentations for Salesforce's large events, like Dreamforce. He makes his work stand out by calling on skills he tackled at Full Sail, like Gestalt principles of design, the usage of grid systems, and typography.
"My favorite part of my job is brainstorming new ideas and trying to push the brand into new places. I'm privileged that I get to work with world-class marketers and communicators across the world as we continue to elevate the Salesforce story and brand," he says.
Presentation design might not be the first career that comes to mind when people think of graphic design work, but Adam knows that the industry is worth a look for budding designers.
"[If someone wants to get involved in presentation design] I would recommend learning PowerPoint, learning Keynote, learning Google Slides, because people will always need to sell their ideas, and presentations will always have a place at any company. It's a niche design role that I think doesn't get highlighted enough, and it pays well too. So it's all about knowing those programs and being able to tell a story with them, and I think that would just open up a lot of opportunities for people."