Published Apr 04, 2022
Hall of Fame 12: A Week in Review
Full Sail's 2022 Hall of Fame event was packed with industry panels, community events, networking opportunities, and six new Hall of Fame inductees.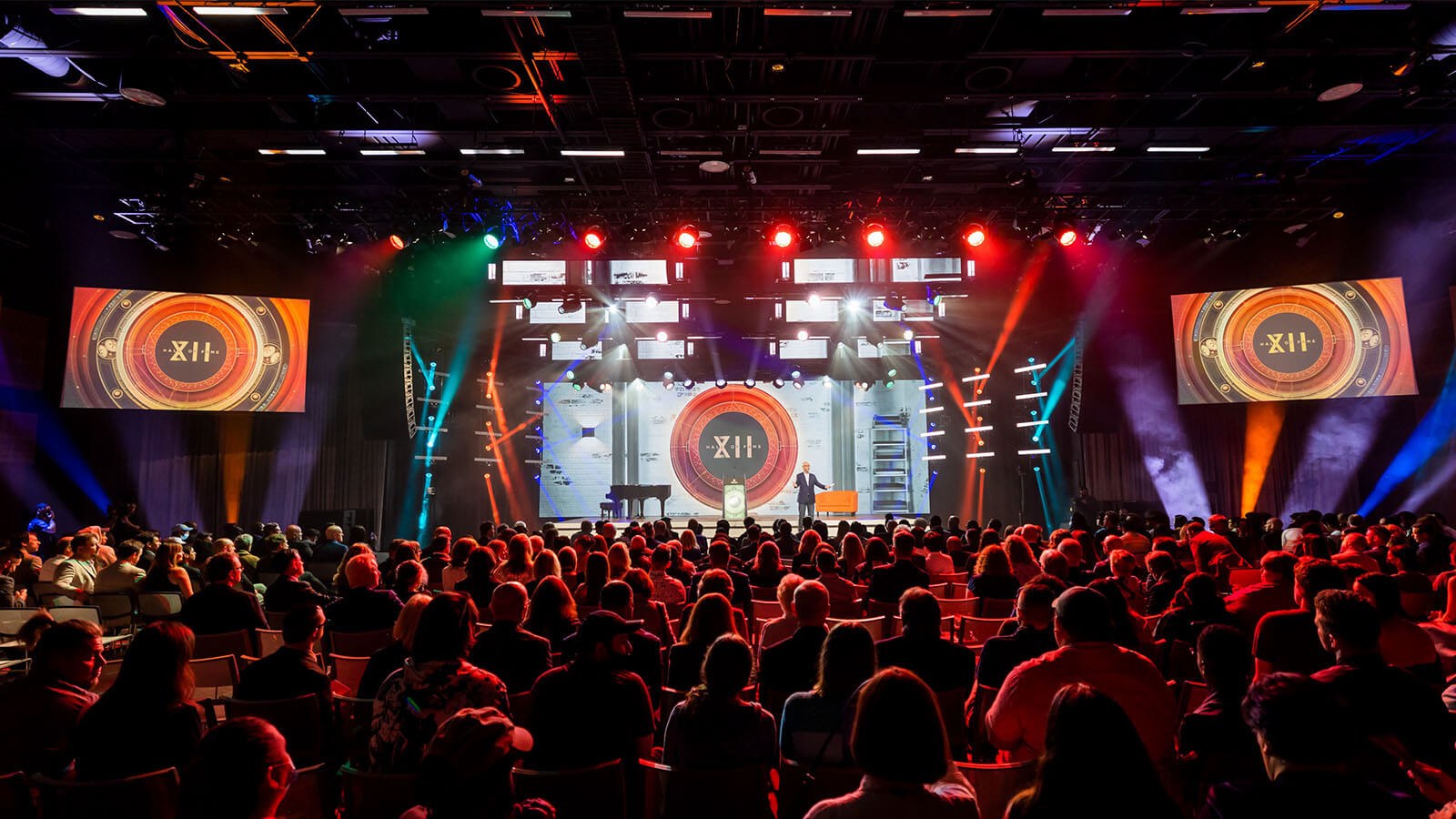 After a yearlong hiatus due to the pandemic, Full Sail's Hall of Fame Week returned on March 6 with a new theme: It's Your Time. The annual conference-style event featured educational panels with industry pros and successful Full Sail grads, networking opportunities, and creative activities for students. Here's a rundown of the action-packed week.
Education Sessions
Hall of Fame Week offered more than 150 panels and presentations that spanned a variety of disciplines. Musically inclined students heard from previous Hall of Fame inductees Leslie Braithwaite, Sebastian Krys, Marcella Araica, and Tremaine Williams about their experiences making hits under COVID-19 constraints during the Making Hits During a Pandemic panel.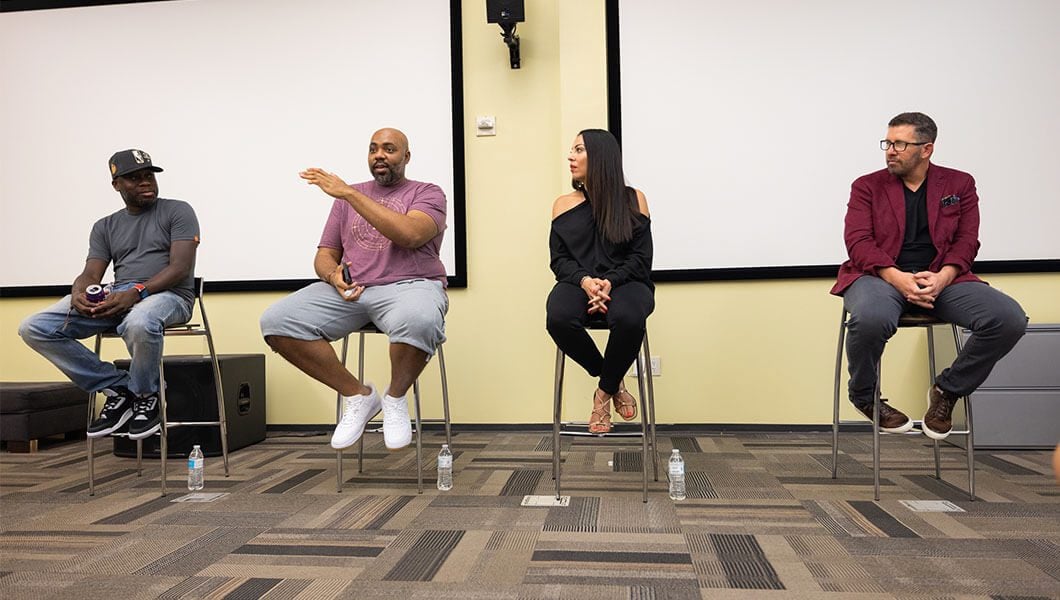 From left to right, Leslie Brathwaite, Tremaine Williams, Marcella Araica, and Sebastian Krys during the Making Hits During a Pandemic panel.
Students interested in audio production sat down for Solid State Logic Presents: A Conversation with Tom Lord-Alge, where the Grammy-winning engineer and mixer talked about his career and how the industry has changed over the years. Design-minded students heard tips about how to become their own boss during the Starting a Graphic Design Firm After Graduation panel with new inductees Phil Pallen and Bobby Jones. Esports aficionados checked out a screening of Free to Play, a 2014 documentary about the early days of the esports industry. Cinematographer and Hall of Fame 7 inductee Jeff Unay stayed after the showing to talk with students about the making of the film and the past, present, and future of professional gaming.
Studio V1: Virtual Production
It was a big week for virtual production on Full Sail's campus. The school embraced the future of the film industry on Tuesday with a ribbon-cutting ceremony and open house for Studio V1: Virtual Production, Full Sail's $3-million on-campus studio. A case study on the upcoming film 9 Windows, which will be the first production filmed in Studio V1, took place on Wednesday, while a panel called Virtual Production: What Does it Mean for the Future of Filmmaking? took place on Thursday. The panel, which featured previous Hall of Fame inductees like Culley Bunker (Founder of Skulley FX) and Stephen Beres (HBO's Senior Vice President of Studio and Production Services), celebrated Full Sail's investment into film technology and discussed virtual filmmaking's larger impact on the industry.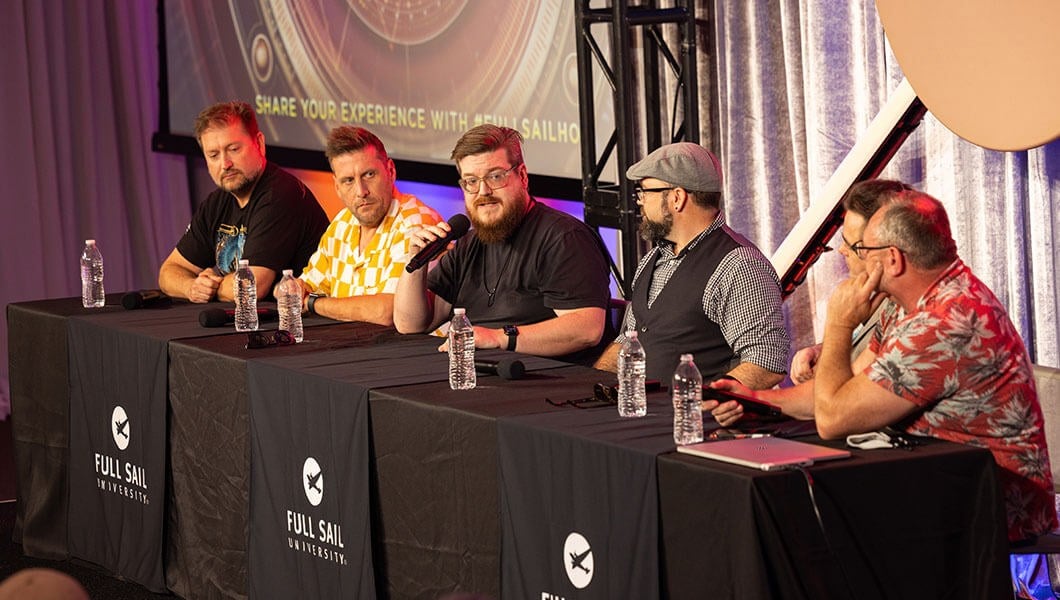 From left to right, Culley Bunker, Chad Kendall, Stephen Beres, Kyle Frazer, Bryce DiCristofalo, and Rick Ramsey during the virtual production panel.
Networking Opportunities
Monday's Career Fair gave students and alumni an opportunity to network with each other and hear from employers like Disney Cruise Line, Sweetwater Sound, and Cirque du Soleil Entertainment Group. Students nearing graduation and recent grads had one-on-one meetings with employers, and all students and alumni had access to company overviews from entertainment media and emerging technology employers.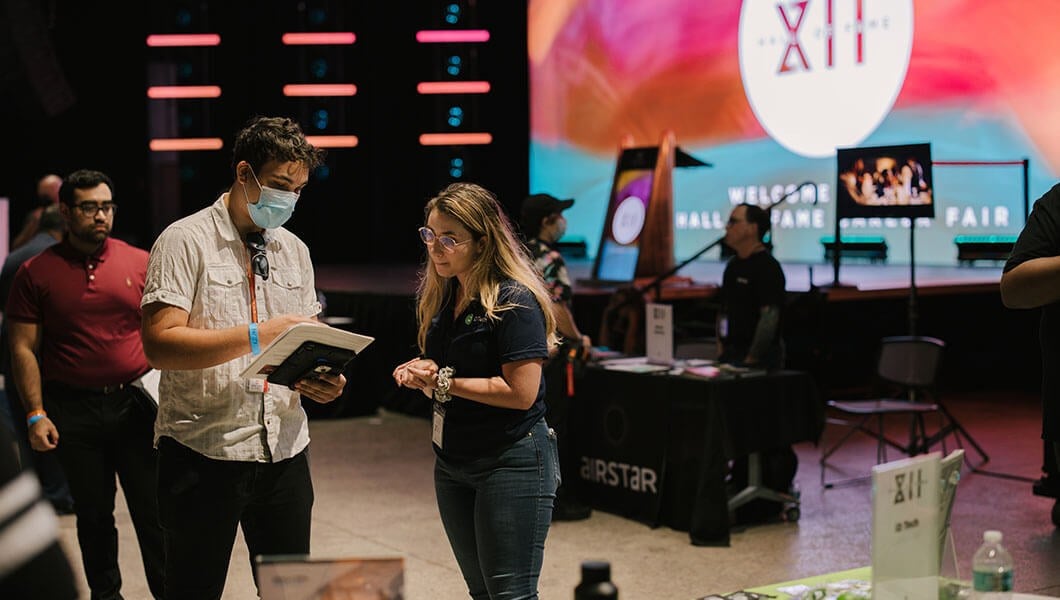 Students had the opportunity to meet with employers across a range of industries during the Hall of Fame 12 Career Fair.
The Tech Expo gave Hall of Fame attendees a look at new products in the virtual production, audio, gaming, lighting, and design industries from companies like Apple, Adobe, MSI, and Sony.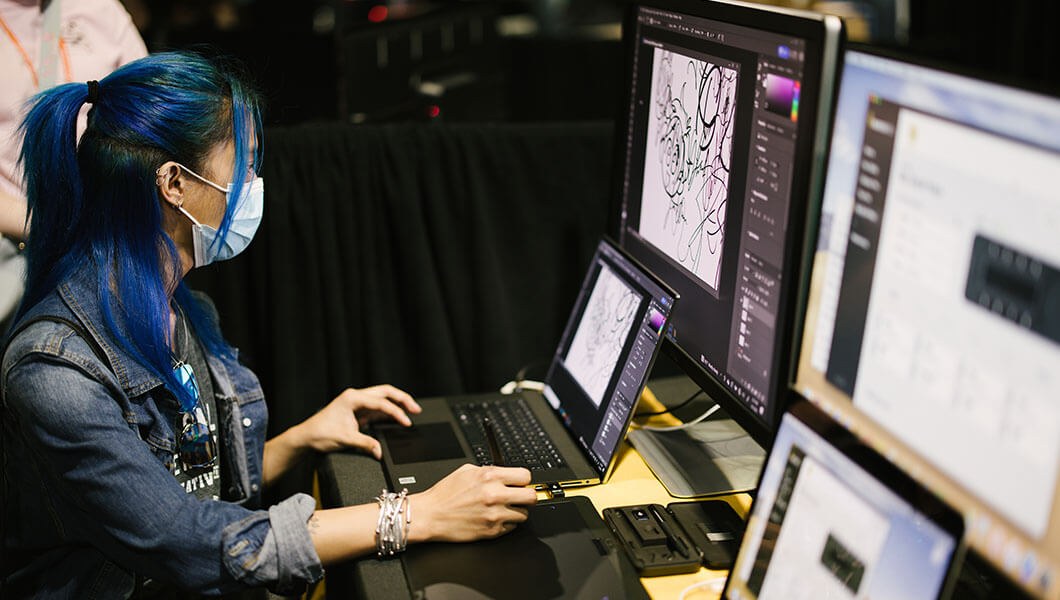 A student checks out the latest design software at the HOF 12 Tech Expo.
Community Events
Hall of Fame is rife with professional benefits, but the week isn't all business. Full Sail students celebrated their artistic side and connected with classmates during esports tournaments, photo ops, and creative expression opportunities.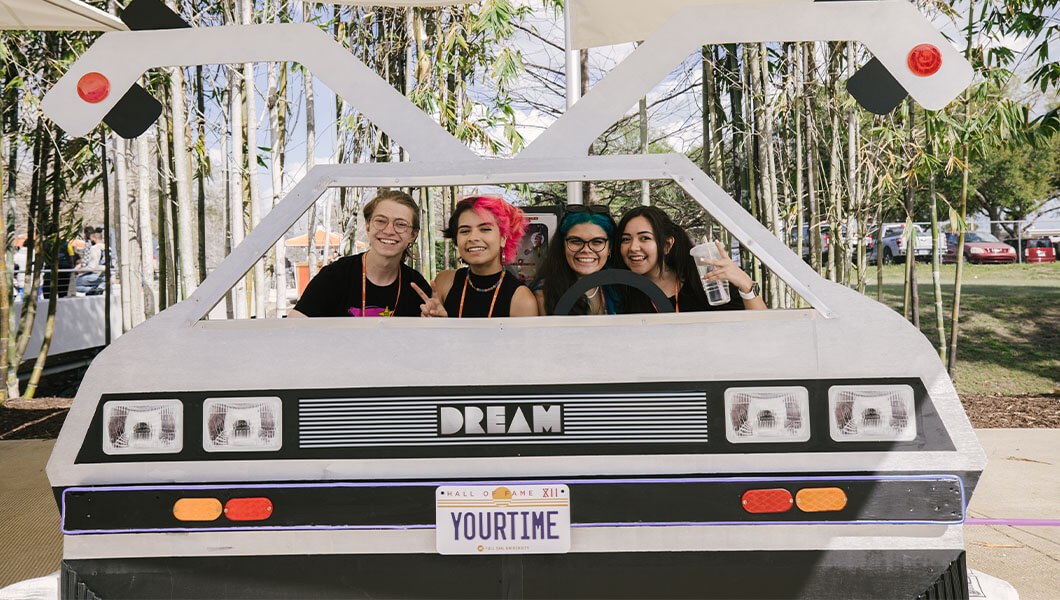 Students had plenty to smile about in Hall of Fame 12's Back to the Future-inspired photo booth.
Full Sail Armada, the school's esports organization, kicked off Hall of Fame Week with Sunday's Hall of Game: Infinite Arenas event. Armada Varsity teams battled against student challengers in Rocket League, Apex Legends, and Halo Infinite. Throughout the week, students also snacked on treats from food trucks, took photos in a custom-made Delorean photo booth, participated in a cosplay contest, worked on a community mural, and enjoyed impromptu dance-offs in the silent disco.
Induction Ceremony
The week culminated in Thursday's Induction Ceremony, where the school welcomed six successful alumni to the Full Sail University Hall of Fame. Bobby Jones (Founder and CEO, Purple, Rock, Scissors), Narie Kay (Senior Producer, Zynga), Phil Pallen (brand strategist and keynote speaker on personal branding), Stephanie Dawson (Producer, The WNET Group and PBS Great Performances), and Tom Todia (Audio Engineer at Electronic Arts and Co-Founder of Engine Audio) all gave speeches as they accepted their statuettes onstage.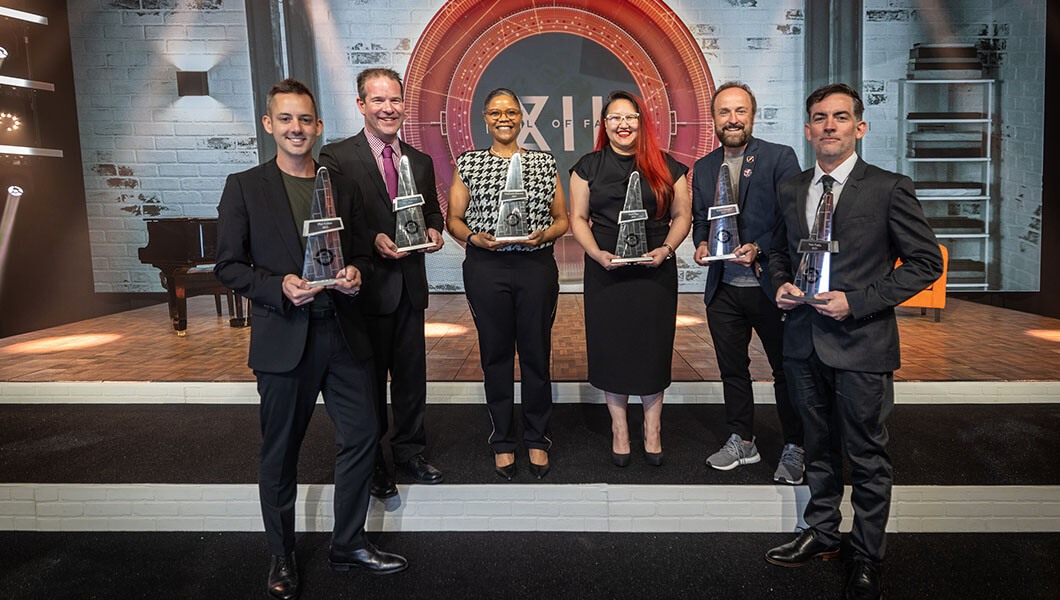 From left to right, Phil Pallen, Justin Rathbun, Stephanie Dawson, Narie Kay, Bobby Jones, and Tom Todia accept their Sailee awards.
For a closer look at Hall of Fame's education sessions and inductees, check out Full Sail's Hall of Fame 12 playlist on YouTube.