Published Oct 18, 2019
Meet the Grad Making Simulations for Everyday People
Mitchell Hartwell explains what goes into 'making the impossible a reality'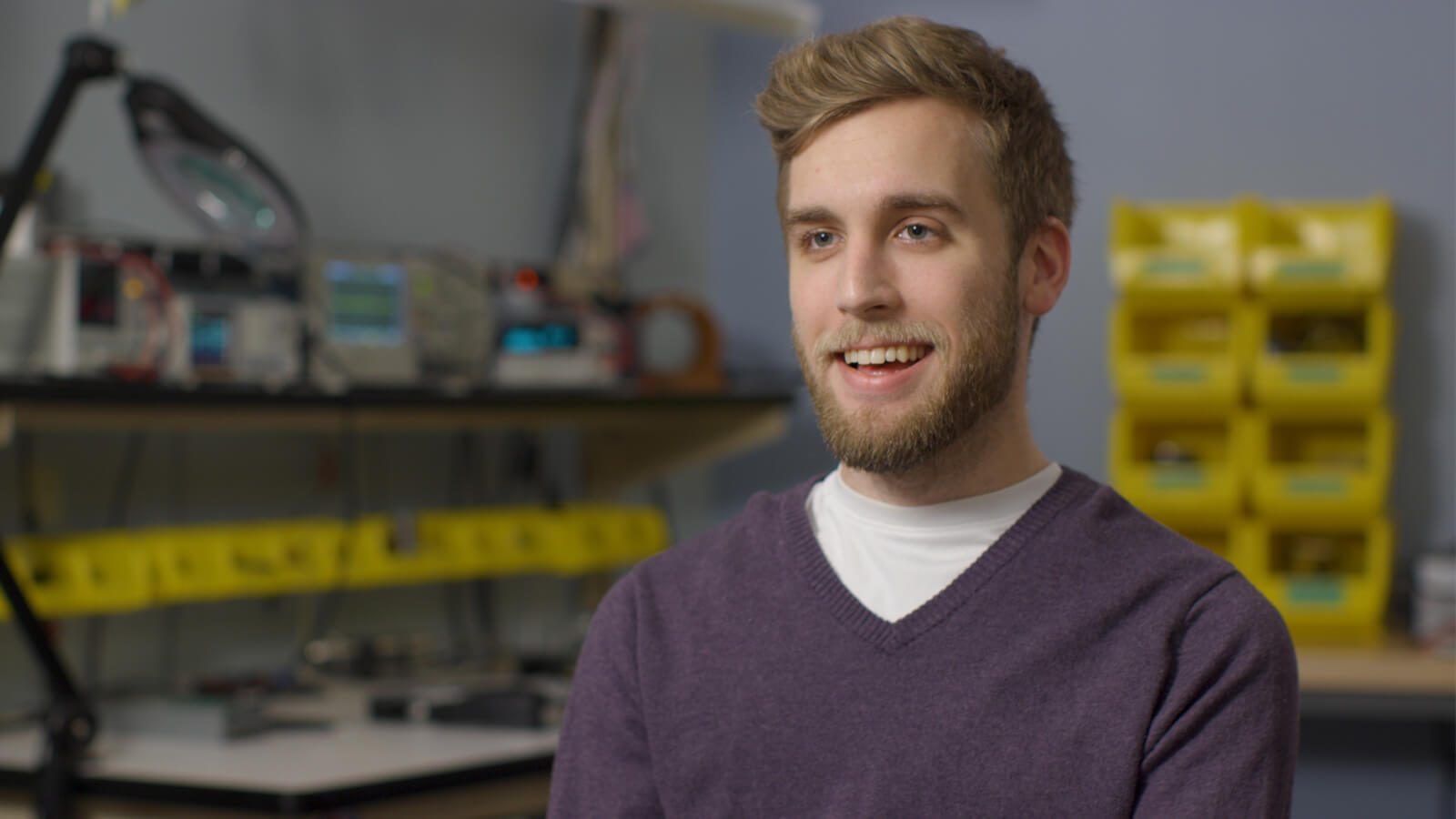 Simulation and visualization is a world unto itself. It encapsulates virtual reality, alternate reality, mixed reality, and other technologies that replicate or alter the way we experience the world.
With apps like Pokémon GO, Snapchat, Google Translate, and so many more offering easy access to AR, the demand for talented individuals to create these experiences is growing. Even in the world of VR, where a program can be used to train surgeons or bring an entire global office into one digital boardroom, companies are finding new ways to incorporate digital solutions into their workspaces.
Meet Mitchell Hartwell, a Full Sail University Simulation & Visualization graduate who has worked in the theme park industry, education, and for Boeing. Currently, he works at Holovis as a solutions architect – responsible for developing software that addresses problems faced by companies and consumers. As Mitchell describes it, "My job is to create immersive, multisensory experiences that can take an audience on a journey."
Mitchell enjoys what he calls the "nitty-gritty" when it comes to his work and it's the cerebral aspects of creating an experience that bring him the most joy. "Whether it's trying to figure out a brand new piece of technology or work out some math," he says. "You'll always find me at the depths of the solution."
Before Mitchell sits down to work on anything, he has to first figure out a key piece of information – what are the "wants?" For Mitchell, the wants can include what he (the designer) wants to create, what the client wants to accomplish, and what the product's user wants to experience.
"If you can gain a deep understanding of what you, your client, and the end user want, and weigh those opinions correctly, you are 80 percent of the way there," he says. "It sounds simple, but is without a doubt the hardest step of every single project."
In addition to determining the goals of a project, Mitchell has to bring an astonishing level of detail to his work, especially when it comes to simulations. "A simulation has to be as realistic as possible," Mitchell says. "Every person you ask is going to have a different opinion on what's most important when it comes to achieving this."
So how does a simulation become realistic? "The more sense a simulation can stimulate, the more immersive it's going to be," says Mitchell.
Unfortunately, it's not an easy task to stimulate someone's five senses with a VR headset alone. Most headsets don't account for smell or touch, instead, they rely directly on sight and sound to bring the user deeper into the simulation. To combat this, Mitchell suggests focusing less on the senses and more on the simulation's input device. "If someone is using your driving simulation, they shouldn't have to think about the controls," he says. "The moment the controls feel unnatural, the immersion is broken and will not come back."
To ensure that these critical inputs are not only accurate when compared to their real-world counterparts, but also keep a user invested in the experience, Mitchell employs subject matter experts to test a simulation for faults. "Simulation developers depend heavily on people with expertise on the topic they are trying to simulate," he says. "[These experts] are invaluable in the simulation industry."
Mitchell explains that the first step to pursuing a career in the simulation industry is to have an idea of how you want to use simulations. "Do you want to help train surgeons, pilots, new drivers, police officers, or the army?" he asks. "Simulation can be applied to just about any subject you can think of."
With that in mind, Mitchell's goals with simulations are first and foremost to help people. Whether it's learning new skills or experiencing something for the first time, Mitchell's work is designed to make a difference. "The biggest purpose of simulations is to help people," he says. "The simulation industry is not something you get into just to pay rent. It's something you do to fulfill a passion."