Published Jan 07, 2019
Recap: Dan Patrick and Sage Steele Host Exclusive Q&A on Full Sail's Campus
The two former co-workers and longtime friends were joined in conversation by Program Director Gus Ramsey, who helped field questions from an audience of new and prospective sportscasting students.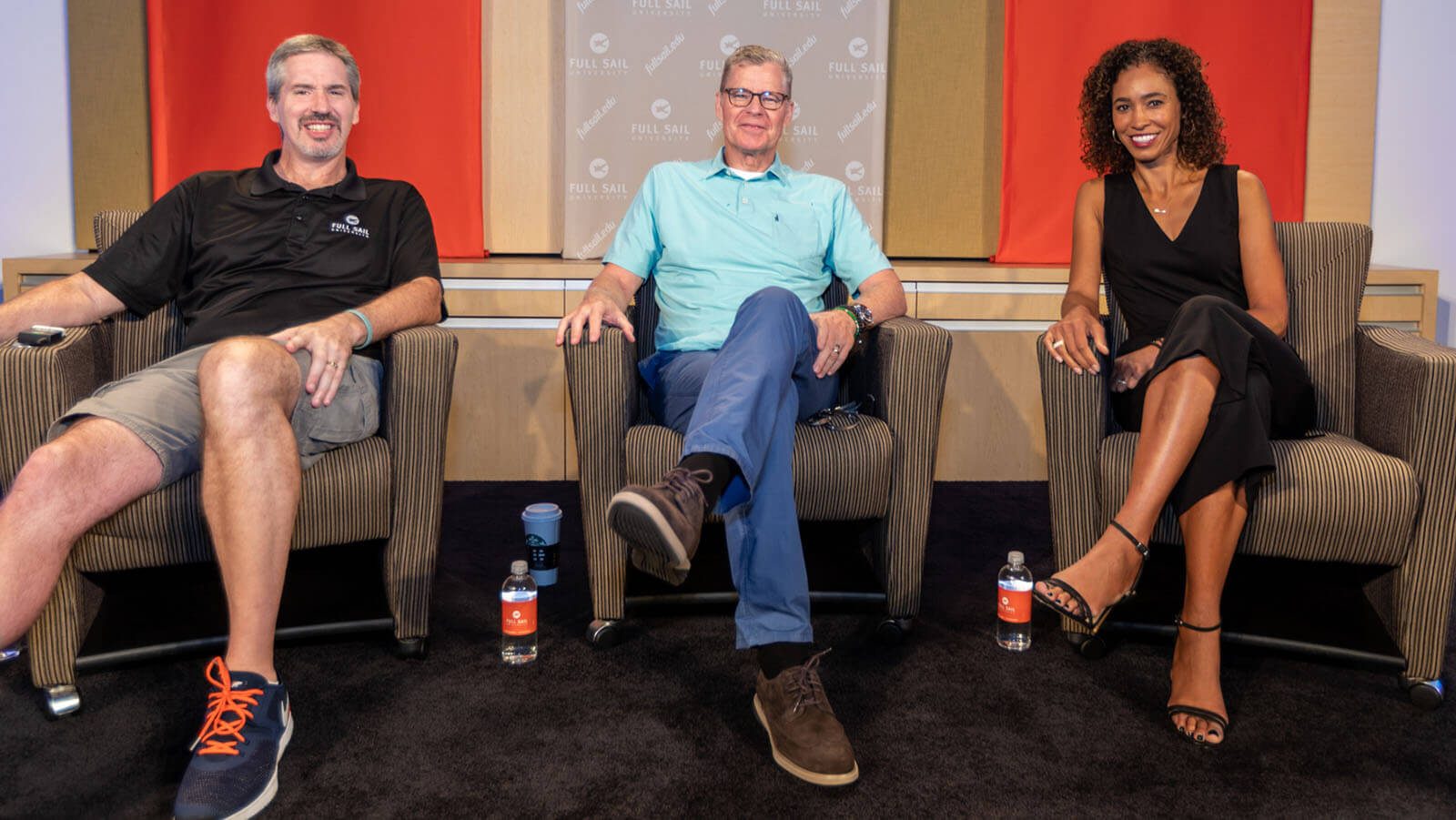 Full Sail's monthly Behind the Scenes Tour is a fantastic way for new and prospective students to get a feel for student life. Each event provides an opportunity for guests to meet and interact with industry leaders, and August featured two very special speakers from the world of professional sportscasting.
Legendary sportscaster Dan Patrick was joined by ESPN veteran Sage Steele for a Q&A event designed for students interested in Full Sail University's Dan Patrick School of Sportscasting.
Dan and Sage shared details from their own journeys, including some of the sacrifices they've made for success.
"The better you are, the worse your hours," said Dan. "If you're good, you're going to be working at night or you're traveling. You'll have to make sacrifices, but if this is what you want to do, don't be denied."
"I think it's not talked about enough," added Sage. "Every career path has sacrifices. What I do is glamorous, but it's definitely still a job. You just try to balance it and know that if you love it and it's your passion, you're going to have to take some risks and make some sacrifices."
Program Director Gus Ramsey was on hand to moderate the conversation and provide additional insights into the program and the industry. He also took the opportunity to introduce a few new additions to the program's ever-expanding roster of guest lecturers, including vocal coach Arthur Joseph, David Steele, who provides play-by-play commentary for the Orlando Magic, and Charles Davis, who works for Fox Sports and the NFL Network.
"We have relationships across the board because Dan's been working in the industry for so long," said Gus, adding that the university recently joined forces with Rollins College to provide real-world educational opportunities for students. Under the new partnership, sportscasting students will lend their voices to all of Rollins' home sporting events.
Later, before the the trio took questions from the audience, they were joined by Full Sail President Garry Jones.
"It took about three years for us to put this program together," he said. "And Dan is in this from the heart. This program is a legacy for him, it means everything to him. All of us at Full Sail are very grateful for that."