Published Apr 14, 2020
Recording Arts Grad Rafa Sardina on Passion, Process, and Racking Up Grammys
The 15-time Grammy and Latin Grammy winner learned how to produce, mix, and engineer music at Full Sail.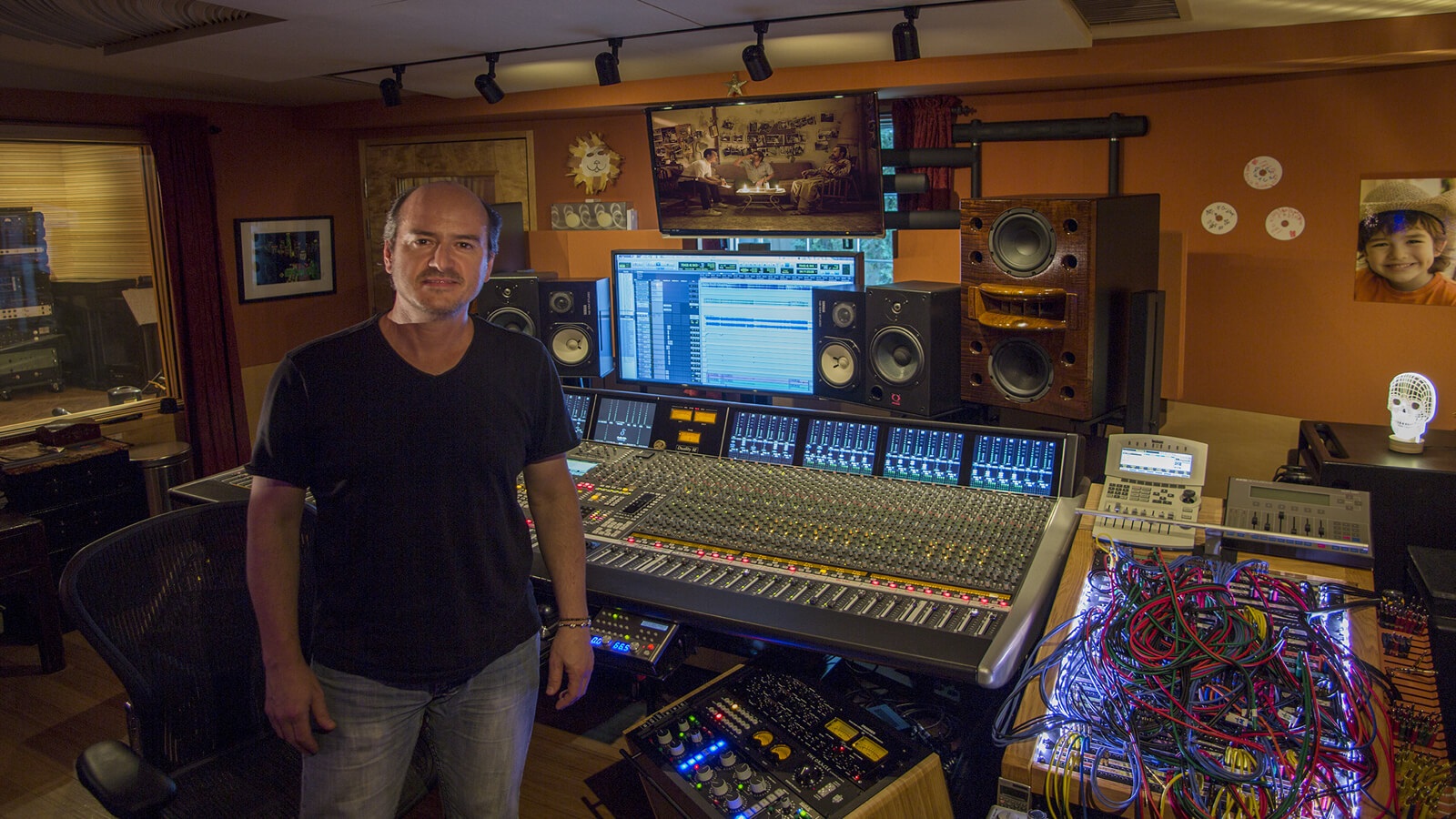 Rafa Sardina loves a challenge. The Recording Arts grad moved from Spain to Orlando to attend Full Sail in the early '90s, convinced Ocean Way Studios to hire him as their first intern, and completed a Latin Grammy-winning album while recovering from a car accident.
His efforts have paid off with 15 Grammy and Latin Grammy awards for music production, mixing, and engineering, plus a mile-long resume filled with some of the biggest names in music. Rafa's time at Full Sail laid the foundation for his long-term success in the industry.
Onward to Full Sail
Rafa had a lifelong love of music. After touring as a front-of-house and monitor engineer in his native Spain for several years, he found Full Sail online, enrolled in the Recording Arts program, and moved to the United States.
Although he was an ocean away from Spain, Rafa quickly felt at home on Full Sail's campus. "There wasn't much of a culture shock because there were so many people from different states and different communities and even different countries attending Full Sail. You felt very welcomed," he says.
Full Sail's real-world approach to education built on Rafa's previous touring experience. Attending midnight studio sessions before an 8 a.m. class gave him a taste of his future schedule as a music producer and engineer. "That still happens no matter who you are and what your status is in the industry," he says. "If it needs to get done, it needs to get done."
Rafa says that he still uses all of his Full Sail education every day, but he learned the most about studio recording by preparing for live shows in a class about sound reinforcement techniques. "Those were really eye-opening for me because they told us about that agility – how you need to be thinking three steps forward," he says. "You're anticipating possible problems or issues or what's going to happen, and [you've got to] always keep calm."
Ocean Way Studios
After graduating as class valedictorian, Rafa headed west to Ocean Way Recording Studios in Hollywood. The ultra-competitive studio had just hired one of Prince's former recording engineers as an assistant, so Rafa convinced Ocean Way to hire him as their first intern.
Ocean Way attracted seasoned, award-winning producers like David Foster, George Massenburg, Rick Rubin, and Glyn Johns. Learning from them as he worked with the studio's high-end clientele helped Rafa hit major professional milestones early in his career. His first studio sessions were recording large orchestra sections for the Oscars, and he worked with the Red Hot Chili Peppers next. It wasn't long before he added Quincy Jones, The Black Crowes, and The Rolling Stones to his resume.
Recording with those acts gave Rafa the financial freedom to take on more desirable projects and the confidence to pull them off. Big compliments from musical legends didn't hurt either. "One of those [special moments] was working with Michael Jackson, who at one point even asked me to work exclusively on his projects for his production company," Rafa says.
Working with legends wasn't all smooth sailing. Superstars like Barbara Streisand and Anita Baker knew exactly what they did and didn't want, and they were more likely to challenge Rafa to get that perfect sound. "They were demanding, but for the right reasons. That makes the process more challenging, but you also get better results. And if you're not challenged, you don't step it up," he says.
The Grammys and Latin Grammys
Over the next few years Rafa worked with artists in almost every genre, and the Grammy nominations started piling up. In 2000, at the first Latin Grammy awards, his work on Luis Miguel's Amarte Es Un Placer was honored with Album of the Year and Best Pop Album awards, two wins that were especially meaningful to Rafa.
"I got involved in a traffic accident when I was finishing this album, and it took over for a week or two," he says. His friend and mentor Al Schmitt stepped in as an engineer and added the finishing touches. When Amarte Es Un Placer was announced as the winner, Rafa accepted the Grammy onstage with Al. "He has always been my hero, my mentor, and he came with me to pick up the Latin Grammy. More than winning it was the fact that I was onstage with him," Rafa says.
Rafa's gotten very familiar with that stage over the last 10 years. He's won a combined 15 Grammys and Latin Grammys, with over 60 nominations in almost every genre of music. He also currently serves as a Trustee for the Latin Grammys and a Governor for the Grammys, and he is a founding member of the Producers and Engineers' Wing for the Latin Grammys.
Today, Rafa works with artists from his own retrofitted space, Afterhours Studio, in Los Angeles. He's proud of his Full Sail degree, and he knows future grads can reach the career peaks he's experienced — as long as they stay in tune with their passions and their intuition.
"Passion is like a companion. It doesn't just happen and stay with you all the time," he says. "You have to nurture it, stay curious, and be up for the challenge. And your intuition? [It's] key to everything you do. No matter what people tell you, you follow your intuition."