Published Aug 28, 2019
'Respect the Fan': The Grad Behind a Groundbreaking NHL Pregame Show
Jonny Greco - Chief Experience Officer for the Vegas Golden Knights – shares how they made the team's first season a success.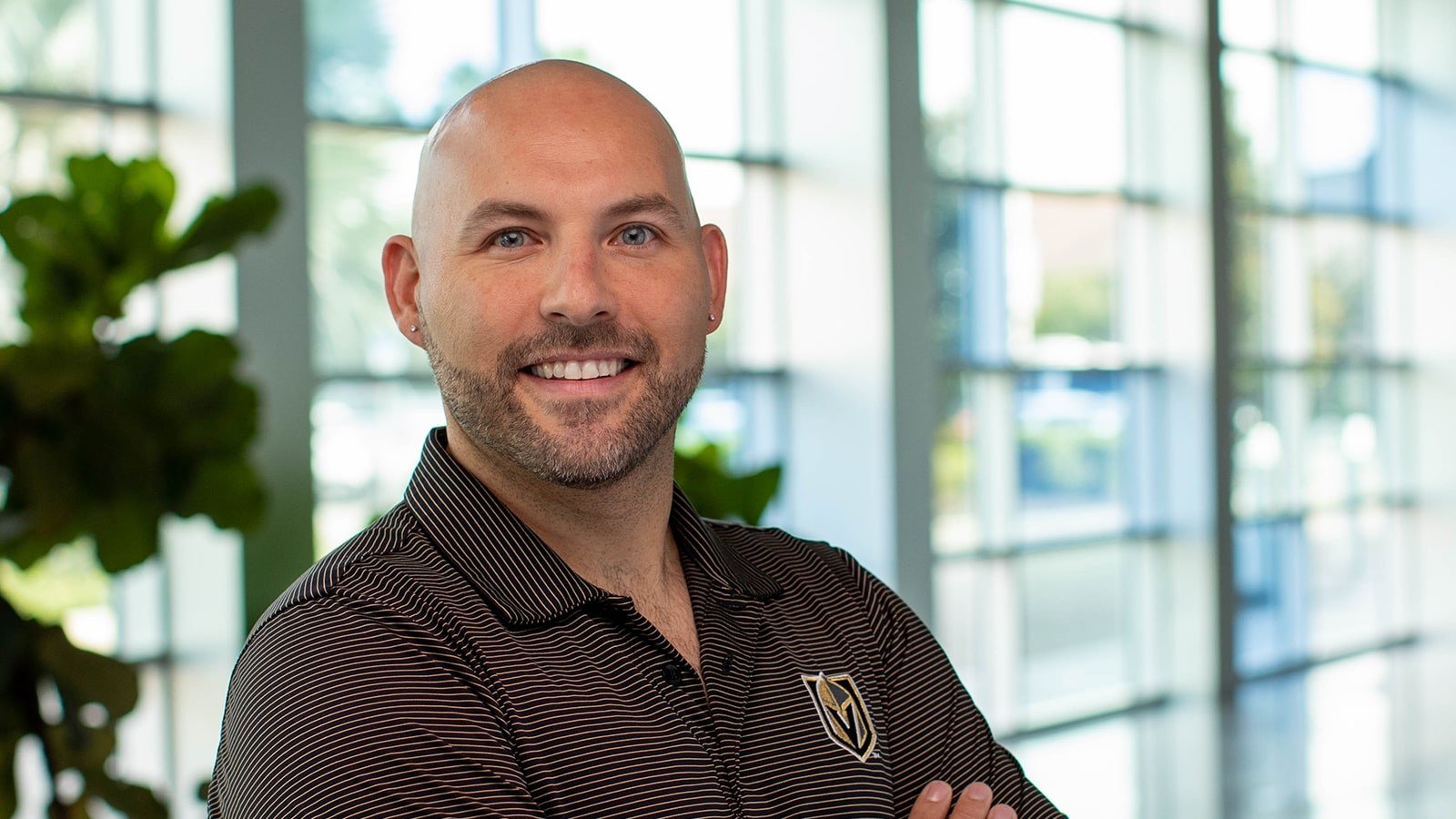 "Oh man, is that Rocco?!" Jonny Greco says in a reaction of genuine surprise to see his former coworker enter the room. As a Full Sail grad and current VP, Chief Experience Officer for the Vegas Golden Knights, Jonny was a few minutes away from giving a presentation in front of a room of Full Sail students. But that didn't stop him from greeting his friend with the full-hearted authenticity that, it would become apparent, is typical of Jonny's personality.
"It's the neatest thing ever to be looking at my buddy here now, who I've done shows with for the WWE," he says. "It literally brings me to tears thinking about how thankful I am that you guys are here."
Throughout the presentation, Jonny would recognize even more colleagues in the audience. His friends were there to support him, and that meant something. That was central to Jonny's advice to students throughout his presentation: Networking is key. But so is being someone people want to network with. He shares a spin on a common entertainment industry refrain, "It's about who you know, who knows you, and who likes you."
"I don't get hired for jobs because I'm really good at what I do. I am surrounded by unbelievable experts, and I am nice, and I treat people with respect and kindness." But in this regard, Jonny sells himself somewhat short.
He's also an Emmy-, Addy-, and Telly-award-winning storyteller whose work has earned features on NPR's "The Two Way" podcast and in The New York Times. He's worked with the NBA, NHL, NFL, MLB, and WWE. And beyond the tangible, he's played a unprecedented role in uniting a city behind a team of unlikely heroes: The Vegas Golden Knights.
For entertainment for the Knights' first NHL season, Jonny says it was tempting to produce a show that featured showgirls, live tigers, slot machine mascots, and Elvis impersonators -- it's Las Vegas, after all. Instead, Jonny and his team listened to the locals, who, it turned out, wanted more than stereotypes and kitsch. They wanted something to be proud of.
"Respect the fan," Jonny says. And the Knights delivered. Before each drop of the puck, the entertainment got more elaborate as the Golden Knights made their way to the Stanley Cup Final.
"Their pregame ceremony has become a phenomenon central to their identity, featured on broadcasts and scrutinized on social media — the best show in the N.H.L. before, well, the best show in the N.H.L." says The New York Times.
"Every single thing is a story," says Jonny. It's a lesson he learned while working with the WWE, especially from famous entertainer and fellow nice guy, John Cena. In his presentation, Jonny talked just as highly of the actor and wrestler's storytelling talent as he did for Cena's philanthropy. To Jonny, success means having both.
And perhaps it was this understanding of human connection that inspired Jonny's team to help heal a city in one of its darkest times. Opening night for the Golden Knights fell on a tragic week for Las Vegas, just days after the 2017 mass shooting. It was a difficult position for the team: How can they put on a show that should be a celebration in the wake of such horror?
To pay respect, they kicked off the game by escorting the tragedy's first responders onto the ice. They also replaced advertising with Vegas Strong imagery and paused for 58 seconds of silence in honor of the 58 victims. As Jonny explained on Jon Taffer's No Excuses! Podcast, "It was an 18,000-person group hug moment."
But if you ask Jonny about the highlight of his career, it's about something much closer to home than winning awards or recognition. It's about saying "Go Knights Go!" to a stranger in Las Vegas, and hearing them say it back. It's about the future of the fandom too. For example, at a six-year-old's birthday party with his kids, Jonny noticed the birthday boy seemed much more excited about unwrapping a Vegas Golden Knights hat than a Nintendo Switch.
"These kids are going to grow up with this joy and pride for being affiliated with this team. And you were like, wow, this is bigger than any of us. This is bigger than sports."