Published Feb 02, 2022
Show Production Grad Tours with Jason Aldean and Lee Brice
Ryley Esler is putting his education to work as a video technician on some of country music's biggest tours.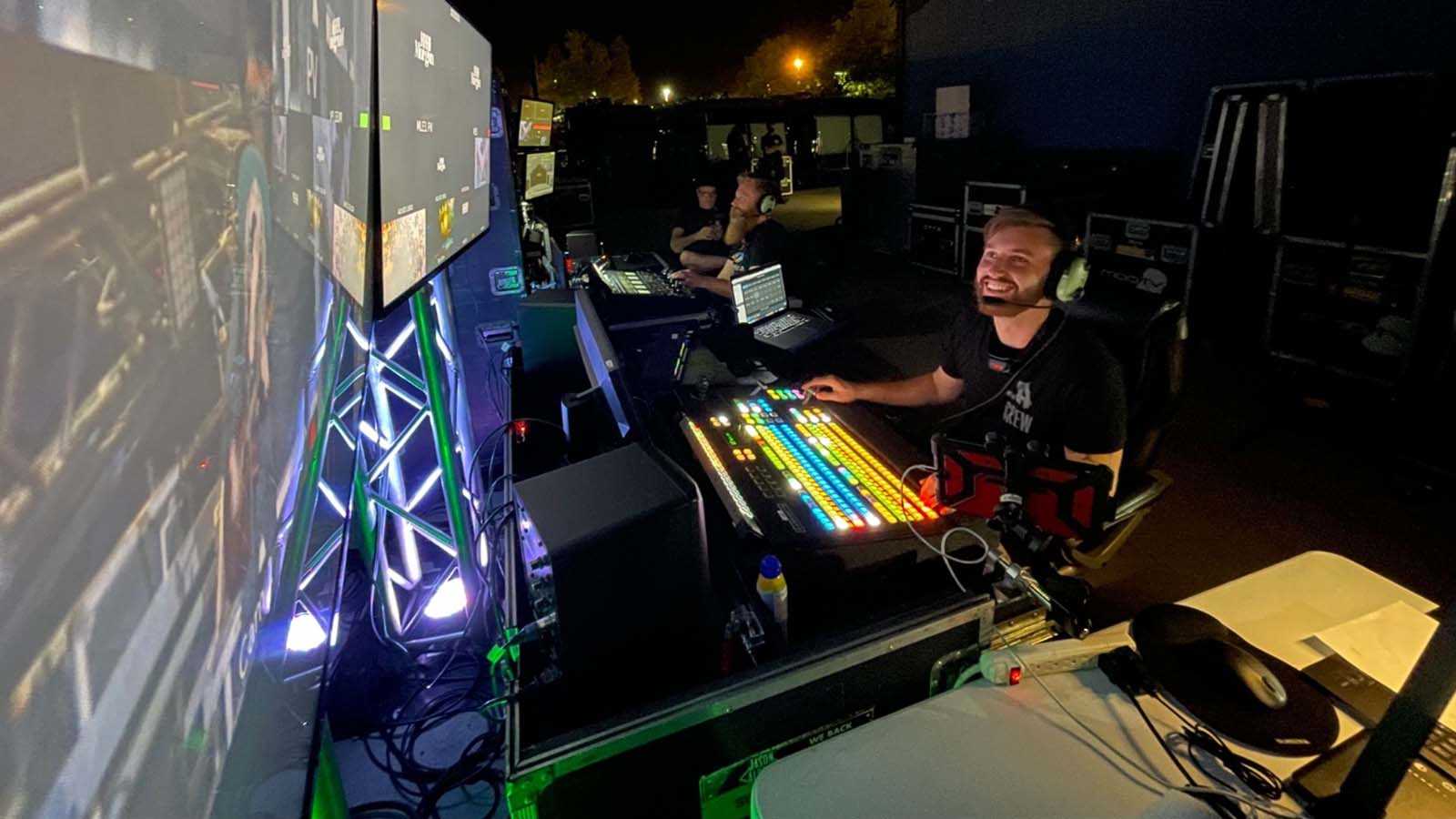 Fans of country crooner Jason Aldean enjoyed a stage show that pulled out all the stops during the star's 2021 Back in the Saddle Tour: The singer played his biggest hits against a backdrop of massive video screens with 3D renderings of rearing horses. A show that size needs a stage crew that knows their stuff, and 2019 Show Production grad Ryley Esler was there to work on the concert's live video elements. Ryley's real-world experiences at Full Sail and his dedication to finding roles that will help him move forward in his career helped him earn a spot on the country star's tour.
Ryley got started in the entertainment industry when most kids were still playing with blocks: He was doing background work in his hometown of Vancouver when he was just six years old and he made stop motion animation videos with a handheld camcorder throughout his childhood. When it was time to head off to college, Ryley decided to pursue an education that spoke to his interest in audio, and he picked Full Sail's Recording Arts degree. But once he got his hands on live switchers and consoles a few months into the program, he decided that the faster pace of live events was more to his liking. He switched to Show Production and fell in love with the work.
In addition to his efforts in the classroom, Ryley took the initiative to get resume-boosting experience while he was at Full Sail. He worked events like educational panels and WWE's NXT shows, which prepared him for the rapid pace of setting up and taking down equipment during live events. He also learned how to use a Ross Carbonite video switcher; he helped program and install them in the Full Sail University Orlando Health Fortress, the campus esports arena, while he was a student.
"When Full Sail was building the Fortress, I was programming the [Ross] switcher and I actually got to do a full Ross training. I think I was one of three students that got that opportunity," he recalls.
To gain even more experience, Ryley took on small jobs outside of class, like running audio and lighting for wedding bands. Those gigs, combined with persistent outreach to employers, helped him continuously land jobs after he graduated. He went on the road for Jason Aldean's Back in the Saddle Tour in 2021.
During the tour, Ryley was responsible for setting up everything video-related for each live show, from LED screens to cameras to processors to the Ross Carbonite switcher he mastered at Full Sail. His days began around 7 AM, when he'd join the rest of the crew to start unloading equipment from the tour's trucks. He'd continue unloading and setting up equipment until about 7 PM, when he would direct the show's opener then settle in to operate cameras throughout Jason Aldean's performance. After Jason took his final bow, Ryley and the crew began the adrenaline-fueled process of loading all the equipment back onto trucks; they only had about 90 minutes to get everything ready for the next city.
"Being able to experience [loading and unloading] at Full Sail and how it works in the real world was pretty valuable; I wasn't shocked when the first one happened," Ryley says.
Ryley recently hit the road with Lee Brice. Although the tour is smaller, Ryley's role is more complex and he's gaining crucial experience. He's setting up engineering racks and processors, and he's more involved in conversations about how the show's video elements should work from a creative standpoint. Keeping his eye on the future has helped Ryley move forward in his career.
"[It helps] being one step ahead of yourself, thinking 'This is where I want to be six months from now, so what can I do to get there?' rather than just settling into where you are now," he says. "If you want to keep moving up, then you have to push for it, because chances are no one's just going to hand you a better opportunity than the one you have now."