Published Apr 14, 2022
Show Production Grads Work Together on Sold-Out Concerts
As live events return in full force, Full Sail Hall of Fame inductee Brian Carico is mentoring fellow grad Brian Bogovic as they work on major tours with country artists.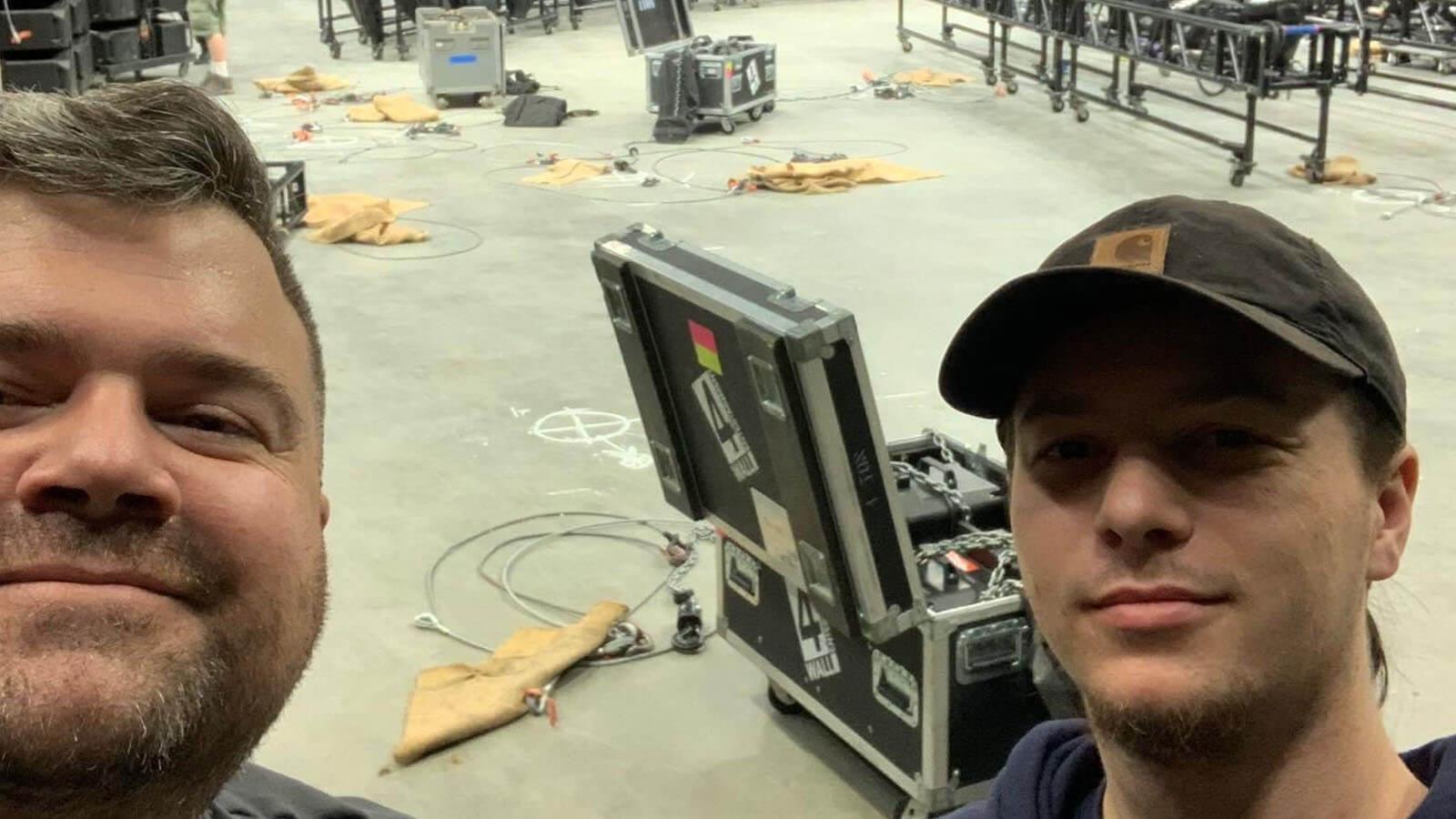 The early days of the COVID-19 pandemic disrupted countless industries, and concerts shut down as crowds waited for vaccines and reduced case numbers. Although the pandemic hit the pause button on touring, live events are back — and tours need skilled crew members who are ready to work. Show Production grads like Full Sail University Hall of Fame inductee Brian Carico and his mentee, Brian Bogovic, worked together on Blake Shelton's "Friends and Heroes" tour as soon as pandemic restrictions started lifting.
Carico, who previously earned an associate's degree in Full Sail's Recording Arts program, used the break in touring to expand his education. He already had a career in the live events industry, but getting a bachelor's in Show Production meant sharpening his existing skills and adding new ones — like a mastery of Vectorworks, a 3D-design software.
"Vectorworks is a very complex program. Sometimes it's difficult to try to pick up on programs while you're still working in the field. So that was nice to kind of get an accelerated course on Vectorworks [during the Show Production program]," Carico says.
Returning to his alma mater came with the added bonus of meeting up-and-coming live events crew members like Bogovic. The Full Sail student reached out to Carico via email during their Lighting Concepts & Design course and the two hit it off. Bogovic made the effort to stay in touch throughout the program, and when he graduated, Carico helped him land a job as an LED 4 and front-of-house camera operator on Blake Shelton's tour.
"Networking can lead to jobs," says Carico. "And that's one thing with Brian [Bogovic]. Brian literally just answered an email, and it started that way. It can really be that simple."
Carico worked as the tour's Video Director and Crew Chief. His responsibilities were loading and unloading gear from the tour's ten semi trucks, cutting all of the video footage, and directing and signaling that footage to six LED displays and two projections screens during the show, among other tasks. He took Bogovic under his wing, and the two worked side by side during every stop on the tour.
As an LED 4 and front-of-house camera operator, Bogovic helped Carico build an LED wall for each show. He also helped troubleshoot gear issues, set up and run cameras, and worked with stagehands to ensure the show ran smoothly.
Although Bogovic was already prepared for the responsibilities of touring, working with Carico taught him how to work smarter instead of harder. "[Carico taught me] to do things the right way while doing them the easiest way possible. Trying not to put a lot of stress on yourself and on your hands by running the cables a certain way because it makes the most sense, how to watch your motors while you're watching all your cable. It was just a lot of small things that make you a good tech," Bogovic says.
Both grads love the traveling, camaraderie, and live music that come with touring, and they're already back on the road: Carico is currently the Production Manager for Dustin Lynch, while Bogovic is on tour with Reba McEntire as a front-of-house lens operator and LED tech. As Bogovic watches the lights go up on Reba's massive crowds every night, he knows that he can reach out to Carico if he needs industry advice.
"Reba's selling out every night. I mean, it is 10,000 to 14,000 people in here per night that we're selling out, and it's nowhere near slowing down. There's tour after tour coming up," Bogovic says. "And I think the other thing with that is that Carico, even after Blake [Shelton's tour], he has still remained a close confidant of mine and has still helped me get jobs and get gigs and given advice to me when I've needed it. And he's been amazing in that."