Published Dec 11, 2019
Students and Faculty Develop Patented Technology to Assist Special-Needs Therapy
The Simulation & Visualization degree portfolio project was designed to augment the work of the Conductive Education Center of Orlando (CECO)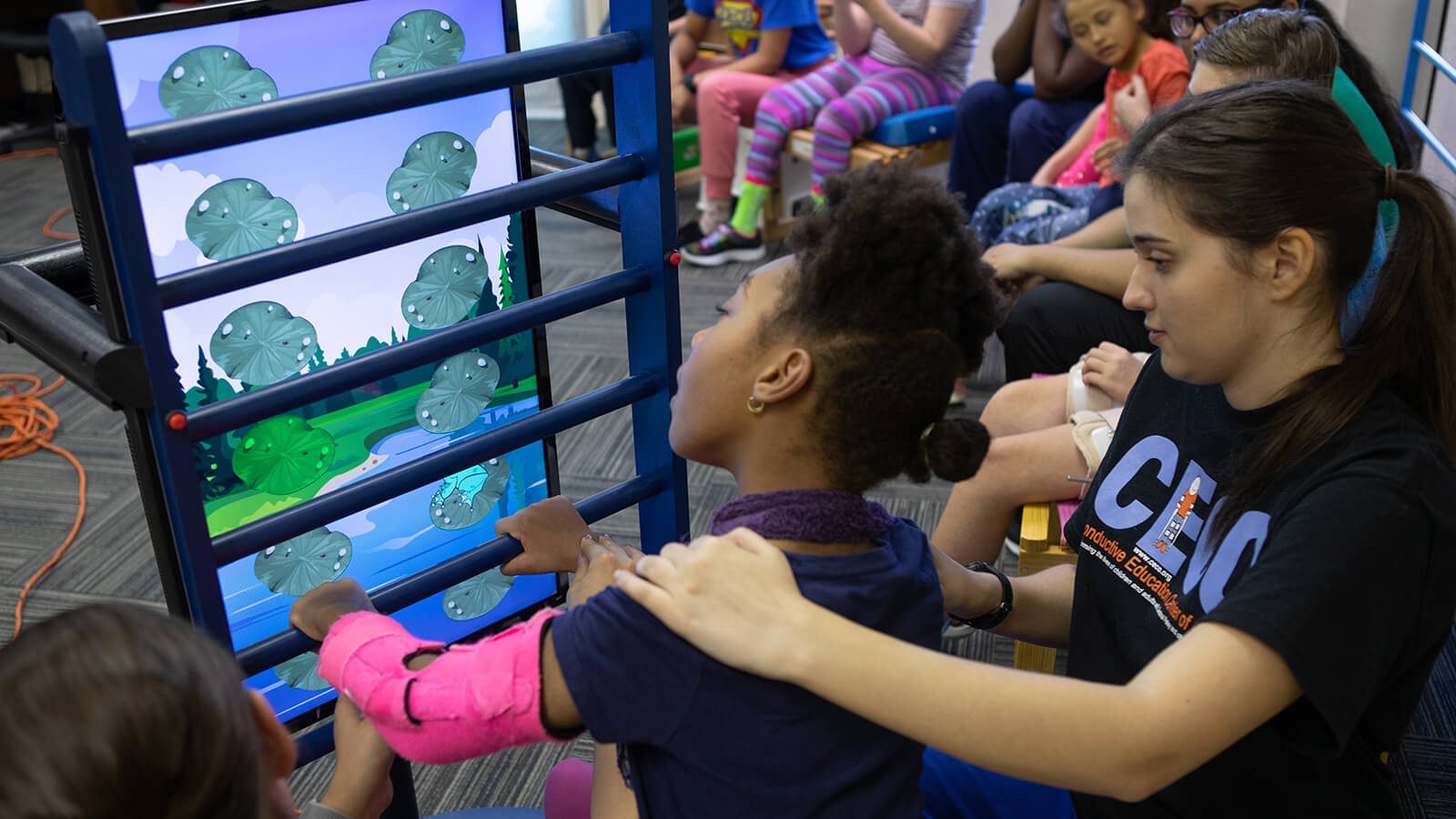 Students in the Simulation and Visualization degree program at Full Sail showcase their capabilities in a variety of ways. From building creations for education to spaceship simulators that transport visitors to new realms, these students consistently push the boundaries of technology, and, one of their portfolio projects asks them to apply those skills toward a positive cause.
"Instead of trying to come up with some epic project," says course director John Czaban, this portfolio project gets students to think locally by "just looking down the street and seeing what's around here so we can participate in the local community."
Enter CECO.
The Conductive Education Center of Orlando (CECO) works with individuals impeded by neurological motor disabilities such as Cerebral Palsy and Parkinson's to transform their lives using conductive education. Developing skills such as sitting, gripping, and head movement are some of the main focuses for the Conductors (special education teachers) at CECO and they use a variety of cognitive learning tools to aid in this development.
Popular tools among CECO participants are ladder devices; these employ repetitive motion for strength training and they are where instructors and students in the Simulation & Visualization program saw the opportunity for a technology-based improvement.
An interactive monitor affixed to the device responds to physical prompts made on the ladder itself, allowing participants to play, learn, and improve their cognitive abilities all while developing crucial motor skills that will assist in helping them lead more independent lives. "It's so important for our kids to get the technology closer," says CECO Conductor Anna Gevicser. "Now they have the motivation right in front of them."
The development of a digitized version of the ladder with interactive games proved challenging. However, after months of trial and error, nine students and three faculty members developed a now-patented technological solution that allowed them to execute their objective and provide CECO with an innovative new tool to improve the lives of the children they work with.
John's pride in the work Full Sail students and his colleagues were able to accomplish on this project is evident. "When you see the result and the smiles, you realize you've done something much bigger than just worked on a project," he says.