Published Sep 15, 2022
This Game Art Grad Is Designing 3D Training for the Military
As a Visual Database Engineer at CAE, Full Sail grad Jason Hutchins designs intricate 3D models of plane cockpits, engine systems, and more for training Air Force pilots and crewmen.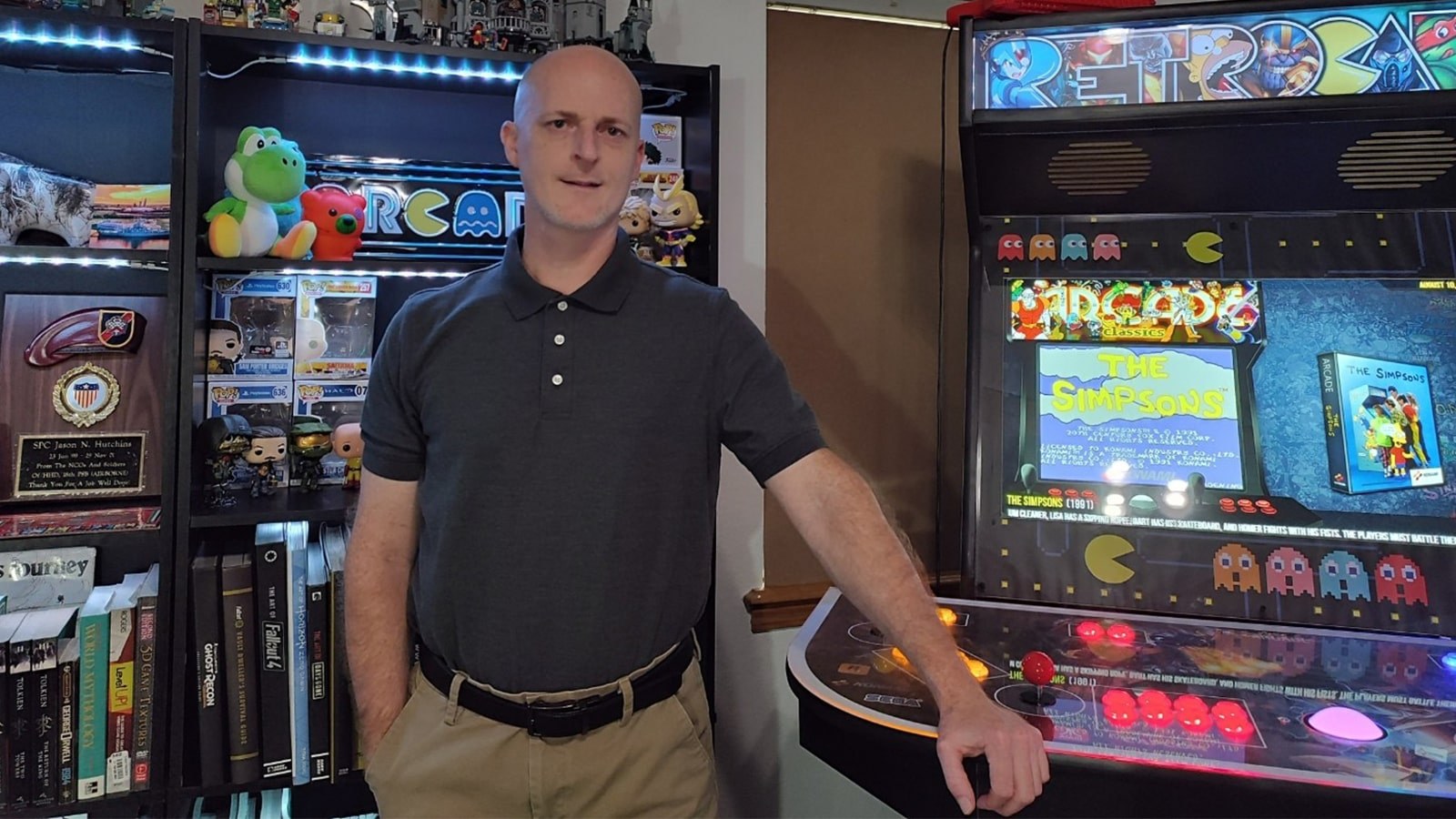 During his formative years, Jason Hutchins was led to believe a career in designing games seemed somewhat unattainable. "I would look at the game magazines in the grocery store when mom was shopping, and then when we got home, I'd go draw the characters from the game magazine," recalls Jason. "In one of my art classes, I would turn that work in for art projects. I remember the teacher said, 'Well, that's not art, that's garbage. That's video games, just a waste of time.'"
Resigned to life not creating video game art professionally, Jason decided to pursue a military career and enlisted in the United States Army. After completing his time in the military, he returned to his home state of Florida and learned about Full Sail University. Jason visited the campus for a tour, only to discover his childhood dreams could become reality.
"I snuck over to the game art tour, and I was looking at all the gaming computers and the Wacom tablets and Z-Brush modeling and everything and thought, 'Wait a minute, is this art? Because I was told that's not art, what?' So apparently that teacher was wrong, or all of the schools teaching game art and computer animation are completely wrong."
Luckily, Jason quickly discerned it was his art teacher that was incorrect and enrolled in the Game Art program at Full Sail. During the program, Jason greatly enjoyed the individualistic approach to his education, something he hadn't experienced before.
"I think it was the 3D general class, one of the first classes, [the instructor] would say, 'This is how I do it, this is my technique, if you have another technique, as long as the end result is the same, I don't care how you get there. That's all that matters is the thing that you made, does it look proper?' That's when I knew I was in the right class," says the grad.
Though he'd lent his talents to successful student projects – including Fender Bender, a game featured as PC Gamer Magazine's best free PC game in June 2011 – Jason struggled to find work in the field post-graduation. He spent some time working with animator Ben Rush and L7 Studios on a project that would later be acquired by Pixar but still struggled to find his footing in the world of game art.
That's when the perfect opportunity for the grad came into focus. Combining his skillset in 3D modeling and game art with his military background, Jason was hired by military contractor CAE to design 3D models for military training.
Working with a military contractor on classified projects, Jason found himself utilizing proprietary programs that he hadn't encountered in his time at Full Sail. Luckily, the influence of his studies was able to guide him even in programs he wasn't familiar with. "[I had an instructor who said] 'Don't learn the program, learn the steps,'" says Jason. "That really inspired me. It was all the same, I had to make a model, I had to make a texture, I had to UV the texture, I had to check the lighting, I have to check in the game…just exactly the same that we learned at Full Sail."
Today, as a Visual Database Engineer at CAE, Jason is modifying and designing consequential training modules for Air Force pilots and crew, work he takes pride in.
"I made modifications to a KC-135, and so when [Airmen] get in the cockpit and they look out the window, I made that. So it's just like when you play the game and you look on your screen and you go shoot the other guy or whatever, some people made that. I do the same thing, but it's inside of a plane."