Published Aug 10, 2020
This Recording Arts Grad Develops Creative Tools for Songwriters
Chris Ulmer helps musicians plan, create, and publish their songs with his company, Powered By Sound Production.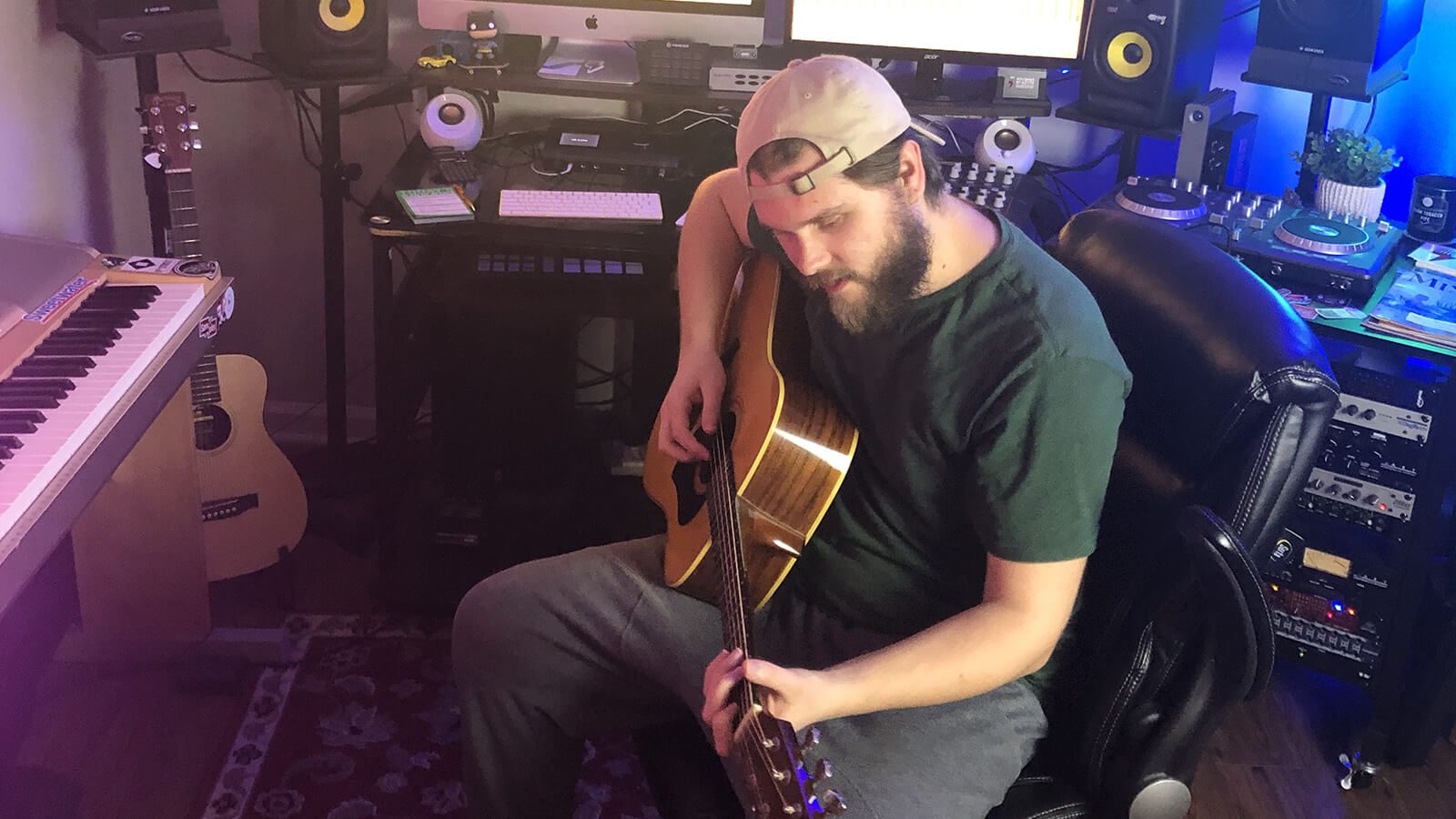 Chris Ulmer is a Recording Arts grad with an entrepreneurial edge. At his company, Powered By Sound Production, he records and produces songs by other artists. He also helps songwriters find creative and professional inspiration with the products he launches under Elite Musician Tools. Chris entered Full Sail to learn studio recording skills, but his experience in the program helped him go beyond that and carve out his own space in the music industry.
Chris was raised in a family of musicians; his grandfather and dad both played in bands, and Chris grew up playing piano and guitar. He started doing studio and live recording sessions for his own bands in high school, took a few years of music technology and music business courses at a community college, then committed to Full Sail's Recording Arts bachelor's degree.
Full Sail's program taught Chris how to use industry-standard recording techniques on mixing boards. Aside from foundational recording skills, Chris also gained a holistic understanding of professional music.
"I really liked the [classes] that taught me different stuff," he says. "The Vocal Production one was a lot of fun, just because I didn't realize how separate of a process vocal production was for good records compared to just records. The Sound Design for Games class was really fun because I didn't know anything about that. Audio Postproduction was awesome, too."
Full Sail's classes also gave Chris the idea to pursue live sound recording in addition to the studio recording that he loved. "I remember thinking, okay, if I can't really find consistent work right away recording more bands, then I can just try to do some live sound stuff to supplement," Chris says. "So that's pretty much what I did end up doing."
Chris's first job out of college was with Production Resource Group, where he got opportunities to go on-site as an audio and lighting technician for small to mid-sized events. He continued working live events at his next job with Manor Hill Productions, then shifted his focus to his original passion: recording bands and individual artists and producing their tracks in his home studio.
Soon, Chris launched Powered By Sound Production, LLC. His company's overarching goal is to help musicians create what they hear in their heads and hopefully achieve success. He spends his time executing the brand's digital marketing strategy, recording and producing songs, running his online shop, and developing his new brand, Elite Musician Tools.
The company's flagship product, the Artist Companion notebook, combines a lyric journal with a planning journal to help musicians write songs, then plan and execute the song's industry goals. It distills Chris's education and professional experience into one notebook.
"The idea is to let you, as the songwriter, lay it out in the beginning. Like, 'Okay, this song is going to be for me for my sync catalog. I'm going to really try to get it placed in this upcoming movie.' And then it gives you the steps," he says. "It has places to fill out, 'This week, this is what I'm going to do. This month, I'm going to meet these supervisors to pitch this product.'"
Chris is also launching the Songwriting Discovery Deck, a set of prompt cards for musicians, through Elite Musician Tools. "You can just draw the card out of the deck and it has a writing prompt on it, and you can write to it… it's perfect if your creativity is drying up," says Chris.
Starting his own business has given Chris multiple avenues to make a living in music, but it wouldn't have occurred to him without Full Sail's Fundamentals of Music Business course. "[That class] changed my outlook for why I initially went there and what I could do when I left… it's awesome if people start working in a big studio [after graduation], but there is still a whole industry out there of jobs and ways you can create your own jobs," he says.