Published Jan 15, 2020
This Show Production Grad Is An Award-Winning Stage and Lighting Designer
Kris Clemson knew he wanted to create live shows since he was 14.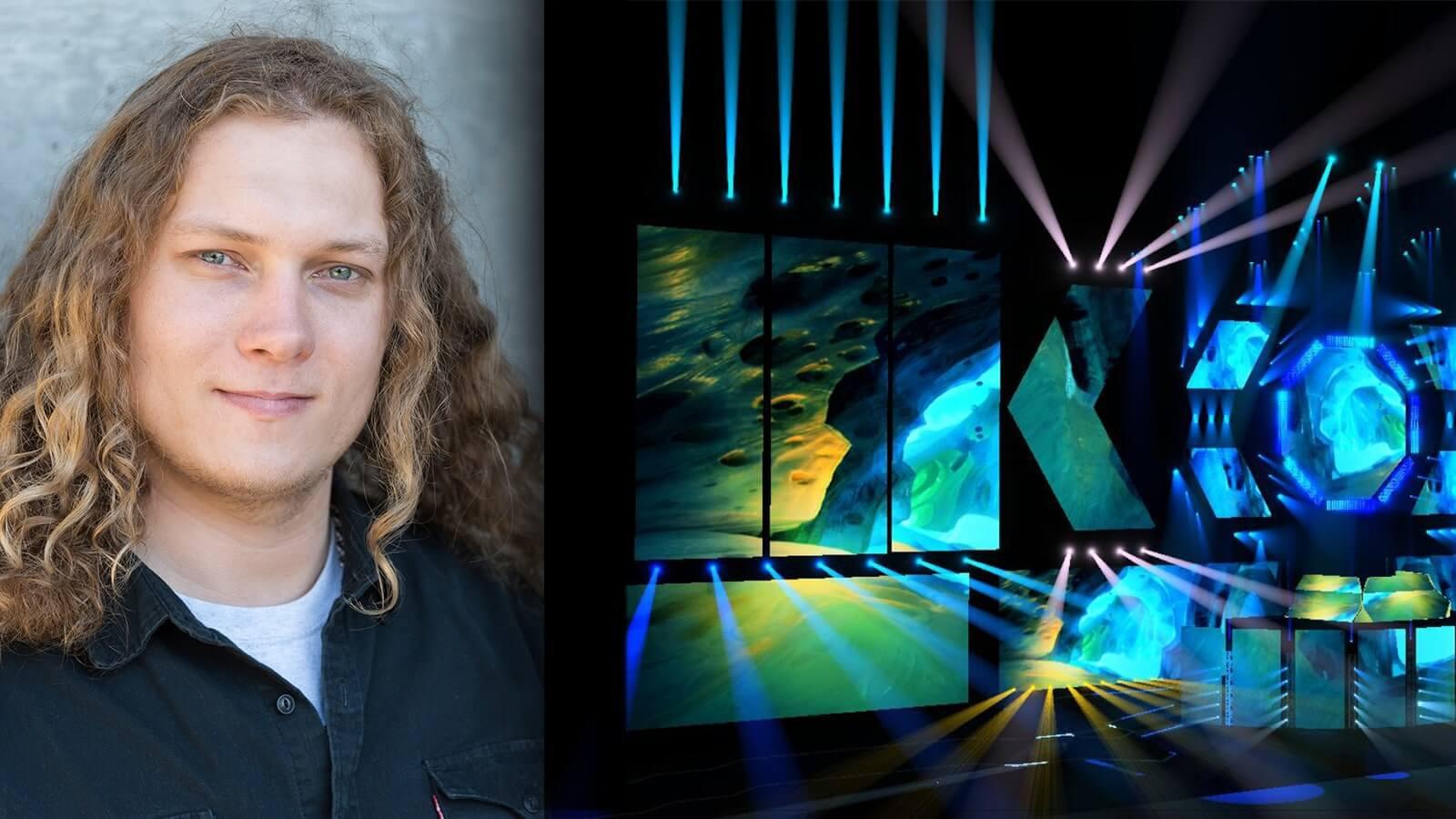 "If there's something I want and the means isn't happening for me to get there, I find another way to do it," says Show Production grad Kristopher Clemson. His tenacity set the stage for rapid success after his 2017 graduation: He started his own company, Bifröst Lighting LLC, was soon working huge events like the Apple Developer Conference and Warped Tour, and won this year's Vectorworks Design Scholarship contest.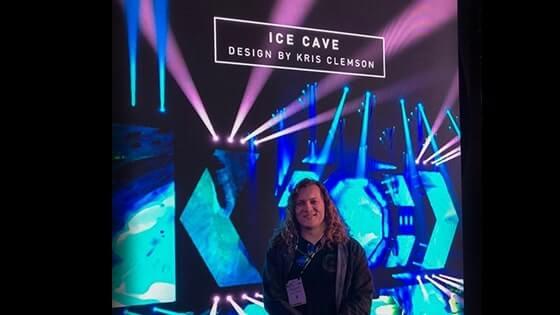 Kris's career story begins at a Tool concert when he was 14. "I saw their light show and everything they do to put together a live performance. It was inspiring," he says. After a family friend recommended that he seek higher education, Kris set course for Full Sail.
But he didn't wait until he got to campus to pursue lighting design. "I did the Vectorworks software tutorials before I even got to Full Sail," he says. The industry-leading software helps designers create 2D and 3D models of their projects, and Kris quickly took to figuring out how to best use it. He also reached out to other lighting designers to find out what equipment they used. The common thread? A sleek lighting console called grandMA2.
Full Sail's fleet of sound and light gear was the playground Kris had been waiting for. "They have something like eight grandMA2 [consoles] in their lab. I spent as much time as I could on it when I was at Full Sail," he says. "People tried to kick me out of the grandMA2 room."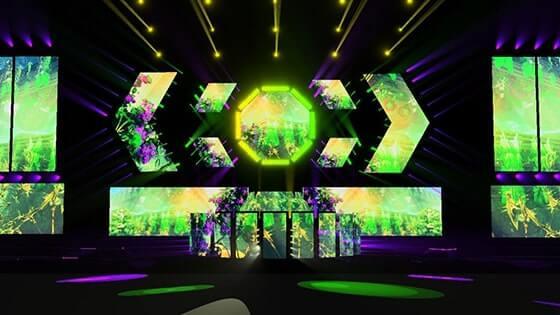 Full Sail's lighting programming classes and labs taught him how to operate vital software and hardware during a live show. He also worked on extra projects during his free time. "Going out on my own and trying to push the envelope with the creativity and the amount of effort I could put into designing other stages really helped," he says.
Kris went beyond the classroom in other ways, too. He entered an essay contest during Full Sail's annual Hall of Fame event, trying to win some time backstage with a visiting lighting designer. His essay didn't hit the mark, but Kris still saw the value in connecting. "I went to every single one of his [Hall of Fame] lectures and sat in the front," he says. "After the third or fourth time he said, 'You've been following me around.' He gave me his card."
After graduation, Kris headed west to Silicon Valley. He immediately started working freelance gigs at Live Nation-owned venues in the area, thanks to his membership in the IATSE (International Alliance of Theatrical Stage Employees) union. He also founded his company, Bifröst Lighting LLC.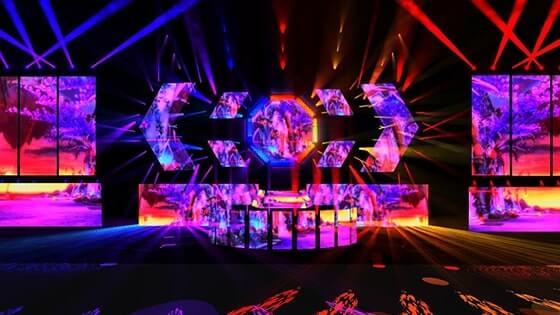 "I help design light shows for concerts and facilitate the entire design process," says Kris about the work he does at Bifröst. "I'm also a programmer and operator of the grandMA2 lighting console, and I create video content to run on media servers during a live show."
While working during the Audiotistic music festival, Kris found a new opportunity — in a trash can.
"I got chewed out during a show because I tried to take a picture of the stage," he says of his efforts to document a particularly inspirational design. But Kris kept his eyes peeled as the crew was packing up and found a lighting plot that one of the techs threw in the trash. "It was rained on and stepped on and half-destroyed. I bagged it, then went home and remade everything I saw in Vectorworks."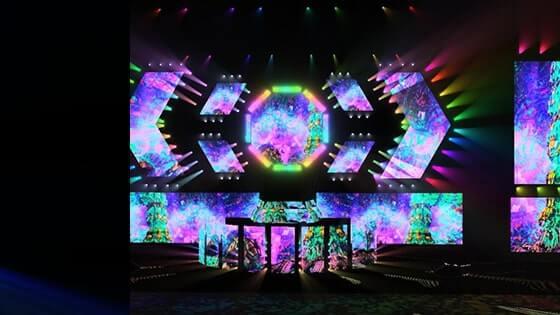 By the time the 2019 Vectorworks contest was announced, Kris was well-prepared to take what he'd learned in and out of Full Sail and put it to the test.
"I'd designed three or four stages at that point, and I figured this was an opportunity to make a stage that's better than my previous ones and get paid for it," he says. Kris also saw the value in getting endorsed by Vectorworks, noting that it could lead to more interesting work in drafting, pre-visualization, and design.
Six months of dedication and focus helped Kris create the Octagon, a massive EDM-style stage with sophisticated lighting, an eight-sided screen, and surrounding side screens. The setup elevates the audio and visual components of concerts into one cohesive experience.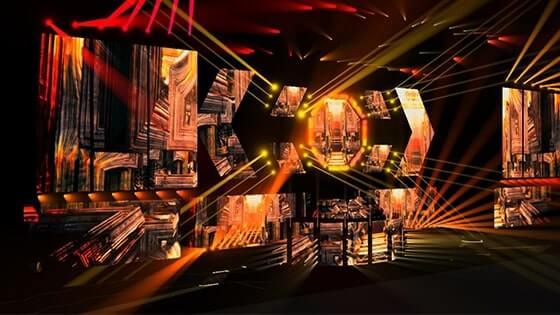 Although he completed his project's design four months ahead of schedule, Kris didn't kick back and relax. He taught himself how to use Vectorworks' Vision, a pre-visualization software that brings any design to life in three dimensions. Being able to utilize Vision helped improve the project, propelling the Octagon ahead of over 1,600 other applicants to win the top prize.
Kris has words of wisdom for Full Sail students who want a career in lighting design (and maybe some Vectorworks-level accolades). "Evolve your skills and learn all the software instead of just one little section. Immerse yourself in the process of creating art instead of just looking forward to the end results."
Reaching out to others at Full Sail and in your industry is another must-do. "Ask people for learning resources, find mentors who will answer your questions, and try to be a sponge. Just seek out knowledge everywhere that has to do with your career," he says.