Published Sep 12, 2022
This Web Development Grad Got a Job Before he Graduated
Brian Alvarado landed a position as a Solutions Analyst at Deloitte before he finished his classes.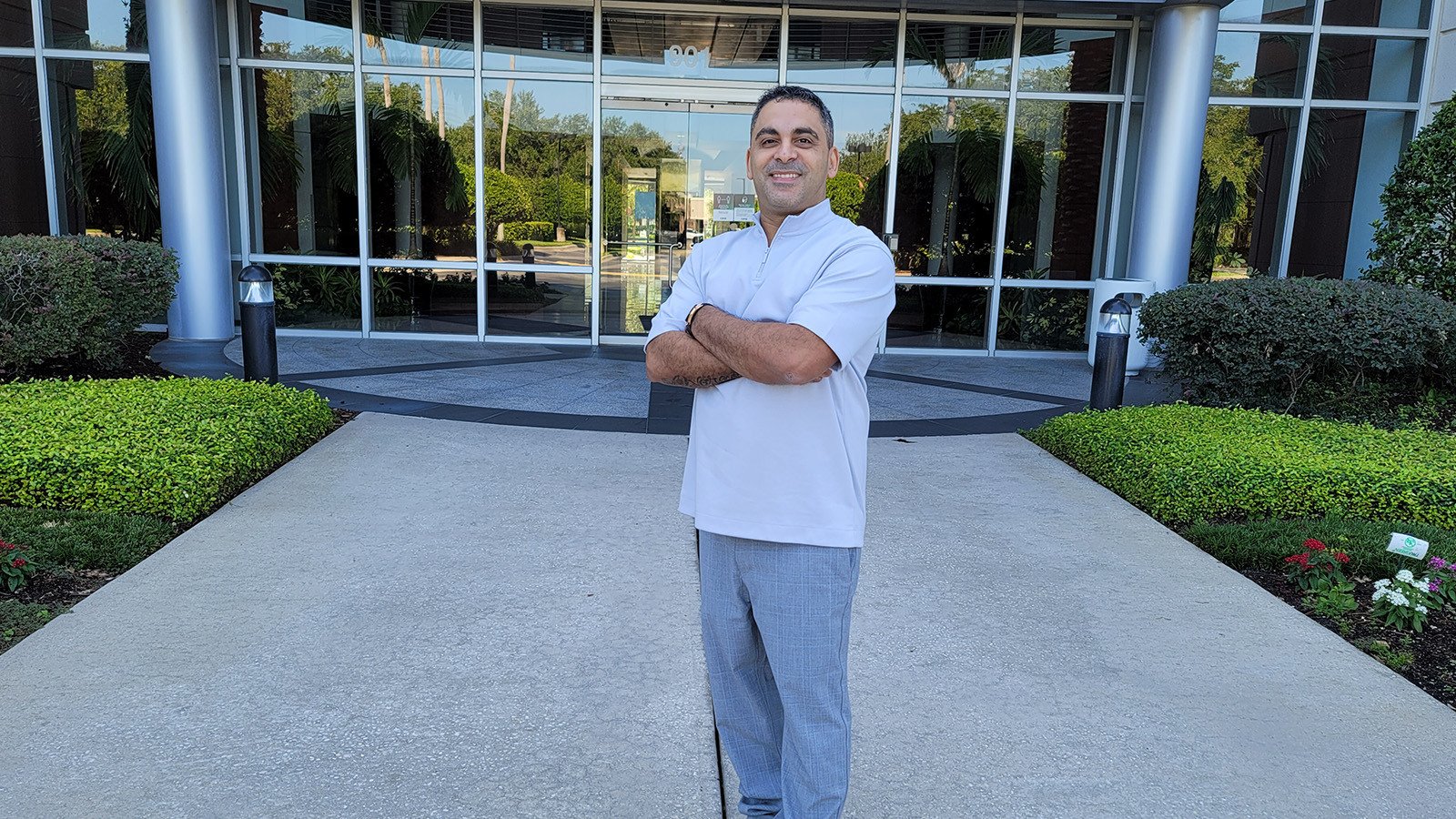 Brian Alvarado is a Full Sail grad who landed his current job before he even finished school. The tech skills that Brian learned during his time in the Web Development program made him an appealing hire for Deloitte, a global financial services provider. Now he's putting his knowledge to use doing full-stack development as a Solutions Analyst at the company.
Brian's interest in technology blossomed when he was still a kid in Rochester, New York. He received a Commodore 64 for Christmas in the early '80s and was instantly fascinated with everything the 8-bit computer could do. When he reached adulthood he moved to Florida; he eventually started working as a fabricator at a local transformer company. After hearing about Full Sail from a coworker, Brian signed up for Web Development program. He enjoyed all of his classes, but his Interface Programming course was his favorite.
"[That class] stood out the most. I had to create a fully operational phone app using an API. The challenge was at the appropriate level of difficulty, and I really enjoyed creating the app. During this class I felt as if I had already achieved my dream of becoming a developer," Brian remembers.
Brian's instructors also helped him gain a sense of professional accomplishment, especially course director Edward Almeida.
"Ed had given me so much support and really showed interest in my growth as a developer," says Brian. "When I found out he had submitted a Course Director Award for me I was so grateful because it was him that drew the best work out of me. Working with Ed made me feel as if I was already working in the field as a developer, and that's something not every teacher can accomplish for a student."
Brian started submitting his resume to tech companies before he graduated, and he wound up with an offer from Deloitte. He started working as a Solutions Analyst right after he completed his degree. Brian's job requires him to develop solutions using modern technologies.
"Currently my role as a Solutions Analyst is full-stack development. At any given time, I could be working with legacy code and creating a modern solution to achieve the same result [as the old solution] while also improving performance. Or I could be working with modern technologies and creating a solution to meet the needs of any given client," Brian explains.
A typical day for Brian involves attending meetings, analyzing legacy code, writing new code, and conducting research. He uses an Integrated Development Environment to write and debug his code, and he also uses multiple web browsers to test responsiveness across different environments and devices. He loves the creativity and problem-solving that come along with his job, and he rises to the challenge when he has to quickly learn new skills.
"When I receive a new assignment, I may not be familiar with the [exact technologies being used, so I] must be willing to learn and adapt to the given scenario. But clients shouldn't have to wait for that transition, so we must be highly self-driven and responsible for our own growth," he says.
Brian's commitment to maintaining his current skills and learning new ones is helping him succeed at Deloitte. But he wouldn't be enjoying his role as a Solutions Analyst if he hadn't tirelessly worked to land an industry job in the first place.
"My best advice for any student would be to start looking for a job at least one year before expected graduation," he says. "Start as soon as possible and expect a response from maybe one out of 10 resumes. Don't lose hope… I remember the day of my graduation I had received two calls from other employers making me offers, but I declined because I had already made my decision to go with Deloitte, and I'm happy I did. This is what every student should reach for: The opportunity to turn down offers from multiple employers."