VIEW ALL INDUCTEES
Carlton Lynn
Mix and Recording Engineer
Carlton Lynn's impressive 20-year career as a mix and recording engineer includes a pair of GRAMMY awards and credits on albums by Madonna, The Roots, Aretha Franklin, and more.
It all started in 1994, when after graduating from Full Sail's Recording Arts program, Carlton landed an internship with producer Dallas Austin in Atlanta, and set out to make an impact.
That hard work combined with technical skill quickly made Carlton a sought-after presence in the studio. His first GRAMMY came in 2000 for his work on TLC's Fanmail (Best R&B Album). He served as resident mixer for independent label Reach Records, with which he earned his second GRAMMY statue in 2012 for work on hip hop artist and Reach co-founder Lecrae's Gravity (Best Gospel Album). Today, Carlton is located in Tokyo, where he continues to expand his musical horizons.
Credits:
Leona Lewis, TLC, Lecrae, India Arie, Usher, Pink, Nas, Ciara, Chris Brown, Monica, Kelis, Lloyd, Fantasia, Christina Milian, 112, FLOWBACK, Red Velvet, BulletTrain, Astro, Hollyn
Graduation Year:
1994
One day the studio manager walked by, and I could see him making a mental note that I was doing that. The best way to make it in the music industry is to make yourself indispensable."

—Carlton Lynn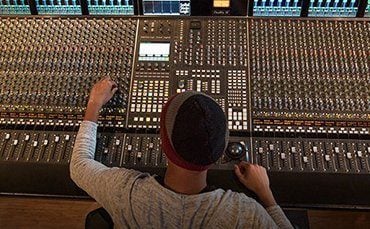 Music is a universal language.
2014 Hall of Fame Inductees