VIEW ALL INDUCTEES
Darren Lynn Bousman
Director/Writer
As the director of the number one films Saw II, Saw III, and Saw IV, and cult favorites like Repo! The Genetic Opera, Darren Lynn Bousman has made a name for himself in horror, a genre he's been fascinated with since elementary school.
"I remember the first time I was scared at a movie, it was such a strong feeling, and I was always drawn to that," he says. "I knew I wanted to create those resonating feelings with audiences."
The Film grad moved to Hollywood after graduation and worked as a production assistant while writing his own scripts and pitching them to studios. After a few years, Darren's persistence paid off and one of those scripts, The Desperate, was sold and turned into Saw II, and Darren was given the opportunity to direct. The film was a huge success at the box office, leading to Saw III and Saw IV, and one of the most successful horror franchises of the past decade.
"Doing the Saw movies was a blast," says Darren. "I basically got paid to have fun and gross people out. Horror films are the most fun you can have on set because they're so fantastical."
As a director, writer, and producer, Darren's career has yet to slow down, with recent releases including The Devil's Carnival, The Barrens, Abattoir, a remake of Mother's Day and 11-11-11. He's been recognized as a new and original voice in horror, and his films continue to showcase his grasp for pushing common conventions.
Credits:
The Devil's Carnival, The Barrens, Abattoir, 11-11-11, Mother's Day, Repo! The Genetic Opera, Saw II, Saw III, Saw IV
Graduation Year:
2000
It's really about figuring out what's going to make you different from other people. I think that's why I'm where I am. It didn't happen overnight, it happened after years of really hard work, but I stayed with it."

—Darren Lynn Bousman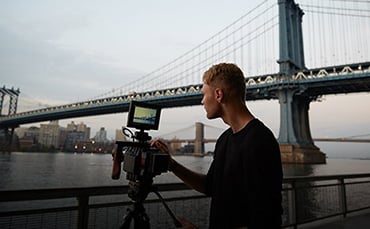 Turn your stories into experiences.
2011 Hall of Fame Inductees