VIEW ALL INDUCTEES
Elbert Perez
Co-Founder & CTO, Doghead Simulations
Elbert Perez has used his passion for both the technical and creative sides of video gaming as a driving force in his career. Currently the co-founder and chief technical officer of Doghead Simulations, Elbert had previously served as Senior VR Developer with HTC Creative Labs – contributing to the cutting-edge of virtual reality through his work on the HTC Vive.
Before HTC, he was a technical producer at Microsoft, working on games such as Halo 4, Ryse: Son of Rome, Sunset Overdrive, Ascend: Hand of Kul, plus development on products like Xbox One, SmartGlass, XNA, and Windows Vista.
To top it off, Elbert is an independent game developer with more than 20 titles across the Steam, Windows Phone, Android, and iOS markets – generating more than three million downloads.
Credits:
Halo 4, Ryse: Son of Rome, Sunset Overdrive, Ascend: Hand of Kul, HTC Vive, SmartGlass, Xbox One
Graduation Year:
2005
Making games was the only thing I could ever pursue with a passion. I couldn't be a lot of things for one reason or another, but I liked that games require you to be creative and technical at the same time. I could do that."

—Elbert Perez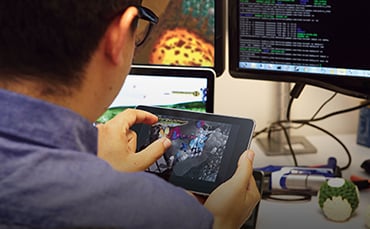 2016 Hall of Fame Inductees