VIEW ALL INDUCTEES
Fernando Delgado
Production Sound Mixer / Owner at Stickman Sound
As the owner of Stickman Sound in Las Vegas, Fernando Delgado works in production genres such as live sports/entertainment, reality television, motion pictures and commercials. His audio work can be found on projects including a VR experience with multi-platinum rock band Coldplay, FOX Sports coverage of the infamous Mayweather vs. McGregor fight, TV show Top Gear America, and commercial work for brands such as Under Armour and Nike. Most recently he has been working with Flight Line Films, mixing Blue Origin rocket launches and a variety of VR projects. Fernando is an Emmy recipient for his live audio work with HBO's Boxing.
Credits:
The Ultimate Fighter, HBO Boxing, Top Gear America
Graduation Year:
1997
When you enjoy seeing other people succeed…the reward is so much better than what you actually give."

—Fernando Delgado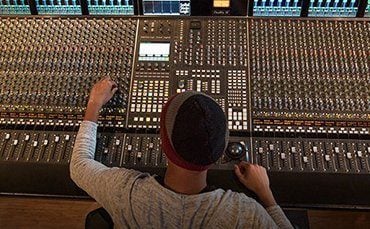 Music is a universal language.
2017 Hall of Fame Inductees