VIEW ALL INDUCTEES
Larry Katz
Second Assistant Director
While many of his classmates in Full Sail's Film program dreamt of being the next Spielberg or writing an Oscar-winning screenplay, Larry Katz had a more direct goal in mind – to be an assistant director.
Larry was drawn to the role of AD because of the level of involvement assistant directors have – in every shot of a movie. After graduating from in 2000, Larry moved to Los Angeles and set his sights on the Director's Guild of America Training Program. He didn't get in the first year, but remained encouraged and landed the coveted internship in 2002.
His experience in the program proved rewarding. Every 50 days he was rotated to a new TV show or feature film, meeting a whole new group of ADs on each set. These relationships became the foundation of Larry's professional network, leading to incredible opportunities.
His credits range from blockbusters like War for the Planet of the Apes and Captain America: The First Avenger, to television shows such as Californication, Desperate Housewives, and Seventh Heaven.
Credits:
Shaft, War for the Planet of the Apes, Dawn of the Planet of the Apes, Captain America: The First Avenger, X-Men: First Class, Pirates of the Caribbean: At World's End, ER, Californication, White Famous, The Chickasaw Rancher
Graduation Year:
2000
Looking back my goal was just to get on set of the movies that I liked to watch, and being able to do that has been incredible."

—Larry Katz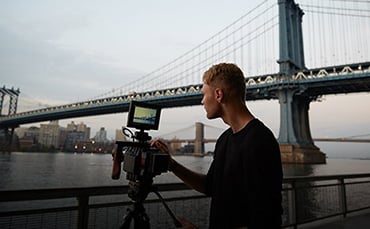 Turn your stories into experiences.
2013 Hall of Fame Inductees