VIEW ALL INDUCTEES
Phil Tan
Mix Engineer
1990 Recording Arts grad Phil Tan is a three-time GRAMMY Award-winning mix engineer with an impressive list of credits, including Katy Perry, Jay Z, and Gwen Stefani. He got his start in the early '90s after moving to Atlanta and landing a gig with influential producer Jermaine Dupri. After proving himself behind the console, he became a regular at Dupri's Southside Studios, where he started earning his first major credits.
"I met Jermaine during a recording session he had for TLC on their first album," remembers Phil. "He and I hit it off immediately, so from then on he pretty much tried to request me for any of the sessions he had at the studio."
He quickly earned a reputation for his speed and high quality of work and settled into a career as a mix assistant, sharing his "Zen philosophy on recording" with dozens of artists. His GRAMMY wins came in 2005, for Best Contemporary R&B Album for his work on Mariah Carey's The Emancipation of Mimi, in 2006, and for Ludacris's Release Therapy (Best Rap Album) – and Best Dance Recording, in 2011, for Rihanna's Only Girl (In the World).
"My mindset is to let the music tell me what it wants to do, so I don't have to impose my will on it," says Phil.
Today, two decades into his career, Phil continues to work with music's biggest names on a regular basis. He also mentors young talent and frequently returns to Full Sail to speak with and inspire students in the Recording Arts program.

Credits:
Stargate, Pharrell Williams and Jermaine Dupri; Coldplay; Alessia Cara; Fifth Harmony; Anthony Hamilton; Usher; Ne-Yo; Janet Jackson; Outkast; and Snoop Dogg, Three-time GRAMMY Award Winner, Best Dance Recording, 2011 - Rihanna: Only Girl (In the World), Best Rap Album, 2007 - Ludacris: Release Therapy, Best Contemporary R&B Album, 2006 - Mariah Carey:The Emancipation of Mimi
Graduation Year:
1990
Your job isn't to make something sound good, it's to make something sound right. You have to trust your instincts and do what you feel is best with what you're given."

—Phil Tan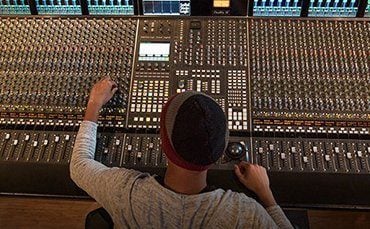 Music is a universal language.
2009 Hall of Fame Inductees