VIEW ALL INDUCTEES
Stephen Beres
Senior Vice President, Studio & Production Services | HBO
Film grad Stephen Beres is an Emmy award-winning producer and technologist who currently serves as Senior Vice President of Studio & Production Services at HBO, where he leads a bi-coastal team of production and post professionals that help create record-setting television shows like Westworld and Game of Thrones. Before leading the Studio and Production Service groups, Steve served as HBO's Production Technology Architect and was responsible for smoothly transitioning HBO from film capture into the file-based world.
Previously, Steve worked with FotoKem Inc. to develop the HPA Award-winning nextLAB project. Before that, Steve helped found and served as Chief Technical Officer for PlasterCITY Digital Post (PCDP) an acknowledged leader and innovator in post-production for feature films, commercials, music videos, and non-fiction programming. As the architect of PCDP's nonlinear editing facility-designed around Apple Final Cut Pro and central storage-Steve was a key player in developing the industry's first 4Gb SAN solution, based on Apple Xsan technology.
Steve received a Television Academy Emmy award for his work on West World VR and has produced Seven seasons of HBO's one of a kind Camera Assessment and Image Study documentary series. Steve's insights and experience have made him a popular guest speaker at The International Broadcasters Convention (IBC), The Consumer Electronics Show (CES) and the Society of Motion Picture & Television Engineers (SMPTE) where he has served as both a board member and Governor for the Hollywood region.
When Steve's not making television shows, he can be found in his workshop restoring one of his vintage Land Rovers with his brilliant and precocious daughter.
Credits:
Game of Thrones, Westworld, Sesame Street, From the Earth to the Moon
Graduation Year:
2004
The higher you move in the industry, the more you climb … it isn't the workload that increases. It's the intensity of that work, it's the importance of those decisions, and it's the amount of influence that you have in moving something in one direction or another. There is a humbling sense in that."

—Stephen Beres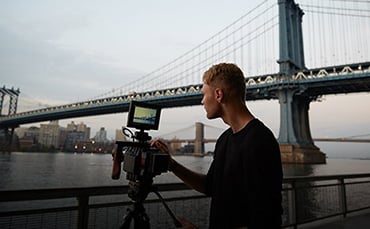 Turn your stories into experiences.
2016 Hall of Fame Inductees