Jul 17, 2017
WWE® Exceeds $350,000 in Scholarships Awarded to Full Sail University Students
WWE (NYSE: WWE), in partnership with Full Sail University is pleased to announce that it has awarded ten $10,000 scholarships to the following Full Sail University students:
Eric Alvarez, a Media Communications student
Brittney McPherson, a Film graduate and Entertainment Business student
Natalie Morton, a Show Production student
Ramon Olivares, a Show Production student
Nate Pfitzer, a Recording Arts student
Drenot Pierre, a Recording Arts student
Darcy Ricotta, a Show Production student
Malique Samuda, a Film student
Mark Shaw, a Digital Cinematography student
De'Niaya Thomas, a Show Production student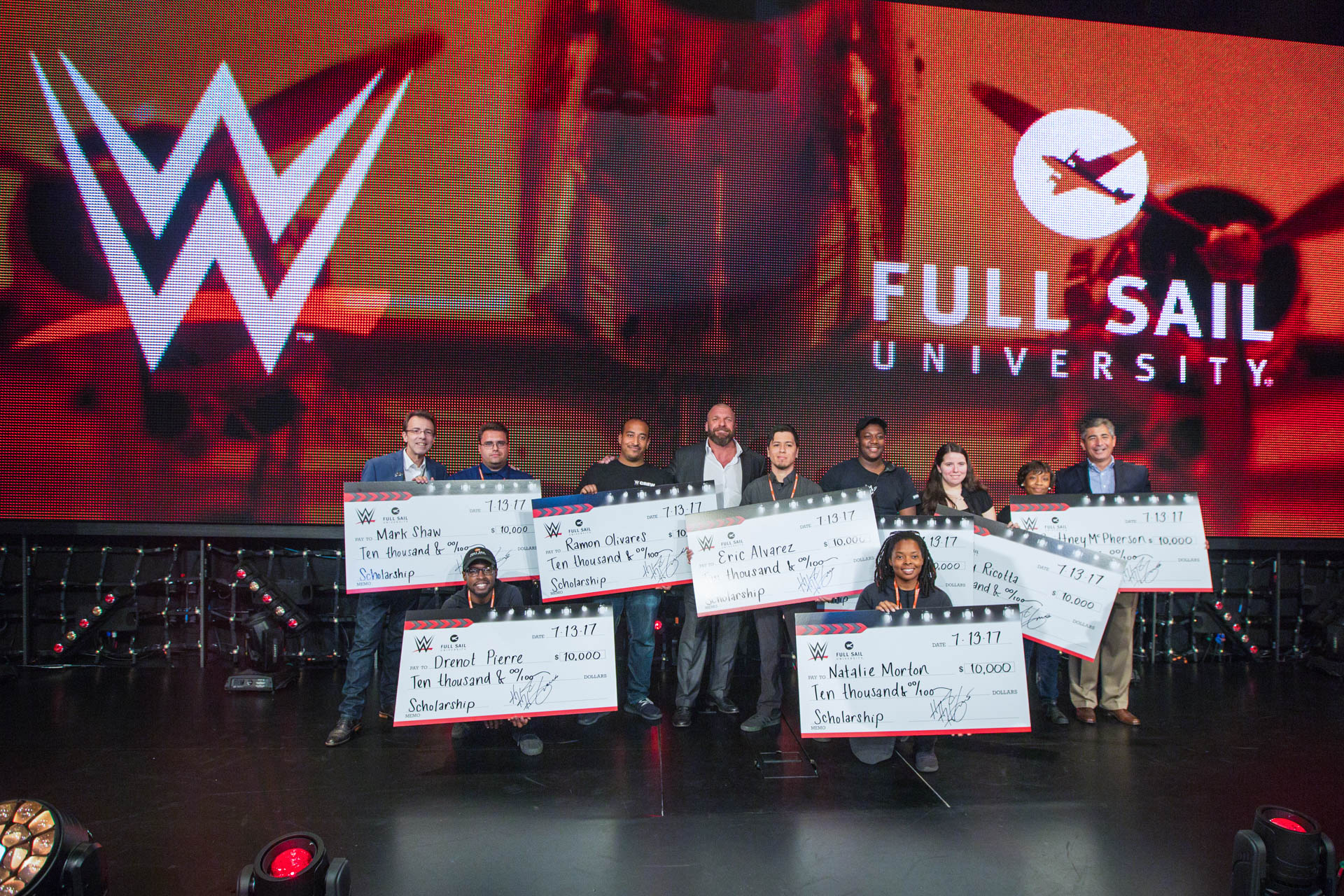 WWE Executive Vice President, Talent and Live Events, Paul Levesque, WWE Executive Vice President of Special Events, John Saboor and Full Sail University President Garry Jones were joined by WWE Superstars at Full Sail Live during production of the Mae Young™ Classic Women's Tournament to share the latest scholarship announcements. Since WWE began its partnership with Full Sail University in May 2012, WWE has awarded more than 35 scholarships to Full Sail University students, for a total of more than $350.000. These scholarships are applied toward the recipient's areas of study within the university.
"On behalf of WWE, we are honored to celebrate the commitment and passion of all Full Sail Students with the award of these ten scholarships," said John Saboor, WWE's Executive Vice President of Special Events. "We are excited to further deepen our partnership with Full Sail University with the presentation of the inaugural Mae Young Classic."
"WWE's commitment to supporting higher education is demonstrated monthly on our campus through the hands-on learning experience provided to our students during productions of NXT at Full Sail Live, in addition to the numerous opportunities our students take part in on WWE events ranging from the epic entertainment spectacle of WrestleMania, to the latest world-class production of the Mae Young Classic Women's Tournament," said Garry Jones, President of Full Sail University. "We are humbled by the generosity of our friends and partners at WWE as seen through this latest scholarship announcement, and we extend our heartfelt gratitude for their continued support of our students' educational and career aspirations."
WWE selected Eric Alvarez, Brittney McPherson, Natalie Morton, Ramon Olivares, Nate Pfitzer, Drenot Pierre, Darcy Ricotta, Malique Samuda, Mark Shaw, and De'Niaya Thomas to receive these scholarships for exhibiting exceptional professionalism, creative talent and maintaining good academic standing, while shadowing professional WWE staff and crew during the production of NXT® events at Full Sail University.
About WWE:
WWE, a publicly traded company (NYSE: WWE), is an integrated media organization and recognized leader in global entertainment. The company consists of a portfolio of businesses that create and deliver original content 52 weeks a year to a global audience. WWE is committed to family friendly entertainment on its television programming, pay-per-view, digital media and publishing platforms. WWE programming reaches more than 650 million homes worldwide in 20 languages. WWE Network, the first-ever 24/7 over-the-top premium network that includes all live pay-per-views, scheduled programming and a massive video-on-demand library, is currently available in more than 180 countries. The company is headquartered in Stamford, Conn., with offices in New York, Los Angeles, London, Mexico City, Mumbai, Shanghai, Singapore, Dubai, Munich and Tokyo.
Additional information on WWE (NYSE: WWE) can be found at wwe.com and corporate.wwe.com. For information on our global activities, go to http://www.wwe.com/worldwide/
About Full Sail University:
Full Sail University is an award-winning educational leader for those pursuing careers in entertainment, media, arts and technology. Founded in 1979, Full Sail has received accolades throughout its history, including most recently: One of the 2017 "Top Graduate & Undergraduate Schools to Study Game Design" by The Princeton Review, one of the 2016 "Top 25 Music Schools" by The Hollywood Reporter, and one of the 2016 "Top 50 Film Schools" by The Wrap Magazine. The Florida Association of Postsecondary Schools and Colleges also named Full Sail the 2016 "School/College of the Year."
Full Sail University is a graduate and undergraduate degree-granting institution offering on-campus and online degree programs in areas related to Art & Design, Business, Film & Television, Games, Media & Communications, Music & Recording, Sports, and Technology. With over 60,000+ graduates worldwide, Full Sail alumni have worked on countless award-winning projects with individual recognition including OSCAR®, Emmy®, GRAMMY®, ADDY®, MTV Video Music Award, and Video Game Award nominated and winning projects.
www.fullsail.edu
www.twitter.com/fullsail
www.facebook.com/fullsailuniversity
Press Kit
Download a fact sheet about Full Sail, high-res images, and information about our campus and online programs from our press kit.
For media inquires, contact Casey Tanous at 407.679.0100 or email [email protected].
Full Sail Press Kit Images

Stay Connected