Jan 18, 2018
WWE® Awards $25,000 Scholarship to Full Sail University Student
In celebration of the 25th anniversary of Monday Night Raw, WWE (NYSE: WWE) today presented a $25,000 scholarship to Jason Ferrer, a Media Communications student from Full Sail University.
Ferrer was selected for exhibiting exceptional professionalism, creative talent and maintaining good academic standing, while shadowing professional WWE staff and crew during the production and presentation of NXT events at Full Sail University. Since 2012, WWE has granted nearly $400,000 in scholarships to Full Sail University students, which are applied toward the recipient's areas of study within the university.
"WWE is proud to celebrate 25 years of Monday Night Raw by honoring Jason Ferrer's tremendous achievements both in the classroom and through his work at NXT," said John P. Saboor, WWE Executive Vice President, Special Events. "Full Sail University continues to build the next generation of talent and we couldn't be more grateful for our long-standing partnership with them."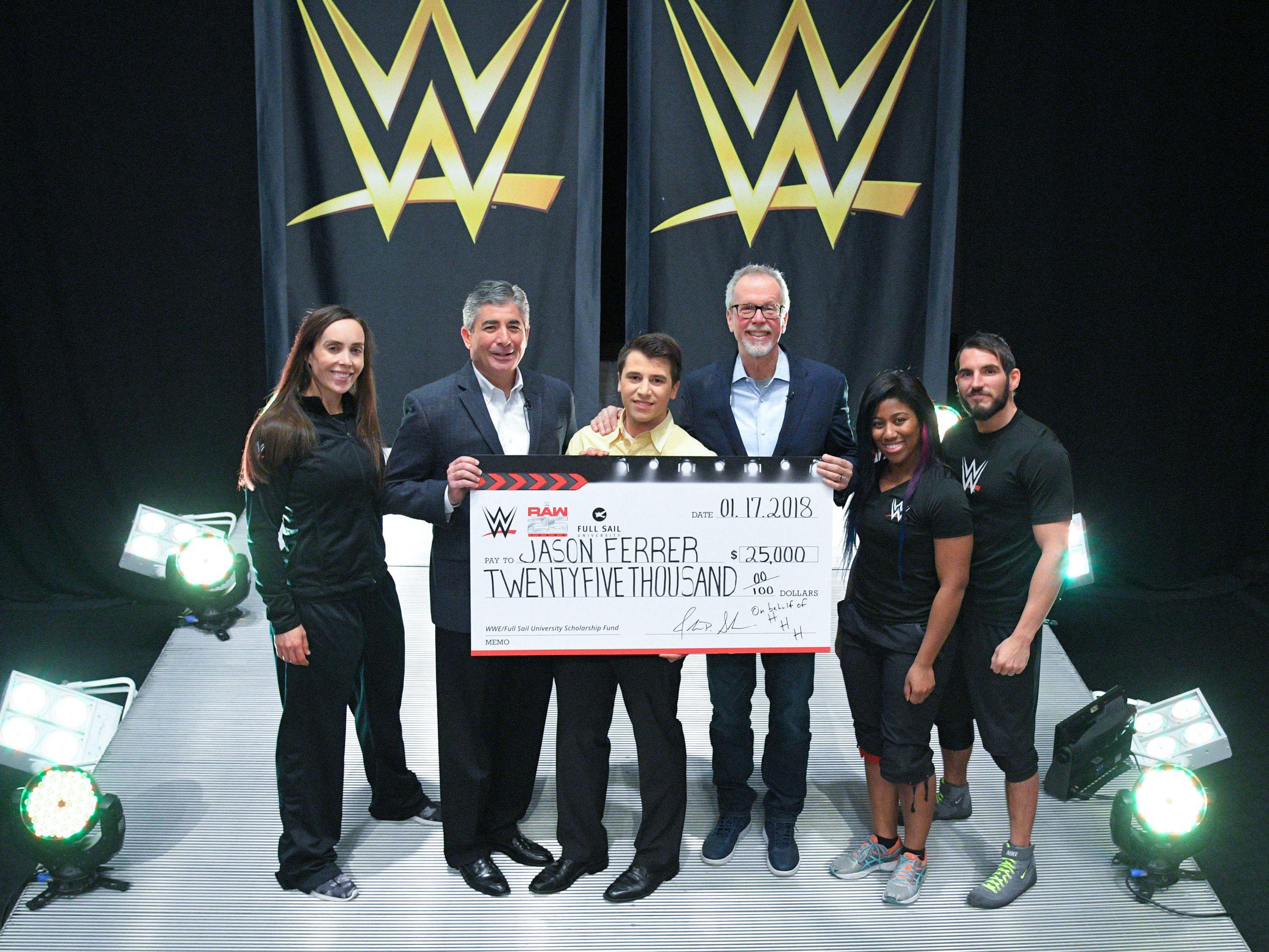 "It is with great pride that we congratulate our student, Jason Ferrer, on being selected to receive the $25,000 scholarship in celebration of Monday Night Raw's 25th anniversary," said Garry Jones, President of Full Sail University. "Jason's dedication to his craft helped him to earn this well-deserved recognition." Jones further added, "On behalf of the Full Sail University community, I extend our tremendous thanks to WWE and congratulate them on celebrating 25 years of Raw!"
WWE will celebrate the 25th anniversary of Monday Night Raw this Monday, January 22 on USA Network at 8/7c, emanating live from the Barclays Center in Brooklyn and the Manhattan Center in New York City. The event will feature the entire roster of current WWE Superstars, as well as WWE Legends from the past 25 years. Raw is the longest-running weekly episodic program in U.S. primetime TV history, and each week, it is rated one of the most socially active shows and continues to be a "must-stop" for celebrities to reach WWE's TV audience. Raw has also helped launch the careers of pop culture icons including Dwayne "The Rock" Johnson, "Stone Cold" Steve Austin, Undertaker, Triple H, John Cena and The Bella Twins.
About Full Sail University:
Full Sail University is an award-winning educational leader for those pursuing careers in entertainment, media, arts and technology. Founded in 1979, Full Sail has received accolades throughout its history, including most recently: One of the 2017 "Top Graduate & Undergraduate Schools to Study Game Design" by The Princeton Review, one of the 2016 "Top 25 Music Schools" by The Hollywood Reporter, and one of the 2016 "Top 50 Film Schools" by The Wrap Magazine. The Florida Association of Postsecondary Schools and Colleges also named Full Sail the 2016 "School/College of the Year."
Full Sail University is a graduate and undergraduate degree-granting institution offering on-campus and online degree programs in areas related to Art & Design, Business, Film & Television, Games, Media & Communications, Music & Recording, Sports, and Technology. With over 60,000+ graduates worldwide, Full Sail alumni have worked on countless award-winning projects with individual recognition including OSCAR®, Emmy®, GRAMMY®, ADDY®, MTV Video Music Award, and Video Game Award nominated and winning projects.
www.fullsail.edu
www.twitter.com/fullsail
www.facebook.com/fullsailuniversity
About WWE:
WWE, a publicly traded company (NYSE: WWE), is an integrated media organization and recognized leader in global entertainment. The company consists of a portfolio of businesses that create and deliver original content 52 weeks a year to a global audience. WWE is committed to family friendly entertainment on its television programming, pay-per-view, digital media and publishing platforms. WWE programming reaches more than 800 million homes worldwide in 20 languages. WWE Network, the first-ever 24/7 over-the-top premium network that includes all live pay-per-views, scheduled programming and a massive video-on-demand library, is currently available in more than 180 countries. The company is headquartered in Stamford, Conn., with offices in New York, Los Angeles, London, Mexico City, Mumbai, Shanghai, Singapore, Dubai, Munich and Tokyo.
Additional information on WWE (NYSE: WWE) can be found at wwe.com and corporate.wwe.com. For information on our global activities, go to https://www.wwe.com/worldwide/.
Press Kit
Download a fact sheet about Full Sail, high-res images, and information about our campus and online programs from our press kit.
For media inquires, contact Casey Tanous at 407.679.0100 or email [email protected].
Full Sail Press Kit Images

Stay Connected