Aug 28, 2023
Rays Gaming, Rare Drop, and Full Sail University Produce Inaugural Sunburst Classic Championship
"Zazzi" takes first-place win in first ever "MLB The Show 23" landmark LAN event.
Today, Rays Gaming, Rare Drop and Full Sail University produced the inaugural Sunburst Classic Championship. This landmark event was the first ever LAN event featuring "MLB The Show 23." Streaming live from the Full Sail University Orlando Health Fortress, competitor "Zazzi" took first place and was awarded $8,000, while "Bayko" took home a $2,000 award for second place.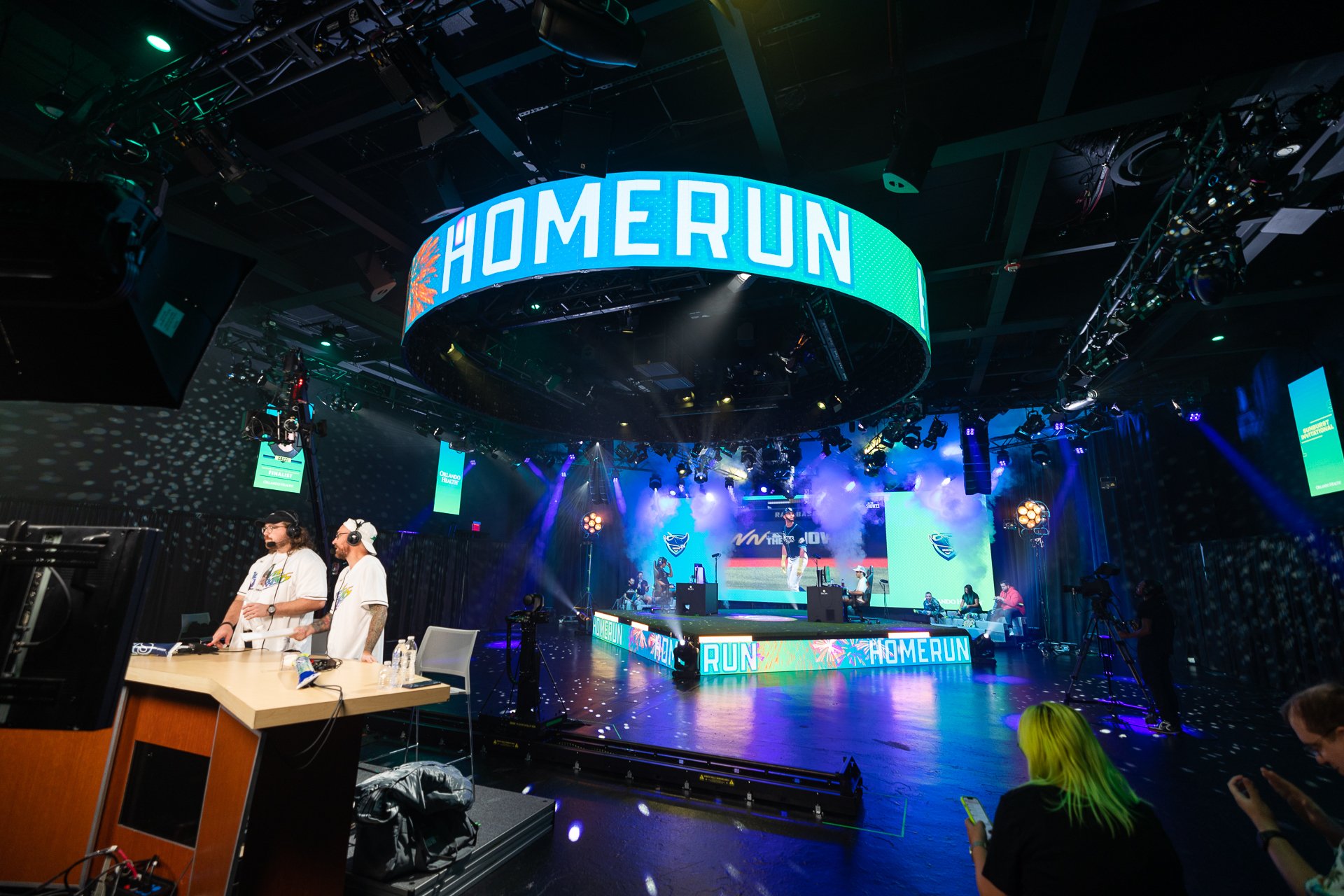 The Sunburst Classic Championship, presented by Orlando Health, featured the two winners "Zazzi" and "Bayko" from this summer's Sunburst Circuit. Each were flown to Orlando on Monday, Aug. 28, where they competed head-to-head in "MLB The Show 23" live from the Full Sail University Orlando Health Fortress Esports Arena on campus. This state-of-the-art venue is the largest collegiate esports arena in the country, with 10 million pixels of LED wall to support dynamic visual presentations and graphics, and a concert-level PA system. Complete with a never-before-seen in arena digital baseball diamond featuring the Rays iconic logo treatment, the gamers participated in the tournament, each vying for a first-place win. Kicking off the event "Bayko" won the first round, but "Zazzi" emerged the winner having clenched both the second and third rounds.
The energy emanating from the Fortress was exciting both in the room and on stream."
In addition, during the event Tampa Bay Rays Gaming Program awarded a $7,500 scholarship to Full Sail University Game Business & Esports Bachelor's Degree student, Jagger Fenwick, who is a current Full Sail Armada member of the varsity caster roster.
"Building the Sunburst Classic Championship alongside Rays Gaming and Rare Drop has been an absolute pleasure – from esports and gaming industry knowledge, elevated event production capabilities, and fan engagement expertise, this event truly brought to life an elite inaugural event featuring MLB The Show 23," said Bennett Newsome, Director of Esports Growth & Development. "The energy emanating from the Fortress was exciting both in the room and on stream. Congrats to this year's winner Zazzi, and congrats to our student scholarship recipient."
"The Rays Gaming Program is another example of how we try to attract new audiences through technology, and we hope to continue to grow the program and engage our fans in this arena," said Rays Chief Business Officer Bill Walsh. "Thanks to Full Sail University and Rare Drop for all their help in executing not just this championship but our qualifiers. Congratulations to all the competitors, the winners Zazzi and Bayko, and the scholarship recipient, Jagger Fenwick."
In hosting the Sunburst Classic Championship, the Rays Gaming Program continues to engage new, and current audiences, through technology and gaming. In collaboration with Rare Drop and Full Sail University, the three organizations were able to bring the championship tournament to the next level, which was demonstrated through elevated event production prowess, esports industry knowledge, and a true passion for gaming.
About Full Sail University:
Full Sail University is an award-winning educational leader for those pursuing careers in entertainment media and emerging technologies. Founded in 1979, Full Sail has received accolades throughout its over 40-year history, including most recently being named a 2023 "Top Game Design School" by The Princeton Review, and recognized as the "School/College of the Year" by the Florida Association of Postsecondary Schools and Colleges. Full Sail University is a graduate and undergraduate degree-granting institution offering on-campus and online degree programs in areas related to Art & Design, Business, Film & Television, Games, Media & Communications, Music & Recording, Sports, and Technology. With over 91,578+ graduates worldwide, Full Sail alumni have worked on countless award-winning projects with individual recognition including Oscar®, Emmy®, Grammy®, Addy® and The Game Award honors.
twitter.com/fullsail
facebook.com/fullsailuniversity
About Rays Gaming:
At Rays Gaming, we believe in the power of sports, community, and competition. That's why we've created a platform that allows MLB The Show players to test their skills against one another to crown the ultimate champion! Whether you're a seasoned veteran or just starting out, you'll find a welcoming community of like-minded players who share your passion for gaming. To learn more visit: https://www.mlb.com/rays/fans/rays-gaming
Press Kit
Download a fact sheet about Full Sail, high-res images, and information about our campus and online programs from our press kit.
For media inquiries, contact Casey Tanous at 407.679.0100 or email [email protected].
Full Sail Press Kit Images

Stay Connected