40 Years of Shaping Entertainment and Pop Culture
From Oscar and GRAMMY-winners, to animators, to creative directors and entrepreneurs, our Hall of Fame alumni have made significant contributions to their industries – as well as the Full Sail community. Every year, we celebrate their accomplishments through a weeklong event complete with educational panels, entertainment, and more.
Six new graduates are chosen for the Hall of Fame each year. This honor serves as a tribute to the creative inspiration, technical brilliance, and determination of each inductee, their unyielding dedication to more than a decade of excellence in their professional career, and their heartfelt commitment to the students, faculty, staff, and graduates of Full Sail University. Hundreds of candidates are considered for selection, and the individuals chosen for a given year's class are confirmed by a Full Sail committee of faculty, administrators, and past Hall of Fame inductees.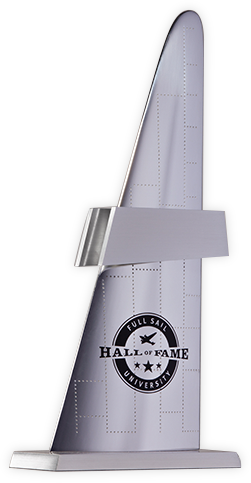 The SAILEE is presented to all Hall of Fame inductees to honor their success and commitment to the Full Sail University community.
Inductee credits include
Apple • Bioware • Disney • Electronic Arts • ESPN • Google • HBO • Hit Factory Studio • Industrial Light & Magic • Insomniac Games • Meta • MTV • NASA • NASCAR • NFL • PBS • Pixar • Sony • TikTok • Unity Technologies • Universal Studios • Warner Bros. • WWE
Hall of Fame Week
Each year, Full Sail honors past and present inductees by hosting a week-long celebration in and around its Winter Park campus. The event features panels presented by industry leaders and alumni, workshops, meet and greet sessions, and other educational opportunities for students.
Guests may experience the on-campus Hall of Fame exhibit featuring artifacts and memorabilia from the careers of select alumni presented in 60-foot-mixed-media wall. The week culminates in an induction ceremony honoring the six most recent graduates entering the Hall of Fame.