Published Sep 26, 2018
Chart-Topping Projects Take Shape in Full Sail's Audio Temple
The on-campus classroom facility doubles as a working studio for projects by Migos, Ariana Grande, Tye Tribbett, and more.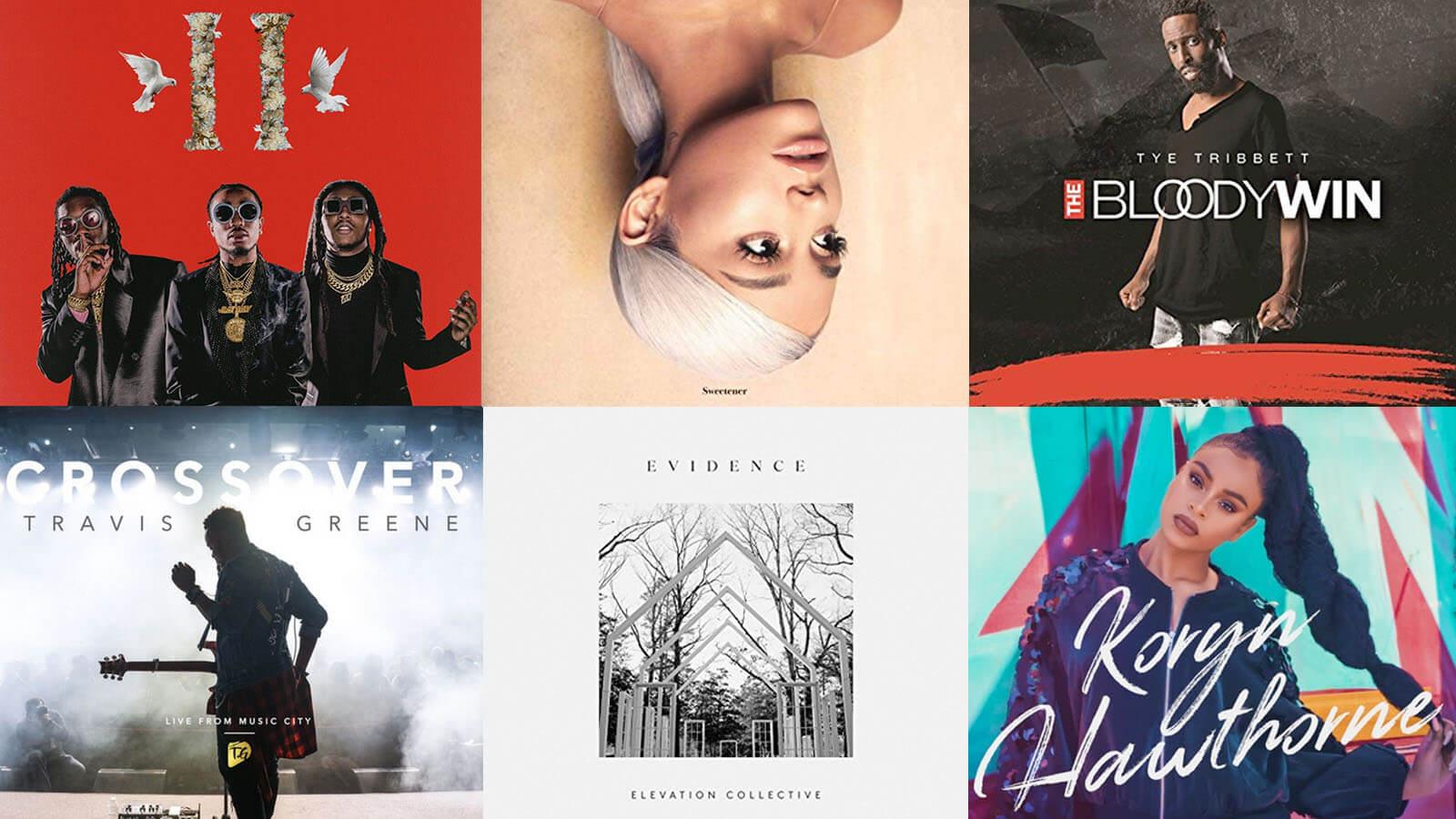 Full Sail's Audio Temple is sporting some new bling these days in the form of several Billboard chart certifications and gold records.
"I'm running out of wall space," laughs Darren Schneider, a recording and mix engineer and course director for Full Sail's Recording Arts bachelor's program.
Tucked between the Full Sail Live Venue and the Entertainment Business Auditorium, the Audio Temple is a full-featured recording studio used by audio students and recording professionals alike. It serves as Darren's classroom and as home base for some of his outside recording projects. It also functions as a remote studio for visiting alumni.
Recording Arts grad Leslie Brathwaite seeks to involve students in his projects during his frequent visits to campus. Recently, he was working on a few songs for Ariana Grande's Sweetener in the Audio Temple when he had to pass the baton to another Full Sail graduate.
"It's always great to be a part of a successful project. It's even more special that I was able to mix some of it on campus while students got a chance to sit in," says Leslie. "The added bonus was finding out that my fellow Hall Of Fame brother Phil Tan also ended up mixing some stuff on there and was able to finish up mixes I started because I had to run off to London to mix Beyoncé and Jay-Z."
Sweetener debuted at number one on the Billboard 200 chart and has remained in the top five since its release on August 17. And it is just the latest in a stream of projects to come through the Audio Temple.
Tye Tribbett's album The Bloody Win, which debuted at number one on Billboard's Top Gospel Albums chart following its release in October of 2017, was recorded and mixed by Darren, and Recording Arts course director Charley Webb mastered it. The project came to Full Sail through Brandon Egerton, a former A&R Manager for EMI Gospel (currently Motown Gospel) who now serves as Program Director for Full Sail's Recording Arts Program. Since its release, the record has hit many milestones including a Dove Award nomination for the single "Work It Out." The Bloody Win also features the vocal talents of 11 Full Sail students on the opening track, "Intro - Live."
"Tye wanted to share a global perspective, and since we always seek to incorporate student involvement through observation and active participation, we were able to bring in a group to receive album credits for their vocal overdubs," says Brandon.
Meanwhile, the success of Tye's record caught the attention of Jarrett Dyson, a Recording Arts graduate and current Director of A&R for RCA Inspiration, Sony Music's gospel imprint.
"When I worked at EMI, Jarrett was one of my interns," says Brandon. "Working together to bring in more recording projects just seemed like a natural fit."
To date, Brandon, Darren, and Jarrett have worked together to bring seven projects through the Audio Temple. Travis Greene's album Crossover: Live from Music City was recorded by Darren and received a 2018 GRAMMY nomination for Best Gospel Album. Darren also mixed Koryn Hawthorne's record Unstoppable, which has been holding steady at number one on Billboard's Hot Gospel Songs chart for 26 weeks. And while the accolades are nice, Darren chooses to focus instead on the benefit the projects bring to the school.
"We love what we do, and we're committed to showing the students we can do this at the top level. To be able to walk into the classroom with this kind of experience is good for everyone, but especially our students," he says.
Check out the list of albums recorded or mixed in Full Sail's Audio Temple:
Migos — Culture II
Achievements:
#1 Billboard Hip Hop Album
Full Sail-Related Participation/Credit:
Mixing: Leslie Brathwaite
Ariana Grande — Sweetener
Achievements:
Full Sail-Related Participation/Credit:
Mixing: Leslie Brathwaite and Phil Tan
Tye Tribbett — The Bloody Win
Achievements:
#1 Billboard Gospel Album
#1 Billboard Gospel Digital Song Sales for "Work It Out"
#1 iTunes Gospel Album
Dove Award nomination for the single, "Work It Out"
Full Sail-Related Participation/Credit:
Recorded and Mixed by Darren Schneider
Mastered by Charley Webb
Brandon Egerton: A&R Direction
Travis Greene — Crossover: Live From Music City
Achievements:
#1 Billboard Gospel Album
2018 Grammy Award Nomination for Best Gospel Album
Full Sail-Related Participation/Credit:
Recorded by Darren Schneider
Project Management by Brandon Egerton
Various Artists — Snoop Dogg Presents Bible of Love
Achievements:
#1 Billboard Gospel Album
Full Sail-Related Participation/Credit:
Recorded by Darren Schneider
Project Management by Brandon Egerton
Various Artists — WOW Gospel 2018
Achievements:
#1 Billboard Gospel Album
Full Sail-Related Participation/Credit:
Recorded and Mixed by Darren Schneider
Mastered by Charley Webb
Brandon Egerton: A&R Direction
Elevation Collective — Evidence
Achievements:
#1 Billboard Gospel Album
#1 iTunes Gospel Album
Full Sail-Related Participation/Credit:
Recorded and Mixed by Darren Schneider
Brandon Egerton: Project Manager
Koryn Hawthorne — Unstoppable
Achievements:
#1 Billboard Hot Gospel
#1 Billboard Gospel Album
Full Sail-Related Participation/Credit:
Mixed by Darren Schneider
Brandon Egerton: Project Manager
A&R Direction: Recording Arts grad Jarrett P. Dyson