Published May 11, 2022
Esports Invitational Awards Scholarships to Orange County High Schoolers
The Super Smash Bros. Invitational tournament held on Full Sail's campus awarded students up to $15,000 in scholarship funds.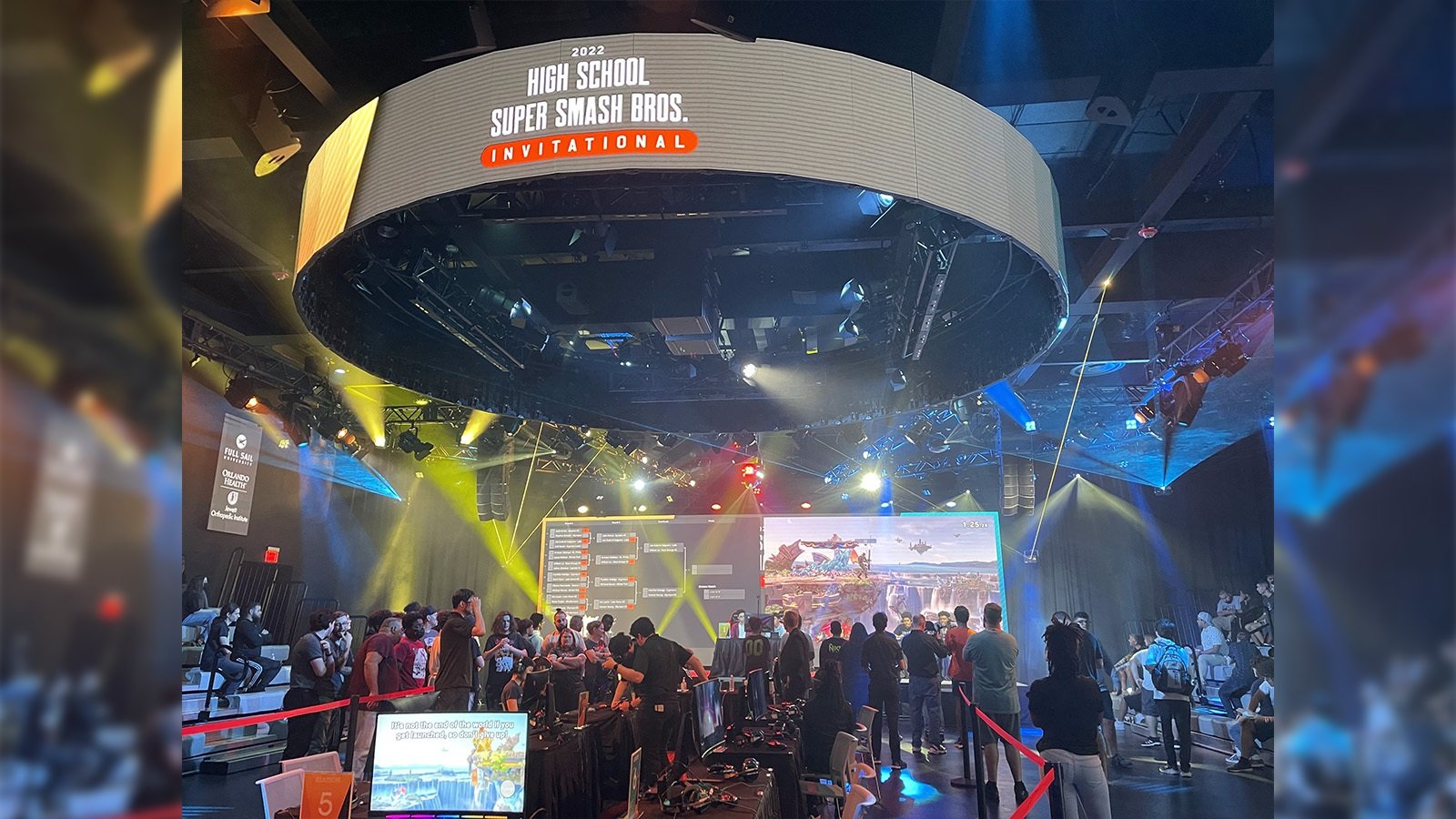 Several high schools from throughout Orange County were represented recently in the OCPS Inaugural Super Smash Bros. District Championship hosted in the Full Sail University Orlando Health Fortress. A collaboration between Full Sail and Orange County Public Schools, the event invited high schoolers from 11 different schools in the OCPS system to compete in Nintendo's fighting game for up to $15,000 in Full Sail scholarship funds.
Full Sail's High School Outreach team brought qualifiers to 11 schools throughout Orange County with eight players from each high school getting an invitation to play in the finals at The Fortress. Brought about by a federal grant program for OCPS, the event introduced high school students to not only Full Sail's campus but potential careers in entertainment, media, the arts, and technology.
"We knew we had to get community partners, and what's better than the largest collegiate esports arena right in our backyard," said Neil Otto, Program Specialist for Federal Grants with OCPS on why they chose to collaborate with Full Sail.
"It was the perfect opportunity to not only help build their program but for Full Sail to connect with the community," added Full Sail Director of Outreach Andrew Duncan.
The event saw The Fortress filled with high schoolers, parents, and educators from the Greater Orlando community and included campus tours, food trucks, and exciting competitive play. Several Orange County high school students and faculty sponsors were also invited to join Regional Outreach Representative Lorne Edwards on stage to co-cast over the thrilling Smash matchups.
The OCPS District Champion Jon-Gabriel Salguero from Lake Nona High School was awarded $15,000 in Full Sail scholarship funds, a 3D-printed medal, and a trophy to bring back to the school to represent the tournament win. In second place was player Conner Vuong from Olympia High School, and in third, Franklin Hidalgo from Cypress Creek High, each awarded $10,000 and $5,000 in Full Sail scholarship funds respectively, as well as their own 3D-printed medals.