Published Aug 31, 2020
Faculty Spotlight: Michael Hanly (Digital Cinematography)
The Project and Portfolio II and Fundamentals of Production I instructor draws on a wide range of filmmaking experiences to show his students the power of film.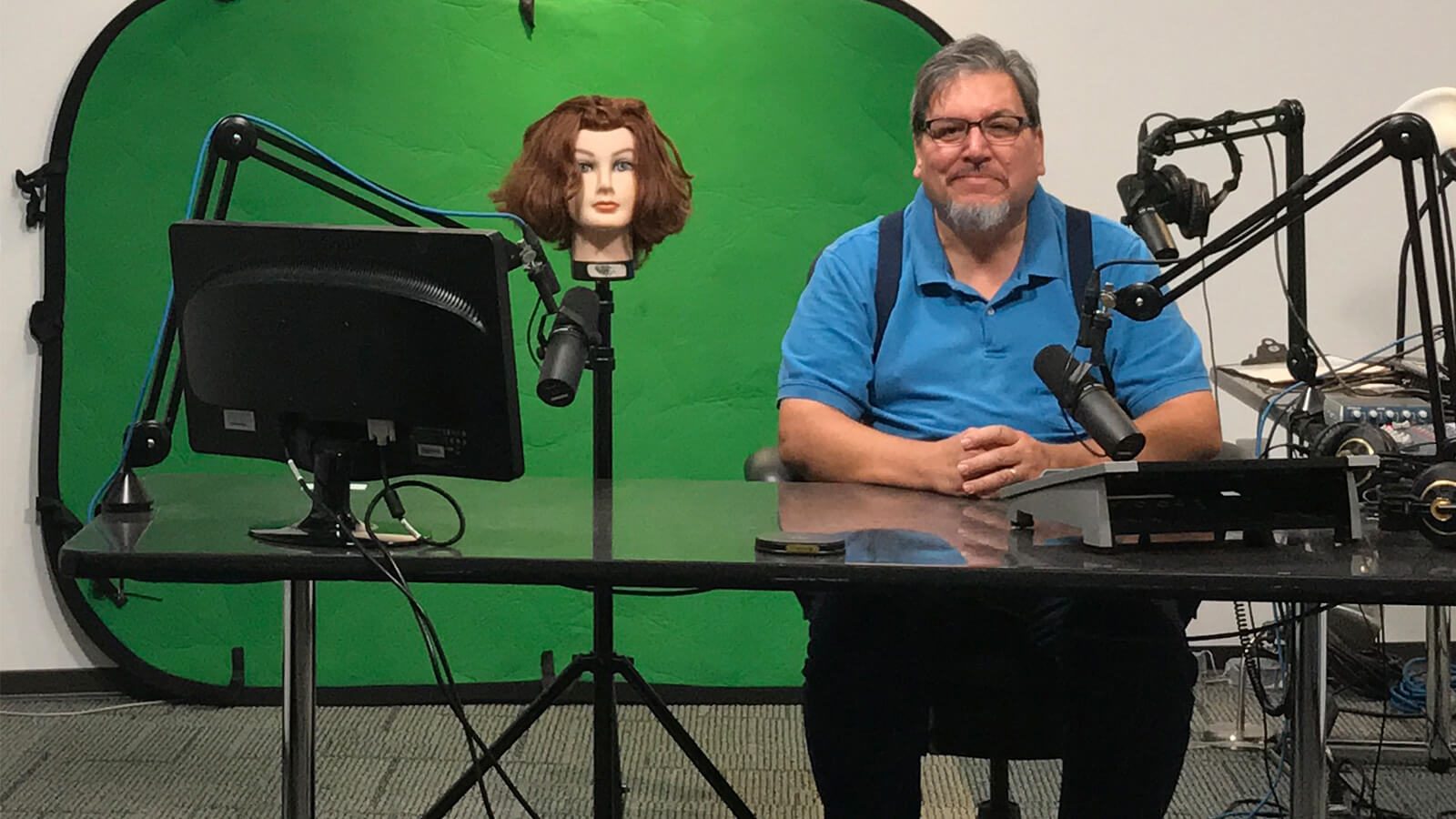 If you're a Digital Cinematography student, you'll get to know Michael Hanly. The Project and Portfolio II and Fundamentals of Production I instructor teaches students for eight weeks straight as they pitch, prepare, and pre-produce their movie idea. His eclectic professional experiences as a day player, film editor, and college professor give him plenty of source material for his Full Sail classes.
Michael fell in love with filmmaking during high school, when he landed a bit part on a direct-to-cable pilot. He leaned against a metal pole while he was waiting on set and felt a tap on his shoulder. "It was the director of photography for the production," Michael says. "He says, 'This is a reflector board. If you're going to stand and hold it, you might as well help me out.'"
Michael wound up being more interested in what he learned from the director of photography than in acting. He produced a few videos for his local public access station, then took a five-week intensive filmmaking course at New York University and earned his bachelor's degree in Cinema from Columbia College, Hollywood. After graduation, he started doing freelance work as a camera operator. He met his mentors, camera pro David Elkins, SOC and famed cinematographer Brianne Murphy, ASC on set.
"She changed my direction a little bit… I worked with her on different stuff, like a grip, a gaffer. She would drop me in different places," he says. "I wound up editing demo reels and editing short projects. I just wanted to get under people's noses, get experience."
Brianne eventually encouraged Michael to start teaching, so he became the instructor for a film editing course at Columbia College, Hollywood. From there, he bounced around and continued working as a day player and teaching in Los Angeles and Nashville. He became a Full Sail faculty member in 2001.
Michael has taught six different Digital Cinematography courses over the years. He's shown hundreds of students how to put their ideas to paper as screenwriters, imparted editing techniques in post-production, and encouraged deeper conversations about movies as a film criticism instructor. As the Course Director for Project and Portfolio II and Fundamentals of Production I, Michael spends two months helping students prepare their film ideas for their final Digital Cinematography projects.
"[For Project and Portfolio II], they've got to put together a pitch of a story they're going to do for their Portfolio III script. They have to present a demo reel, write a narrative script, and do visual storyboards of that script. In Fundamentals of Production I, they do the pre-production and shooting of that project," he says.
Michael also takes on projects outside of the classroom that share the power of film. He's the co-founder and COO of Silver Screen Paradise, a non-profit that's aiming to create a film and television museum in Central Florida.
"[We want to] build a tangible presentation of visual storytelling. We're really working on making it so that we can have people come in and see the props, the costumes," he says." He's also the co-author of Visual Character Development in Film and Television: Your Character is Your Canvas, which he wrote with Art Design and Location Shooting instructor Elisabeth Rowney.
Students who want to understand all aspects of visual storytelling will do well in Michael's classes. "Digital Cinematography is teaching you the overall aspects of the entire world of visual storytelling because everything revolves around the idea of getting a great image in that camera, having things work in front of the camera as well as behind the camera, and presenting that image to an audience," he says.
"That's the [ideal] student. The one who, even if they're there for something specific, they still understand they need to know the whole picture."