Published May 29, 2014
Full Sail and WWE Celebrate Two Years of Education and Entertainment Partnerships
On May 17, 2014 Full Sail University and WWE celebrated the second anniversary of a partnership.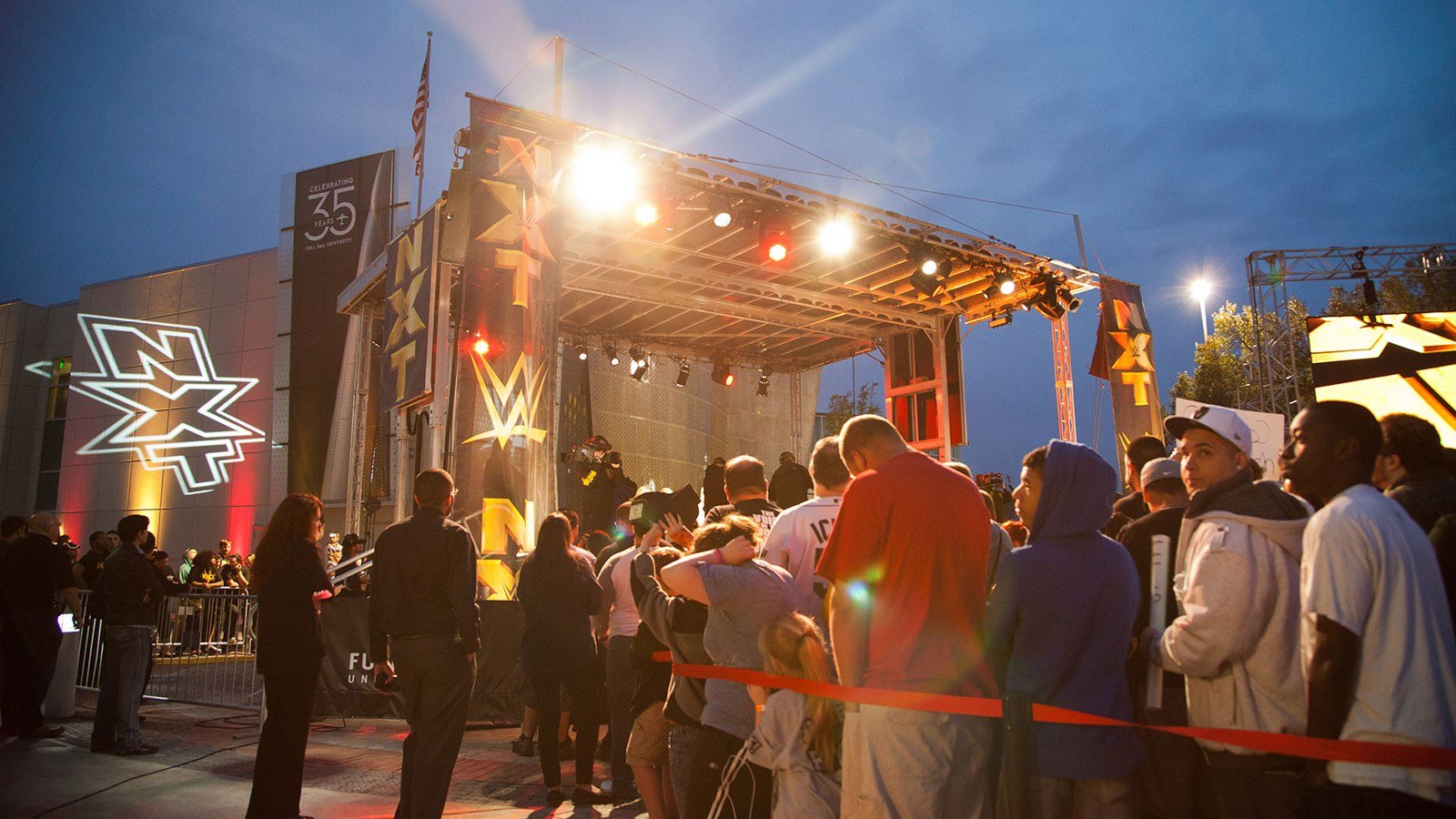 On May 17, 2014 Full Sail University and WWE celebrated the second anniversary of a partnership that has made the sports entertainment giant a permanent fixture on campus, and provided one-of-a-kind educational and professional opportunities for both students and alumni.
At the center of this collaboration are regular tapings of the WWE NXT television series in the Full Sail Live Venue – which airs in more than 60 countries worldwide. The first broadcast performance was held May 17, 2012, and there have since been 100 episodes of NXT produced that have brought generations of WWE Superstars to campus. Just a few of these entertainers include Triple H, Sheamus, Sin Cara, John Cena, Big E Langston, Daniel Bryan, Jey Uso, Jimmy Uso, The Great Khali, Big Show, "The Heartbreak Kid" Shawn Michaels, Bret "The Hitman" Hart, and the WWE Divas.
The NXT series focuses on up and coming athletes, and on July 11, 2013 the WWE opened a dedicated Performance Center for new talent in close proximity to Full Sail's campus. This facility offers a comprehensive program for potential entertainers – including in-ring training, physical preparedness, and character development. The 26,000 square-foot space also features seven training rings, a world-class strength and conditioning program, and edit and production facilities.
In addition to the entertainment output, NXT tapings have also allowed Full Sail students to become involved with their promotion and production. Spearheading these efforts is the WWE & Full Sail Student Initiative, which provides opportunities to volunteer, learn alongside, and shadow with WWE employees in areas like marketing, social media, media production, graphic design, and more. For any given event approximately 50 to 60 students will participate on the day of the production, with another approximate 30 assisting throughout the week to set up and break down equipment in the Live Venue.
The program has also allowed students to assist on other WWE productions in the Central Florida area and beyond. A recent highlight saw eight travel to New Orleans, Louisiana for WrestleMania 30, held on April 6, 2014. Six members of this student group took on production roles as part of the camera team, helping broadcast the organization's largest annual event to a record 1 million U.S. households through the WWE Network and pay-per-view.
In addition to supporting the practical education of students, proceeds from ticket and merchandise sales from NXT go toward a scholarship fund for students enrolled at Full Sail.. To date, WWE has awarded six $10,000 scholarships to students since 2012, and these recipients are Geraldo Gutierrez (Recording Arts), Felipe Giannazzo (Show Production), Allison Iliev (Creative Writing), Claribel Ross (Entertainment Business Masters), Hamza Aboufirass (Film), and Hunter Haines (Film).
This is only a portion of the campus events and opportunities that have been open to students as part of the Full Sail and WWE partnership, and we've also seen many continue to work with the company after graduation.
Looking back on the last two years of this unique relationship, Full Sail President Garry Jones offered, "We are humbled by the continued dedication from WWE in recognizing the efforts and dreams of our students. Collaborating with WWE has elevated the education experience here at Full Sail University by creating many opportunities for our students to be mentored by some of the best minds in the entertainment production industry. We can't wait to see what the future holds for this evolving partnership."
"We are proud to celebrate our unique partnership with Full Sail University, which continues to help build WWE's next generation of talent, both in the ring and behind-the-scenes," said Paul Levesque, Executive Vice President, Talent, Live Events & Creative, WWE. "Full Sail students continue to serve as an integral part of our NXT production team and we look forward to working with Full Sail University for many years to come."
Other notable Full Sail/WWE collaborations include:
In August 2013 Full Sail and WWE hosted the "WWE Hackathon," a global game jam-style contest available exclusively to Full Sail students. 64 students participated, and during the 48-hour hackathon, designed, prototyped, and presented an action game concept to a panel of WWE judges, as well as other communication/technology professionals. The winning team, Team Synapse, was awarded $5,000; second place Team Vorpal received $3,000; and third place Team High Five Games received $1,000.
In February 2014 Full Sail served as the host for an episode of NXT ArRIVAL, which was the first in-ring event to be live streamed on the recently launched WWE Network, the sports entertainment giant's subscription-based video streaming service.
In February 2014 students got an inside look at the new WWE Network during a lecture called "The Future Is Now: A Conversation with WWE." This included a panel discussion and Q&A session with WWE Executive Vice President of Talent, Live Events & Creative, Paul Levesque (WWE Superstar Triple H), the "Voice of WWE" Michael Cole, Lead Writer & Showrunner for Raw and SmackDown, Dave Kapoor, and WWE Executive Vice President of Special Events, John Saboor.