Published May 26, 2023
Full Sail Presentation Takes Best in Region at Academic Advising Conference
Staff members impressed during Full Sail's first appearance at NACADA's Mid-South Regional Conference.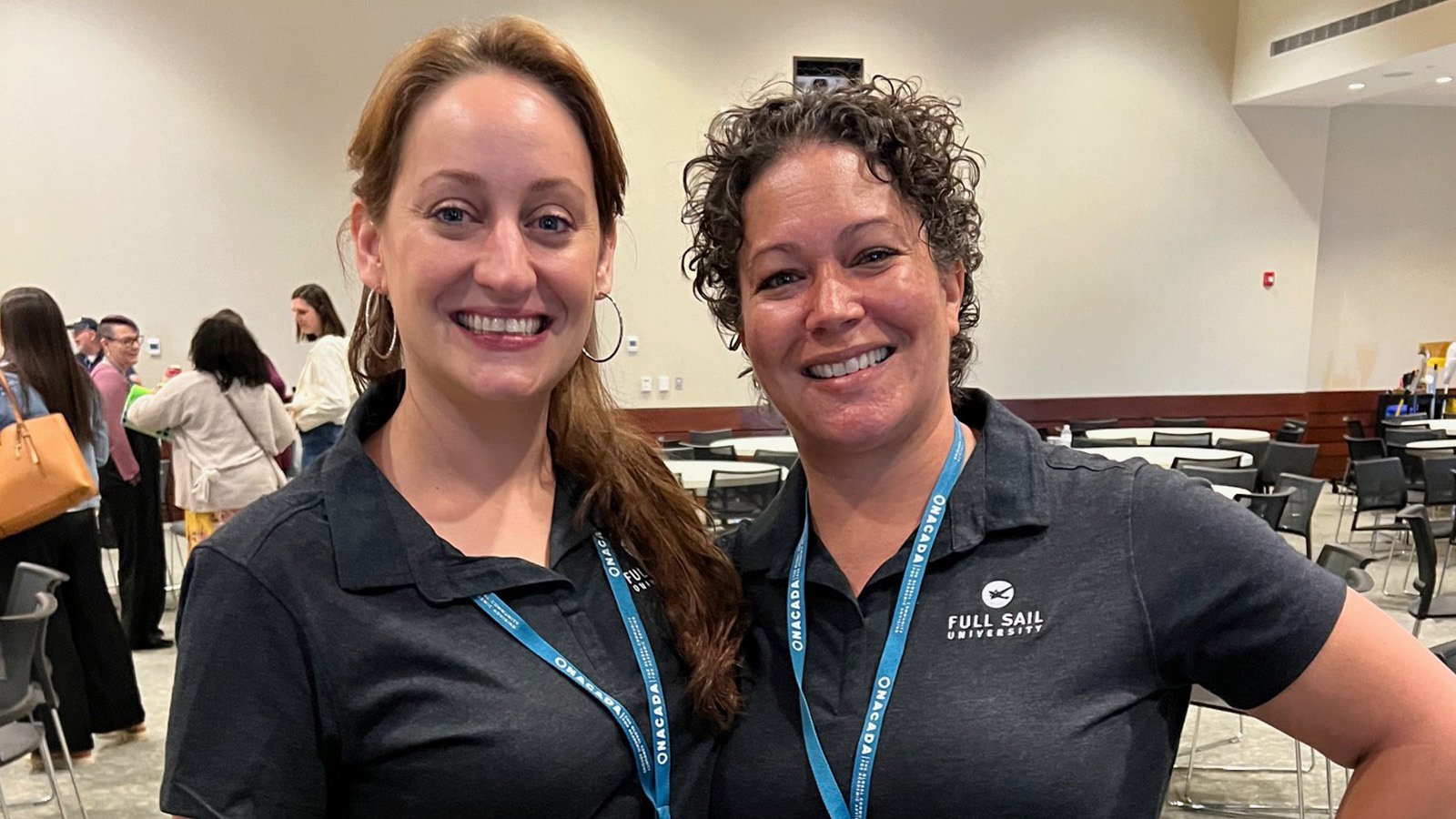 Full Sail Academic Advising leaders recently represented the university during the Mid-South Regional Conference for NACADA, the Global Community for Academic Advising. Taking Best in Region for their interactive presentation titled, "Student Burnout: A Higher Education Perspective" were Coaching & Professional Development Manager at Full Sail Stacie Aldrich and Academic Coaching Team Lead Michelle Moreno. It was Full Sail's first appearance at the regional conference.
Receiving an overall presentation score of 4.8 out of 5, Stacie and Michelle's presentation will appear at NACADA's Annual Conference held in Orlando in October, representing the Mid-South group. An association of professional advisors, counselors, faculty, administrators, and students, NACADA works to enhance the educational development of students in higher education while its conferences provide professional development and networking opportunities.
In the presentation, Stacie and Michelle provided participants with visual aids, metaphors, student feedback, and practical application exercises to help attendees consider the causes and impacts of burnout as well as techniques to challenge and overcome it.
"College students can get easily overwhelmed with balancing the demands of school, work, and personal lives," said Stacie. To combat this, the workshop seeks to address the hidden danger of stress and burnout among students for advisors and administrators.
"Being able to articulate the holistic care that we take when serving our students was exhilarating," she continued. "The active engagement during the presentation and the feedback we received after validated the need for more of these types of sessions."
Stacie and Michelle credit much of the presentation's success to the collaborative environment in which it was created with fellow Academic Advising staff members Russell Reynolds and Shirley Enriquez.
"We have an amazing group of talented people who assist with all our visual tools and presentations," said Stacie. "The quality of our presentation was top notch because it incorporated aspects for different types of learners."
"It didn't feel like we were there representing ourselves, but Full Sail," added Michelle, "and I think everyone who attended or that we interacted with also recognized the support and collaboration we experience at Full Sail."