Published Aug 02, 2016
Full Sail University Announces 8th Annual Hall of Fame Induction Class
The induction of this new class of honorees will occur during Full Sail's 8th Annual Hall of Fame Week, scheduled to be held February 12-17, 2017.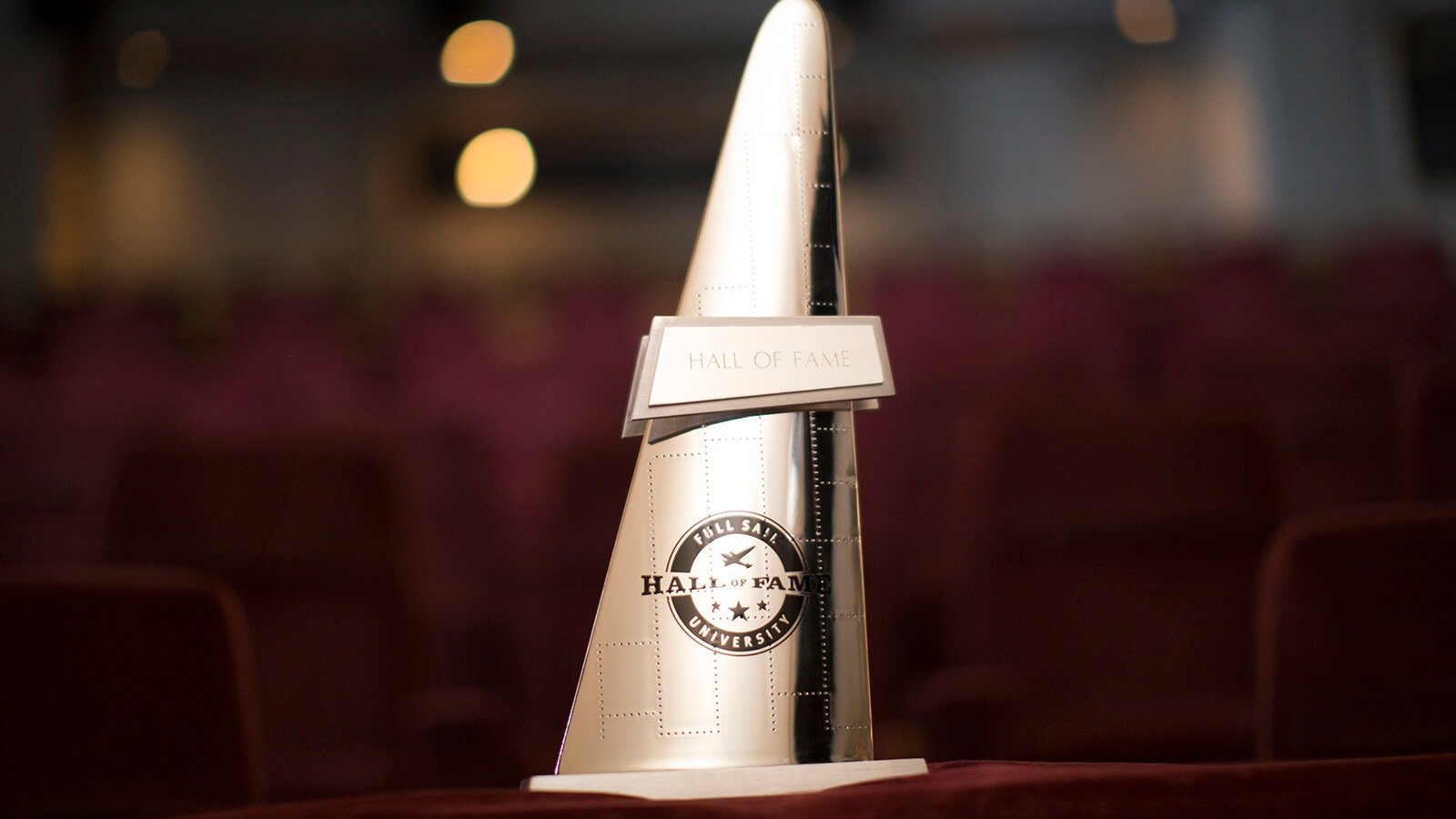 Full Sail University is proud to announce the 2016 Full Sail University Hall of Fame induction class, comprised of six graduates recognized for outstanding contributions to the world of entertainment, media, and the arts. The induction of this new class of honorees will occur during Full Sail's 8th Annual Hall of Fame Week, scheduled to be held February 12-17, 2017.
Full Sail University's 8th Annual Hall of Fame will include a weeklong series of campus-wide events featuring:
Speaking engagements, workshops, and hands-on technology demonstrations from leading industry influencers, experts, and companies.
Career networking events focused on employment and mentoring for students and graduates.
Live musical performances featuring a variety of artists and genres
Film screenings and viewing events
In addition to several events that will be open to the public and made available via online streaming, the week will culminate in an induction ceremony to celebrate and recognize this latest class of inductees.
The inductees to be honored during Full Sail University's 8th Annual Hall of Fame Week are: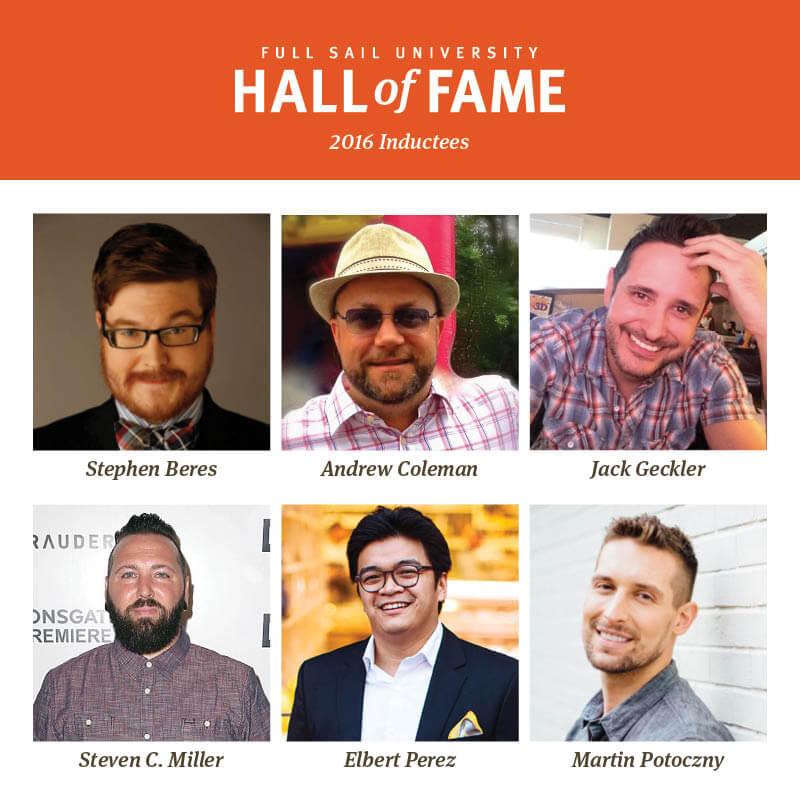 Stephen Beres
Current Title: Vice President, Media & Production Operations, HBO
Stephen Beres currently serves as Vice President of HBO's Media, Technology & Production Operations group, where he leads a West Coast based team of technologists in pushing the state-of-the art in digital production and interactive experience for record setting television shows such as Silicon Valley, Last Week Tonight with John Oliver, and cultural phenomenon Game of Thrones. Before taking over the department, Steve had many roles at HBO, including Technology Architect. He remains active in the research, development, and implementation of new technology as a means of empowering creativity (on every project).
Stephen co-founded and served as Chief Technical Officer for PlasterCITY Digital Post, a Hollywood based company that was a key player in the post industry (from 2004-2009). PlasterCITY pioneered many of the postproduction practices that are industry standard today.
Stephen has worked on numerous television and film projects for Sony Pictures Classics, Mandalay Entertainment, Fox Sports, Comedy Central, The WB and many more.
Stephen is a popular guest speaker at Macworld, NAB, HPA and SMPTE. He's Currently on the SMPTE board of governors for California and is active in educating the filmmakers of tomorrow.
2004 Graduate (Film)
Andrew Coleman
Current Title: Producer, Mixer & Engineer
Industry Credits: As a GRAMMY award-winning Producer, Mixer and Engineer Andrew Coleman has worked with some of the hottest artists of the past two decades including: Pharrell Williams, Justin Timberlake, Madonna, Gwen Stefani, N*E*R*D, Lenny Kravitz, Christina Aguilera, Pink, Little Big Town, Zac Brown, Snoop Dogg, Bruno Mars, Robin Thicke, Prince, The Rolling Stones, Beyoncé, Jay Z, Usher, and Ludacris, to name a few.
Andrew is also the Chief Engineer for the Neptunes (Pharrell Williams & Chad Hugo), and won his first GRAMMY in 2003 for his work on Justin Timberlake's "Justified" and his second GRAMMY in 2014 for his work on Pharrell Williams' album "Girl."
1995 Graduate (Recording Arts)
Jack Geckler
Current Title: Animation Lead/Crowd Supervisor at Digital Domain
Industry Credits: Jack Geckler recently returned to Digital Domain in Los Angeles where he is an Animation Lead/Crowd Supervisor on feature films.
Some of Jack's past work includes: Star Wars: The Force Awakens, How to Train Your Dragon, How to Train Your Dragon 2, Alice Through the Looking Glass, Charlie and the Chocolate Factory, Kung Fu Panda 2, Rise of the Guardians, Home, The Golden Compass, G.I. Joe: Rise of the Cobra, Beowulf, Sky High, and Pirates of the Caribbean: At World's End.
Jack has also worked on a variety of video games including: Madden NFL 17, WWE SmackDown vs. RAW, 50 Cent Bulletproof, and Fight Club, and his commercial work includes spots for Toyota, Lexus, Dodge, Propel, Nintendo, and Corona.
In addition to his time at Digital Domain, Jack has also worked for Pixomondo, Industrial Light and Magic, DreamWorks Animation, Halon Entertainment, Sony Pictures Imageworks, and Electronic Arts.
2000 Graduate (Computer Animation)
Steven C. Miller
Current Title: Film Director, Writer, and Editor
Industry Credits: Film Director, Writer, and Editor, Steven C. Miller began working on his first independent release immediately after graduating from Full Sail's Film degree program. Shot in just nine days, his debut film Automaton Transfusion eventually premiered at Mann's Chinese Theater during Screamfest, was picked up and released by Dimension Films, and is now a cult classic.
Steven is currently in production on Southern Fury starring Nicolas Cage, and has gone on to direct films including: Extraction, Submerged, Silent Night, Under The Bed, Aggression Scale and the newly released Marauders starring Bruce Willis.
In addition to big-screen releases in theaters across the country, Steven's work has been featured at SXSW and the Toronto After Dark film festivals.
2004 Graduate (Film)
Elbert Perez
Current Title: Senior VR Developer with HTC Creative Labs
Industry Credits: Elbert Perez has used his passion for both the technical and creative sides of video gaming as a driving force in his career. Elbert currently works as a Senior VR Developer with HTC Creative Labs and is focused on the cutting-edge of Virtual Reality through his work on the HTC Vive.
Some of his previous work at Microsoft included: Xbox One, Halo 4, Ryse: Son of Rome, Sunset Overdrive, Ascend: Hand of Kul, Smartglass, XNA, Windows Vista and a variety of Xbox Live arcade titles.
In addition, Elbert is an independent game developer with more than 20 titles across Steam, Windows Phone, Android, and iOS that have been downloaded more than 3 million times.
2004 Graduate (Game Development)
Martin Potoczny
Current Title: CEO and Creative Director of LUXE Creative
Industry Credits: Martin Potoczny is Founder and CEO of LUXE Creative, a leading creative studio located in Pittsburgh, PA, specializing in custom luxury event production and creative brand design/consulting. As a visual artist, creative director, and producer, Martin is also highly skilled in the worlds of light installations, digital media, laser, special effects, and custom art installations. Martin's eye for dynamic production has been featured over the past decade on tour with Madonna's Sticky and Sweet World Tour, Rihanna's Rated R World Tour, Coachella Music Festival, tours featuring Lady Antebellum, Tom Petty, Korn, and Roger Waters, as well as with corporate clients that include MTV, Microsoft, Disney, Sony, Virgin Atlantic, Bose, Chanel, and John Varvatos.
2005 Graduate (Show Production)
Since 2009, Full Sail University has celebrated the now time-honored tradition that is the Full Sail University Hall of Fame. Its purpose is to acknowledge those graduates who have made outstanding contributions to the world of entertainment, media, and the arts throughout the university's 37+ year history. This honor serves as a tribute to the creative inspiration, technical brilliance, and determination of each inductee, their unyielding dedication to more than a decade of excellence in their professional career, and their heartfelt commitment to the students, faculty, staff, and alumni of Full Sail University.
Additional information regarding events, special guests, and live musical performances will be announced closer to Hall of Fame Week. Follow @FullSail to join the #FullSailHOF conversation on Twitter.