Published Sep 19, 2016
Grad Finds Data-Drive to Work at Warner Music Group
Business Intelligence graduate Thaddeus E. Ray is the man behind the metadata of new and catalog releases at Warner Music Group.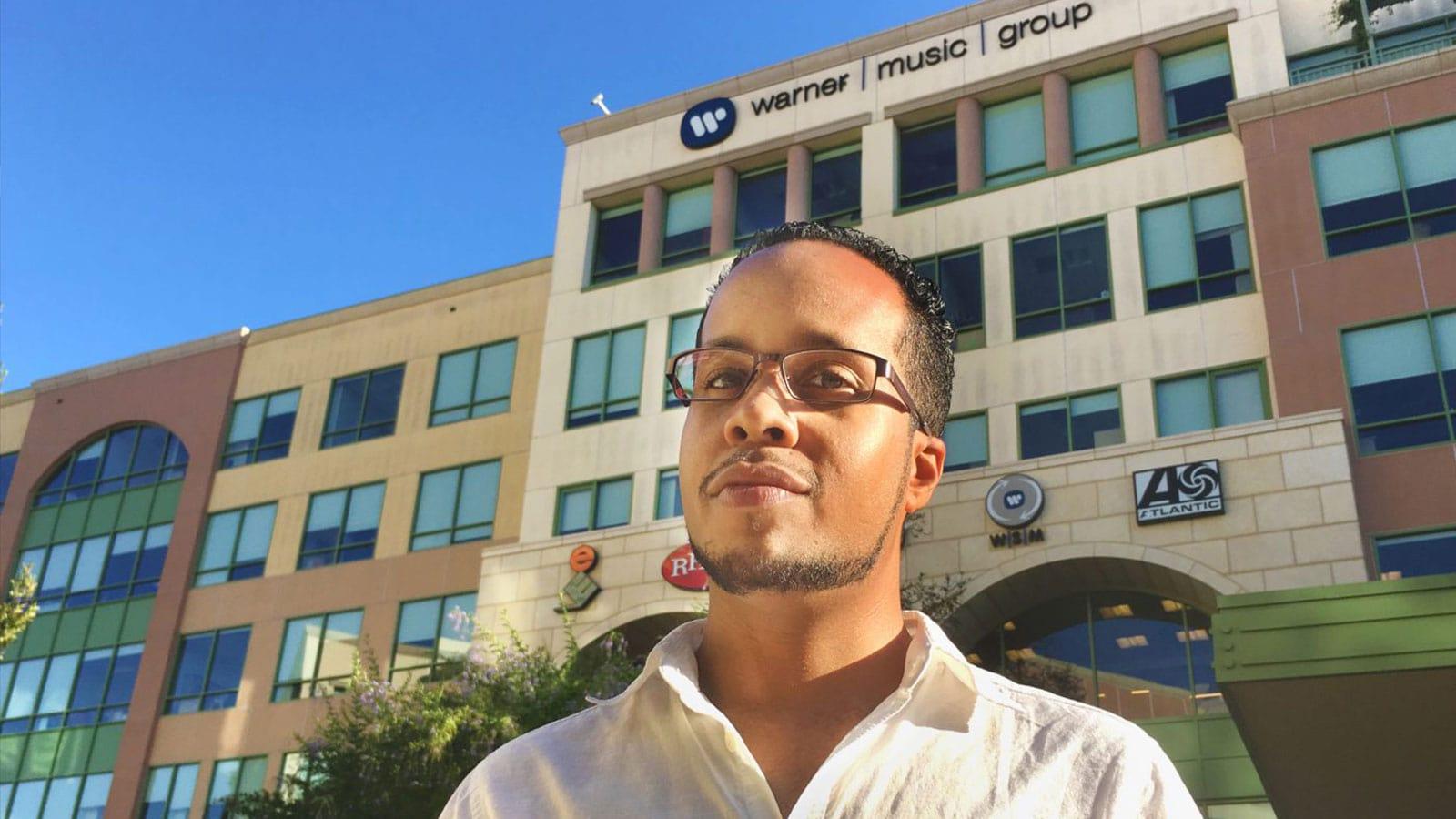 Be it an alphabetized vinyl collection, meticulously sorted iTunes library, or a carefully curated streaming playlist, any hardcore music listener will tell you that having an organized collection is crucial to the listening experience. But that degree of coordination isn't just for record nerds, these days. Record labels rely heavily on metadata and tagging to gain a better understanding of the listening habits of the modern consumer and to improve their discovery and consumption of music both new and old.
Full Sail University Business Intelligence Master's graduate Thaddeus E. Ray knows a thing or two about that whole process. As the Product Data Management Coordinator in Media and Production Operations for the Warner-Elektra-Atlantic distribution/manufacturing arm of Warner Music Group, specifically focusing on entering label copy for Rhino Entertainment, Thaddeus is responsible for keying in metadata for new and re-releases of music in the form of CDs, vinyl, digital albums, singles, and more.
His responsibilities also entail editing metadata for projects that are delivered to digital service providers like Spotify, Tidal, and Apple Music. This type of information can include anything from the writers/producers/contributors who helped create a song to the genre and notes that help a track become easily searchable and organizable within a library. The metadata also includes the International Standard Recording Code (ISRC), a technology embedded in every song that lets labels and studios know when and where a song is being played.
"People today have more choices than ever when it comes to what they want to listen to, and so we can look at data and provide them with what they really want," says Thaddeus. "For example, Apple has curated many different types of playlists that cater to different peoples' tastes and certain activities, like the type of music that they listen to when they're working out. Streaming services are able to make these types of decisions based on the data that is contained in every song that you can play, whether it's through streaming, downloads, or physical media."
That information also plays a part in the releases that a label like Rhino will invest their time and energy into manufacturing and putting out to the public. Thaddeus points to the Grateful Dead as one of the more successful artists that Rhino counts amongst its roster. Though it's been decades since they first came out, the band has managed to maintain a loyal fanbase and relevancy that is apparent through large attendance at their concerts. But outside of those more obvious telling signs, other data can be used to give labels a clue as to what direction they should move in.
"There's a lot of new music out, yet most people find their way back to the classics. The question is what classics are people listening to the most, and how can we capitalize on that information? Our whole business is based upon getting the millions of artists that have come and gone the best exposure possible," says Thaddeus. "Using big data, we have a better idea about what albums in the catalog can be revisited and worked it to the fullest potential. This would save a lot of money on manufacturing vinyl and other physical products and avoiding the typical flop release."
After graduating from Full Sail's Entertainment Business Master's degree program, Thaddeus found himself navigating through various jobs and internships in the label and artist management side of the music industry. Intrigued by the emerging opportunities in big data and how it has become more relevant than ever in his field, he enrolled in the Business Intelligence program, continuing his online education in the midst of moving from Chicago to Los Angeles. Just a few short months after settling on the West Coast, he landed the job at WEA.
"Big data is the missing step in a recipe of either doing the same old things versus getting the answers and then restructuring your processes. It creates opportunities to make better products and to make them in a way that businesses aren't wasting two valuable things – time and money," he says. "The music industry is built around a person's ideas, thoughts, and feelings. All of that translates into the music. I get to work with creative people on the label side of things and we all know that we are in this together to help the artist. Whether it's making them a star or helping them to keep their legacy going, it's all very exciting to me."