Published Apr 09, 2020
Hall of Fame 11: A Week in Review
Full Sail celebrated the induction of six new Hall of Fame members with a week of panels, workshops, events, and creative expression.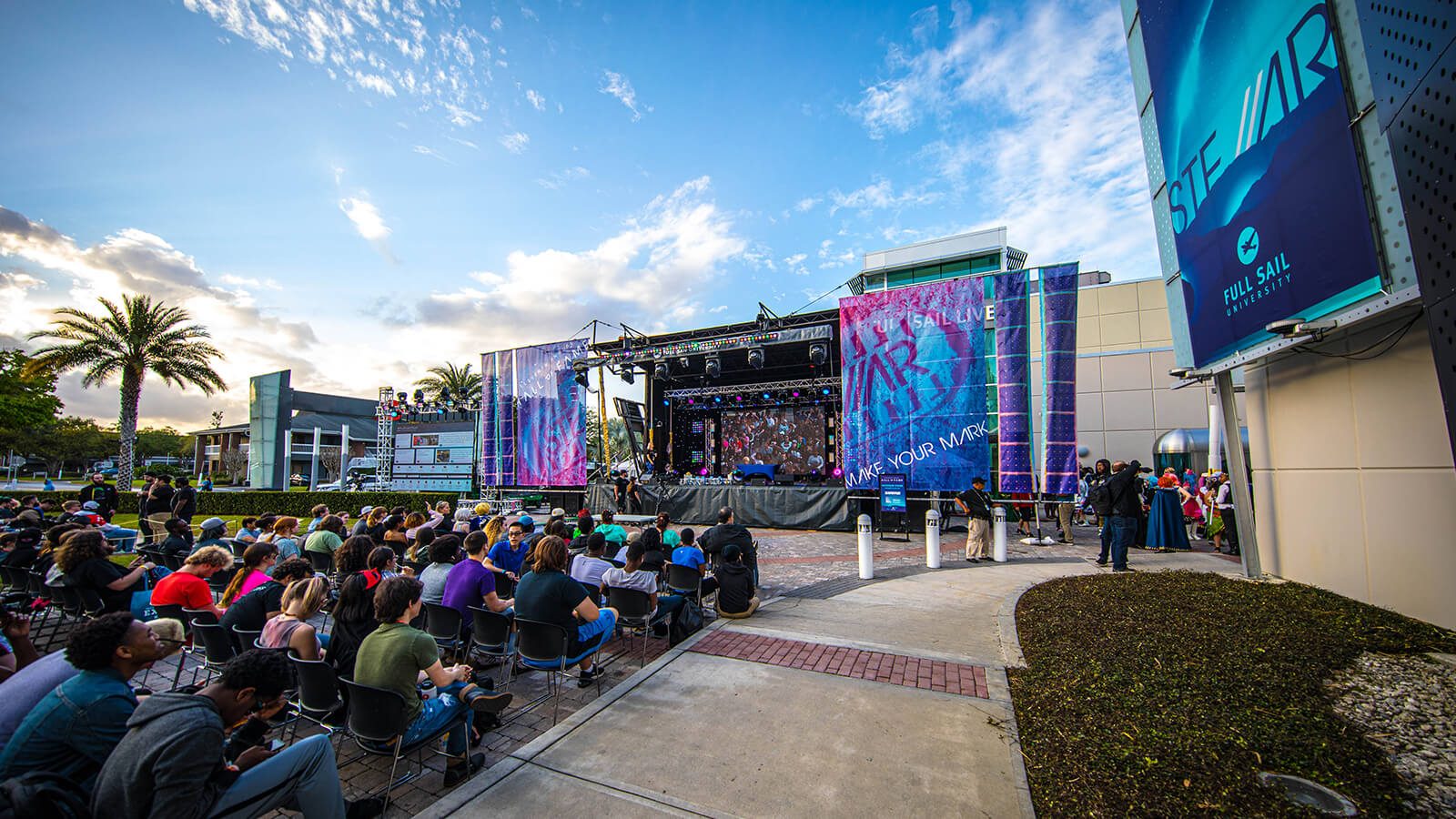 Full Sail University ushered in another year of celebrating the success of its graduates and the development of its student body with its Eleventh Annual Hall of Fame Week. Students got to network with industry professionals, participate in interactive creative experiences, and attend panels featuring notable grads and speakers from across the entertainment, media, and tech industries. Here's a look at what unfolded throughout the week:
Education Sessions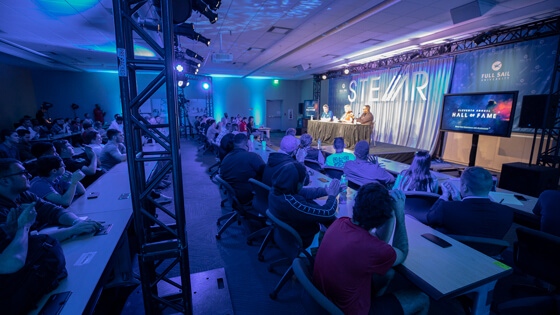 Many of the Full Sail grads making waves in film, recording, video games, and more came back to campus during Hall of Fame Week to share their knowledge with campus and online students through a variety of education sessions. Panels and presentations featuring live Q&A sessions, plus portfolio reviews, workshops, and meet-and-greet sessions throughout the week allowed students to make the most of their unique access to these industry pros.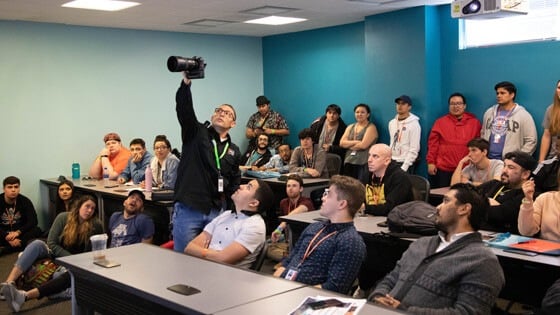 This year's sessions featured graduates from Google, Rooster Teeth, HBO, Blizzard Entertainment, and many more. The week-long takeover of classrooms and venues included live-streamed panels with topics like mixing audio for NASA and animating crowds for blockbuster animated films.
Networking Opportunities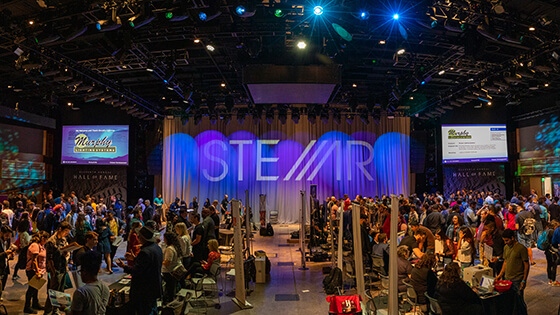 Celebrating the careers of grads at Full Sail also means an emphasis on the career development of future grads. The Career Networking Event in the Live Venue allowed students and graduates to meet with employers from companies including Sony, MSI, Advent Health, and Adobe. Attendees were able to learn more about their prospective industries, share their resumes, and network with potential employers.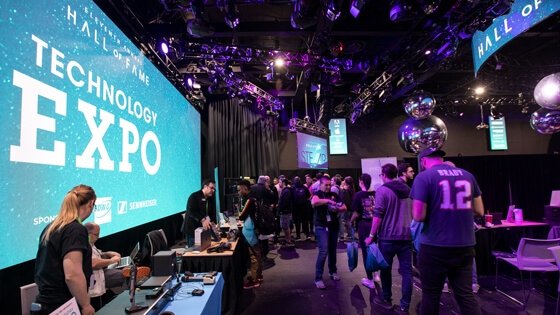 The Technology Expo, hosted in Full Sail University's esports venue, The Fortress, featured presentations and new product demonstrations from vendors in some of tech's most creative spaces. Companies in attendance at the expo included Apple, Canon, Nokia, RED Digital, and Dolby Laboratories.
Community Events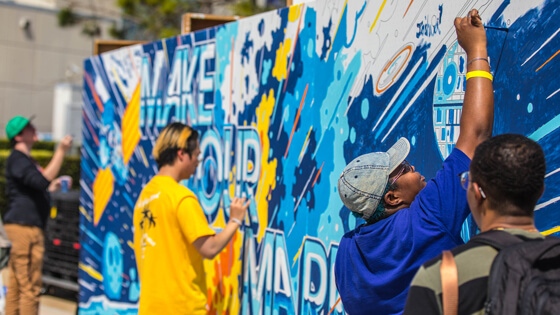 While professional development and education are at the heart of Hall of Fame Week, nothing displays the ingenuity and imagination of the Full Sail community quite like the interactive Creative Experience. Featuring carpool karaoke, silent disco, and a stunning mural painted by students and staff reminding them to "make their mark," the Creative Experience made for a good source of laid-back fun throughout the week.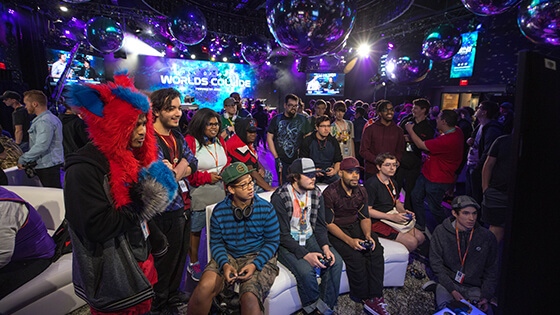 Campus clubs and communities also got the chance to represent on campus during Hall of Fame. Launching the week with the Full Sail Armada-hosted gaming event Hall of Game: Worlds Collide, Full Sail's gaming community came together for an epic day of esports and friendly competition at The Fortress. Full Sail's on-campus cosplay club took over the outdoor stage for a cosplay contest featuring participants recreating some of their favorite characters from television and film, anime, video games, and more.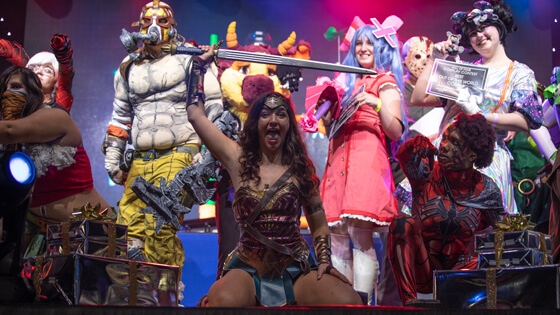 Induction Ceremony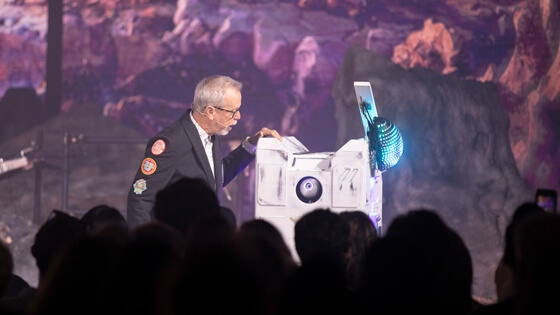 Hall of Fame week wouldn't be complete without its induction ceremony, honoring a class of six inductees for their outstanding success in the worlds of entertainment, technology, media, and the arts, as well as their continued contributions to the Full Sail community. The ceremony stayed true to the year's space-oriented theme, featuring a lunar lander and Buddy, a robot who appeared on stage alongside University President Garry Jones.