Published Sep 14, 2018
International Student Society Hosts Graduate Panel
The trio of graduates spoke to students about the importance of networking and how to find work after graduation.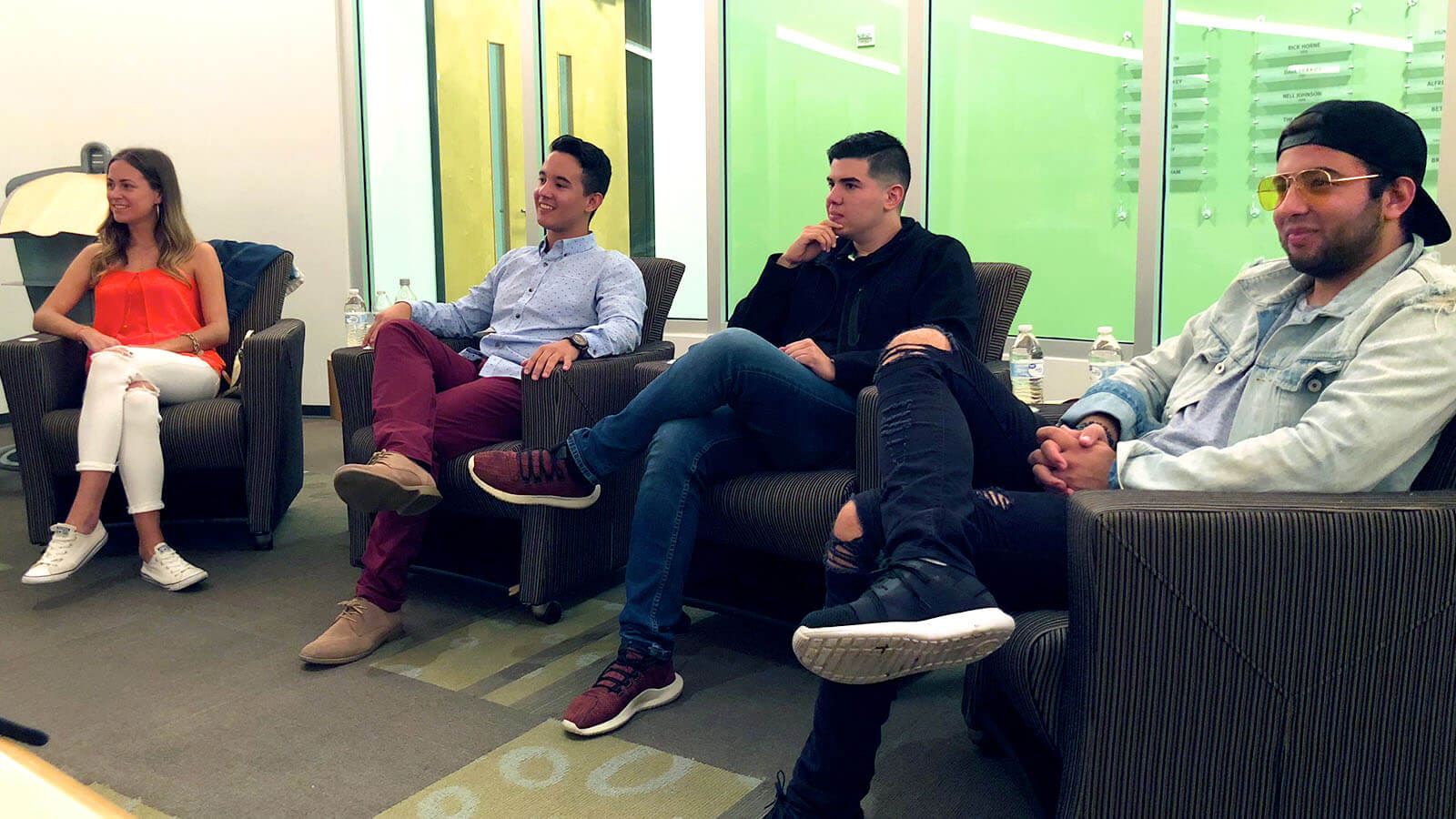 Full Sail's International Student Society welcomed three international graduates back to campus as part of their "Global Grads Present" series. Rafael Veloz (Film), Carlos Arrieta (Entertainment Business master's), and Sebastian Bautista (Music Business bachelor's) spoke about their experiences as independent content creators, as well as the work they're doing as a creative collective. They were joined by Rafael's wife and business partner Anna Akumova.
The group spent over an hour answering questions from online and campus students about everything from why they chose Full Sail to finding work after graduation — something that can be stressful for international grads.
Many students take on extra projects or freelance work to round out their resumes before graduation. But international students are held to strict guidelines regarding student visas — which means Rafael, Carlos, and Sebastian weren't allowed to work while they were attending Full Sail. Instead, international students are granted special temporary employment status after graduation. Eligible students can apply for up to 12 months of Optional Practical Training (OPT) after they finish school. Responding to a question about quickly finding employment after graduation, Rafael urged students to adhere to the law.
"No matter what, stay legal," he said. "There are things you can do that won't necessarily be job experience, but will work in your favor. Reach out to as many people as you can. Make your portfolio, reel, or resume as polished as you can. And keep in mind that there are other ways to showcase your skills that don't involve freelance. Make cool things and post them on social media. Employers are going to check your Instagram feed and YouTube channel, and if it's full of cool stuff then that speaks to your ability."
Carlos and Sebastian added that international students should take advantage of all available campus services, especially those offered by Full Sail's Career Development department.
"Networking is like going to the gym," said Sebastian. "You're not going to see results right away, so start early."