Published Oct 28, 2020
Meet the Grad Who Built Two Innovative Businesses ... and He's Not Done Yet
Innovation & Entrepreneurship master's grad Jaune Odombrown founded Rock the Base and Smartpreneur with a little help from Full Sail.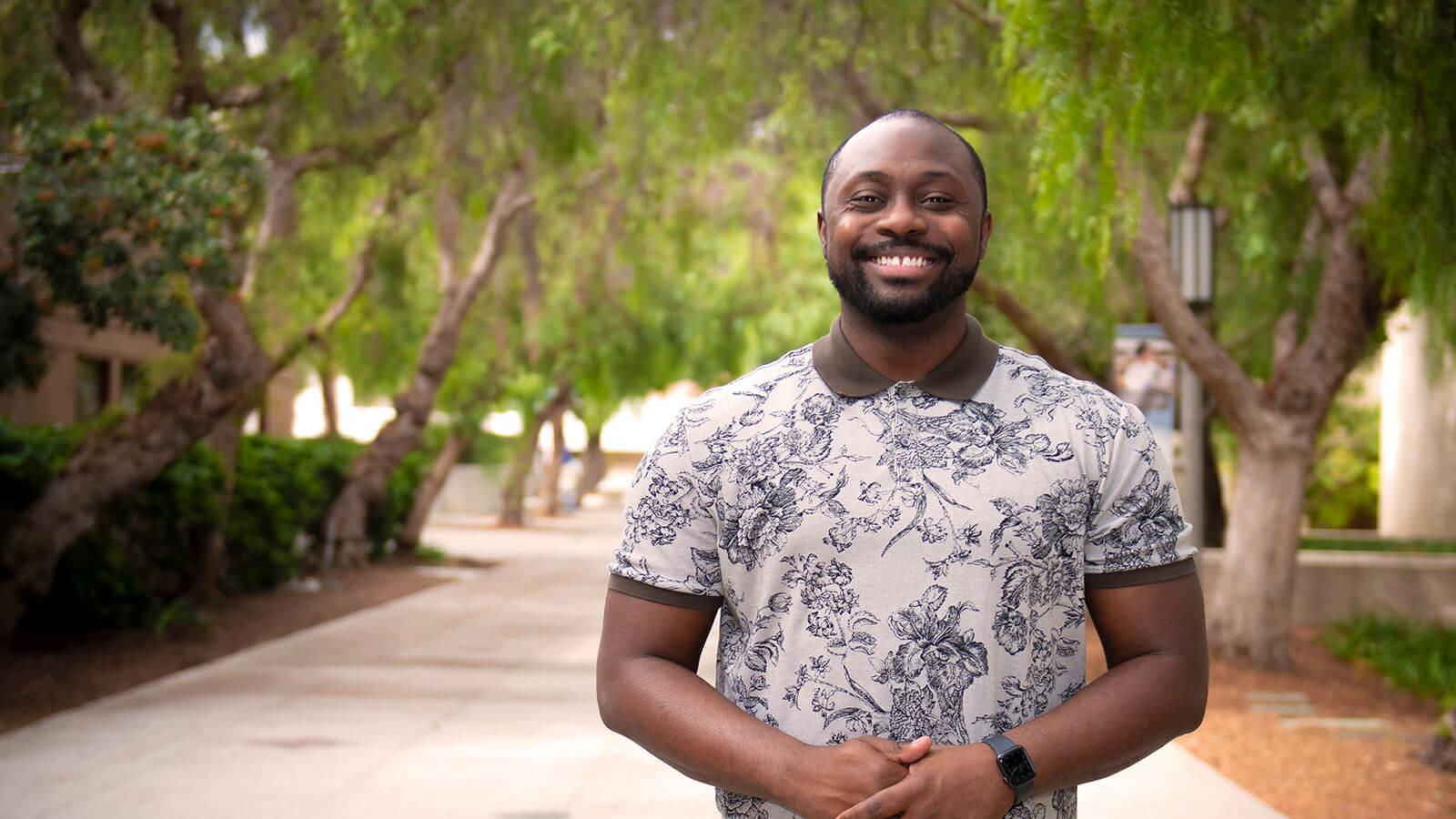 Jaune Odombrown has a lot on his plate, but he likes it that way. The Innovation and Entrepreneurship master's grad is the co-founder of Rock the Base, a live entertainment touring company that produces shows on military installations, and the founder of Smartpreneur, an entrepreneurship development agency. He also works with student entrepreneurs at the University of California, Irvine. Jaune's tenacity and commitment to helping others has helped him create opportunities that speak to his passions.
Jaune became an entrepreneur before he was old enough to drive a car. He says that as an at-risk kid growing up in the foster care system, he searched for meaningful goals to focus on and began playing piano at age 11. He started composing his own music and began selling segments of his songs to his classmates for use in their own creative projects. "That's where I began having that confidence that I could start something and create something out of nothing, so that's where the entrepreneurial blood kicked in," he says.
When Jaune graduated high school in the wake of 9/11, he chose to serve his country and joined the Marines. His inventive nature served him well during back-to-back tours in Afghanistan. During that time, he created a database, called The Battle Force Tracker, to help him organize personnel, tasks, and equipment while he was leading other Marines in combat zones.
"It was very successful and the next thing I knew, we passed it off to the Army. I ended up getting an award for creating something that was substantial in a time of need," Jaune says.
Military leaders noticed Jaune's natural aptitude for business and encouraged him to pursue entrepreneurship. He decided to revisit his passion for music and enrolled in the Entertainment Business program at the Los Angeles Film School. After attending campus presentations featuring pros from the live touring industry, Jaune saw a way to combine his love for music and his military experience.
"We had a lot of industry experts coming in to talk about business in the touring industry," he says. "I realized that live entertainment tours never stop on our bases. We have our own little city with 60,000 people on a given day. Why would they not want to come and tour the military installations?"
With that insight, Jaune created a pitch for Rock the Base, a company that gives military members and their families access to live performances. He partnered with his friend Damon Hinton, who had worked as an executive bodyguard for acts like Paul McCartney, Katy Perry, Shakira, and Santana.
"We decided that he would do the touring side and I would do the military side," Jaune says. "We ended up getting some of our first contracts from the Department of Defense to produce live entertainment on military installations across the country."
Jaune was excited to start scaling his business, but Rock the Base immediately ran into obstacles. They struggled to put all of the pieces together for their live shows and received mixed messages from other entrepreneurs when they asked for help.
Jaune decided to go back to school to learn more about the nuts and bolts of entrepreneurship, and he joined Full Sail's Innovation & Entrepreneurship master's program in its first year. As a part of the program, he created a new business model with an entrepreneur's roadmap to help new business owners avoid the pitfalls he was experiencing. The result was Smartpreneur.
"Smartpreneur is about doing smart things along the way and thinking about SMART criteria: specific, measurable, attainable, relevant, and timely [goals]," he says. "I felt that Smartpreneur would be an entrepreneurship development agency, which would help entrepreneurs from ideation to implementation of their idea."
Jaune was gearing up to grow his businesses in 2020 when the pandemic hit. Despite the COVID-related challenges in the live entertainment and education industries, he's found ways to expand Rock the Base and Smartpreneur. He plans to add live streaming elements to Rock the Base shows, which can expand an event's audience and create a larger footprint for performing artists. He's also shifting Smartpreneur's classes online to give the company an invaluable reach.
Jaune thinks that Innovation & Entrepreneurship master's students can juggle their own entrepreneurial passions if they enter Full Sail's master's program with an idea ready to go.
"Don't go to the program with the process of, 'They'll help me get an idea,'" he says. "This is a master's degree program. This is a program for building something substantial. You could walk off with not only a degree, but with a business. So it could boil down to having something before you start."