Published Aug 05, 2015
Members of the Full Sail Community Honored by FAPSC
The Florida Association of Postsecondary Schools and Colleges has recognized three members of the Full Sail community for their outstanding contributions to education.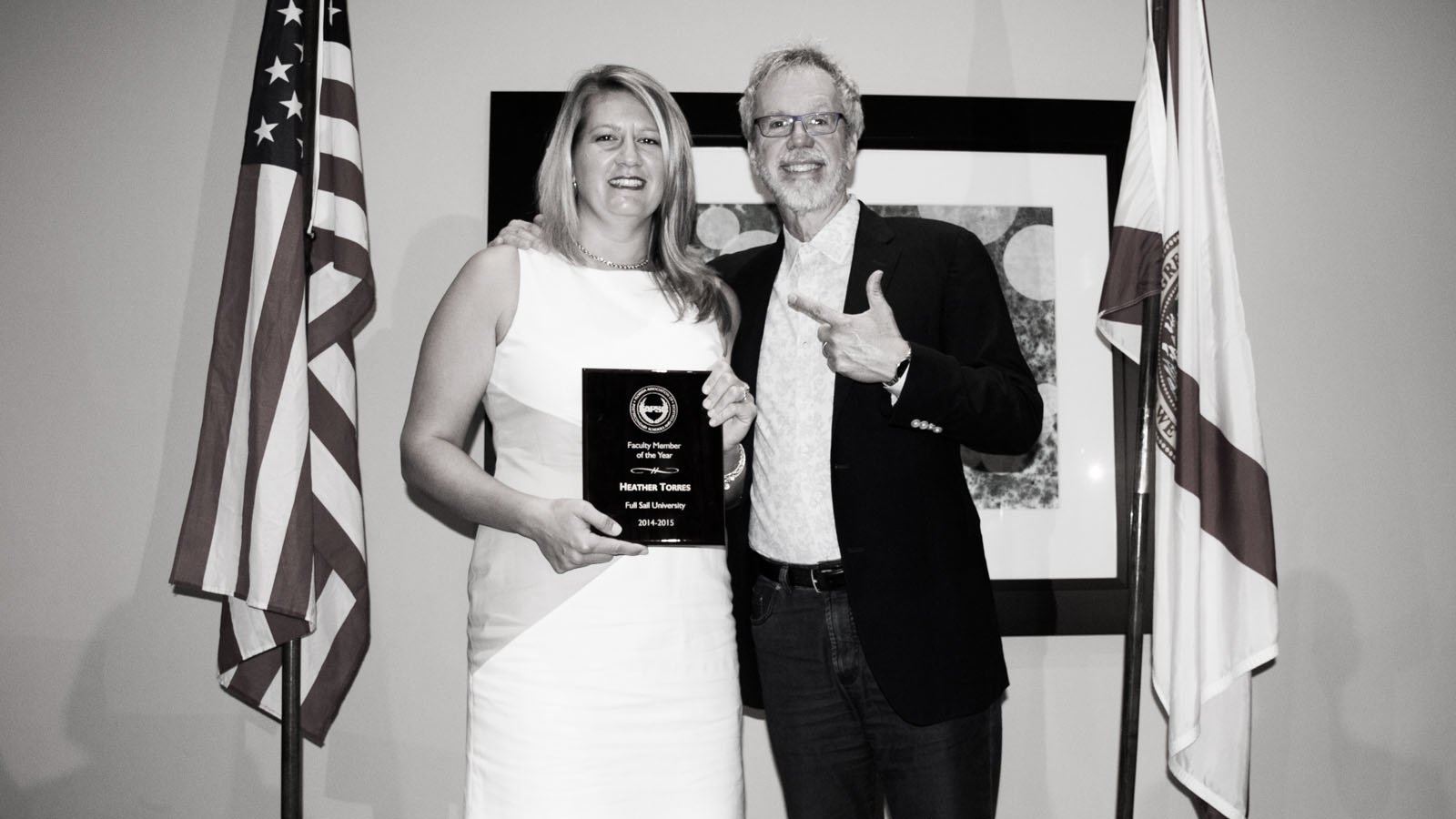 Pictured: Entertainment Business Department Chair Heather Torres with Full Sail's President Garry Jones.
Two members of the Full Sail's faculty were recently recognized by the Florida Association of Postsecondary Schools and Colleges (FAPSC) for their outstanding contributions to education.
Dr. David Franko, who serves as Vice President of Academic Affairs, won the Administrator of the Year Award for his commitment to improving the lives of both students and faculty. David's work focuses on uniting faculty and support staff in a mission to support student achievement, especially those who are considered at-risk due to circumstances beyond their control. He has been instrumental in ensuring a variety of support systems are in place for such students, including academic counseling services and an on-campus food pantry. David is also an advocate for faculty development, and has been essential in building an online training platform to better serve the professional training needs of faculty and staff.
Entertainment Business Department Chair Heather Torres won Faculty member of the year. Heather was honored for her work as a personal mentor to hundreds of students during her tenure at Full Sail, as well as her extraordinary leadership skills.
Eric Saperstein, Education Director of Full Sail's undergraduate business programs, says, "Heather brings energy, enthusiasm, commitment, creativity, and an unparalleled attention to detail to all her activities. She is responsible for many of the finest initiatives produced at Full Sail." Those initiatives include the development of a new career module for all undergraduates, and the implementation of a year-long Climate Change project sponsored by the United Nations.
In addition to David and Heather's achievements, FAPSC honored 2014 Music Business grad Valencia Bromell with the Graduate of the Year Award. Valencia is a former Marine who has served in Pakistan, Afghanistan, and Egypt. In 2011, Valencia was diagnosed the chronic autoimmune disease, lupus. Complications from the disease nearly landed her in the hospital the week she started Full Sail, but Valencia overcame this challenge through sheer will and determination, and was able to start the program as planned.
During her time in the Music Business program, Valencia was an active participant in Full Sail's Global Professionalism Standards (GPS) program, accumulating 105 GPS points over the course of her undergraduate career. She regularly volunteers at Harbor House of Central Florida, an organization devoted to providing resources to survivors of domestic abuse. Since graduating, Valencia has worked in radio as an Assistant to the Promotions Manager of ESPN 580, and is learning to produce her own shows on News 96.5. She is currently enrolled in Full Sail's Entertainment Business master's program.
FAPSC is a non-profit organization providing leadership, support, and advocacy for quality career education. Honorees were recognized at the organization's annual conference in late July. Congratulations to all of the winners, and special thanks to David, Heather, and Valencia for their continued contributions to our community and its surrounding industries.