Published Jan 24, 2023
This Course Director Stays Busy in the Film and Sound Effects Industries
Andrew Garraway's professional experience helps prepare his students for life after Full Sail.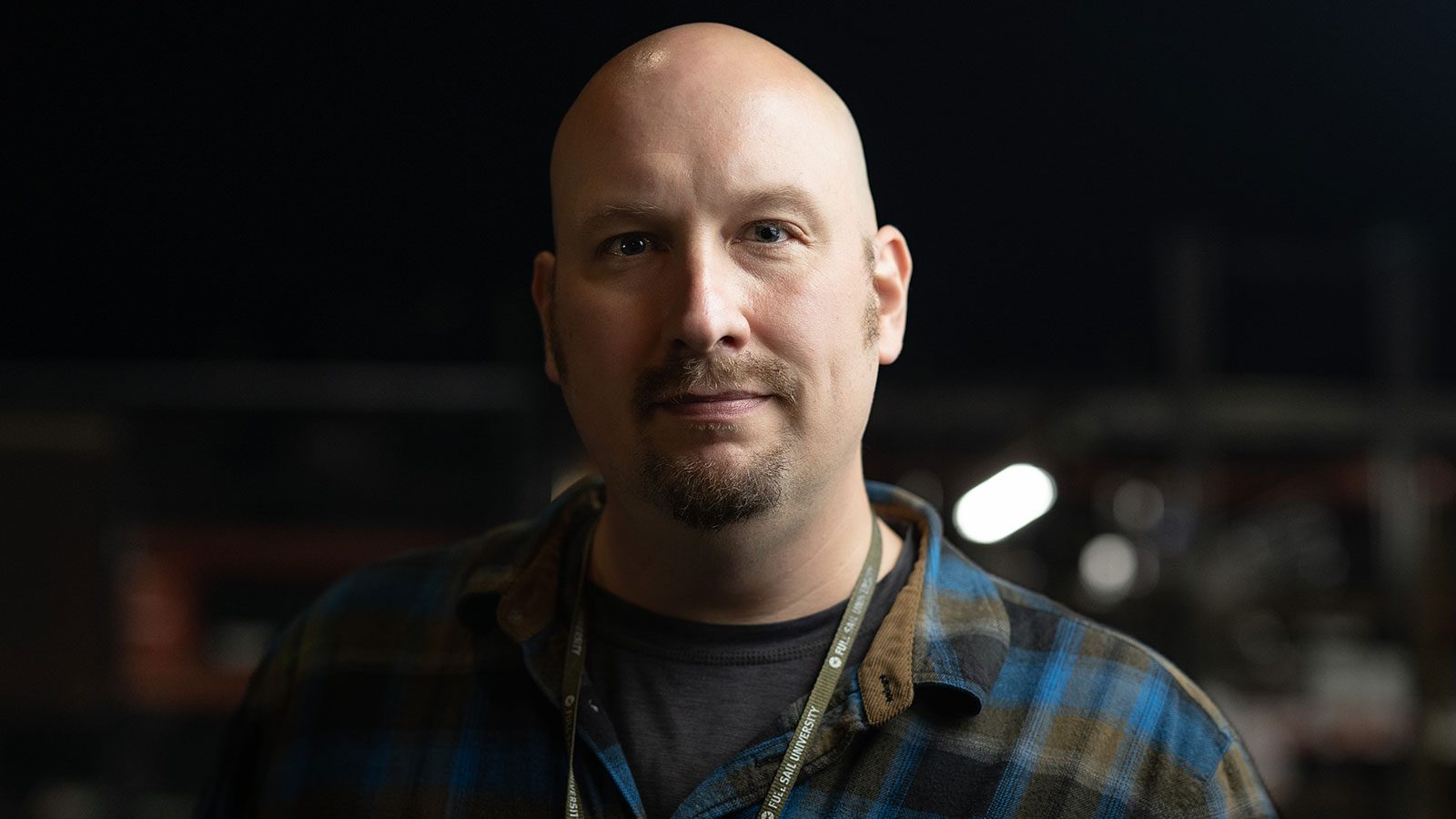 Andrew Garraway is the Course Director for Film Project and Portfolio IV, but he does so much more than help students build a curated selection of work to show future employers.
"I'm sort of [a hybrid] between a course director and lab instructor. I still teach all of our camera-related labs. The more technical something gets, the more likely I am to be the one teaching it," Andrew explains.
"Any production course director you talk to will tell you it is organized chaos," he laughs.
He also continues to find success outside the classroom. "I run a post-production audio and sound effects business with Jason Strawley called Blackguard Sound. I... still maintain a photography business as well, and freelance in the film industry here."
His work can be found in a wide range of productions, from "low-budget stuff that you'll see on Netflix" to Star Wars, Star Trek, the science-fiction series The Expanse, and the most recent season of Netflix's Stranger Things.
The nature of the sound effects industry means Andrew doesn't always know where his work is going to end up. "They're kind of out running free and we hear them in different places."
Andrew's been lucky enough to travel for Blackguard Sound, too. "We did all the ambient sounds for Need for Speed Heat [with] Ghost Games [now known as EA Gothenburg] in Sweden…. Recently, we traveled to Iceland to record for one of our libraries and we had to learn all about the import-export taxes bringing the gear there."
Andrew says that those experiences have made him a better Course Director and Lab Specialist back at Full Sail, and he's working on helping students figure out the ins and outs of running a business in the industry.
"When we get super specific questions [like], 'How do taxes work?,' 'How do permits work right now?', 'What companies should I use for a permit?,' we're thankful we're in it right now… [that way] I can be sure that my answers are relevant to today's market."
These skills are especially helpful for Film Project and Portfolio IV, which focuses on students taking on leadership roles behind the camera. "They'll play mostly what we would call 'above the line' roles. Those are the types of roles on a film set that would be involved in creative decisions."
A portfolio is an essential part of any Full Sail film student's degree. "[It's] the only thing an employer's going to look at," he says. But Andrew is quick to add that new graduates should strive to fill their portfolio will real-world experience as soon as possible.
"Even though we love the things we make, and sometimes we make really great things, the best advice we give them before they leave is to replace all of that as soon as possible…. As good as film school [projects are], there's still going to be a stigma if your entire portfolio is only stuff you did while you were in school."
While Andrew finds himself juggling multiple projects, classes, and professions daily, he never seems to tire of doing what he loves. "I'm very fortunate that my job is my hobby."