Published Dec 15, 2017
2017 Game Awards: Multiple Grads on Winning Projects
More than 60 grads – from game, audio, art, and creative writing degree programs – worked on nominated games.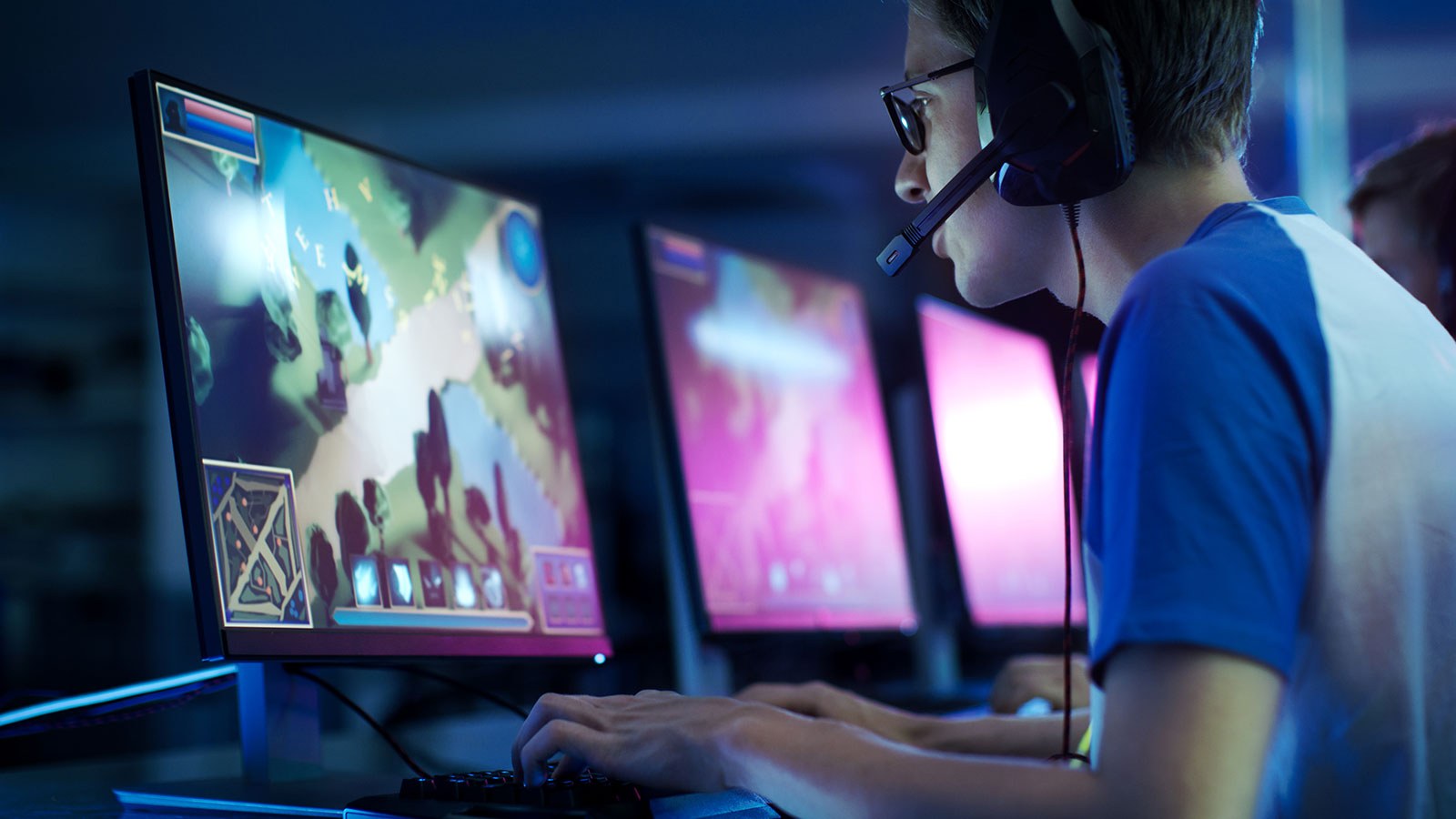 With over 60 graduates credited on nominated projects across 14 categories, including Game of the Year, Best Ongoing Game, and Best Esports Game, Full Sail University is proud to celebrate the work of alumni recognized at the Game Awards 2017. In total, 16 graduates were among the winners credited on six releases across seven categories.
Congratulations to all of the graduates who worked on these projects! If you missed the live show, watch it here on YouTube. You can find the list of nominees, winners, and associated grads below.
Game of the Year
Horizon Zero Dawn
Brian Miller: Environment Artist, Computer Animation 2004
The Legend of Zelda: Breath of the Wild – Winner
Persona 5
PlayerUnknown's Battlegrounds
Brandon Schwarz: Environment Artist, Game Art 2014
Super Mario Odyssey
Best Game Direction
The Legend of Zelda: Breath of the Wild – Winner
Horizon Zero Dawn
Brian Miller: Environment Artist, Computer Animation 2004
Resident Evil 7: Biohazard
Super Mario Odyssey
Wolfenstein II
Francisco Cruz III: Lighting Artist, Computer Animation 2005
Best Narrative
Hellblade: Senua's Sacrifice
Horizon Zero Dawn
Brian Miller: Environment Artist, Computer Animation 2004
Nier: Automata
What Remains of Edith Finch – Winner
Heather Plunkard: Dialog Coordinator, Recording Arts 2012
Wolfenstein II
Francisco Cruz III: Lighting Artist, Computer Animation 2005
Best Art Direction
Cuphead - Winner
Destiny 2
Derek Goeckeritz: Environment Artist, Digital Arts 2008
Kevin Yanes: Multiplayer Designer, Game Development 2010
Tom Doyle: Lead Artist, Digital Media 1998
Josh Hamrick: Gameplay Design Lead, Game Development 2006
James Yavorsky: Character Artist, Computer Animation 2009
Mark Loperfido: Sound Designer, Recording Arts 2006
Rachel Swavely: Senior Technical Artist, Computer Animation 2009
Nicholas Johansson: Live Tester, Computer Animation 2010 & Game Design master's 2011
Cody Reinhart: Technical Requirement Specialist, Game Design 2017
Horizon Zero Dawn
Brian Miller: Environment Artist, Computer Animation 2004
The Legend of Zelda: Breath of the Wild
Persona 5
Best Music/Sound Design
Cuphead
Destiny 2
Derek Goeckeritz: Environment Artist, Digital Arts 2008
Kevin Yanes: Multiplayer Designer, Game Development 2010
Tom Doyle: Lead Artist, Digital Media 1998
Josh Hamrick: Gameplay Design Lead, Game Development 2006
James Yavorsky: Character Artist, Computer Animation 2009
Mark Loperfido: Sound Designer, Recording Arts 2006
Rachel Swavely: Senior Technical Artist, Computer Animation 2009
Nicholas Johansson: Live Tester, Computer Animation 2010 & Game Design master's 2011
Cody Reinhart: Technical Requirement Specialist, Game Design 2017
The Legend of Zelda: Breath of the Wild
Nier: Automata - Winner
Persona 5
Super Mario Odyssey
Best Performance
Ashly Burch as Aloy: Horizon Zero Dawn
Brian Bloom as BJ Blazkowicz: Wolfenstein II
Claudia Black as Chloe Frazer: Uncharted: The Lost Legacy
Laura Bailey as Nadine Ross: Uncharted: The Lost Legacy
Melissa Juergens as Senua: Hellblade - Winner
Games for Impact
Bury Me, My Love
Hellblade: Senua's Sacrifice - Winner
Life is Strange: Before the Storm
Night in the Woods
Please Knock on My Door
What Remains of Edith Finch
Heather Plunkard: Dialog Coordinator, Recording Arts 2012
Best Independent Game
Cuphead - Winner
Hellblade: Senua's Sacrifice
Night in the Woods
Pyre
What Remains of Edith Finch
Heather Plunkard: Dialog Coordinator, Recording Arts 2012
Best Mobile Game
Fire Emblem Heroes
Hidden Folks
Monument Valley 2 - Winner
Old Man's Journey
Super Mario Run
Best Handheld Game
Ever Oasis
Fire Emblem Echoes: Shadow of Valentia
Metroid: Samus Returns - Winner
Monster Hunter Stories
Poochy and Yoshi's Wooly World
Best VR/AR Game
Farpoint
Heather Plunkard: Dialog Editor, Recording Arts 2012
Aaron Traciak: Cinematic Animator, Computer Animation 2015
Lone Echo/Echo Arena
Kyle Lauing: Gameplay Programmer, Game Development 2006
Aaron Hamman: Senior Modeler, Computer Animation 2009
Resident Evil 7: Biohazard - Winner
Star Trek: Bridge Crew
Hayden Noble: QA Test, Game Art 2016
Johnstone Baumgartner: Lead Programmer, Game Development 2006
Superhot VR
Best Action Game
Cuphead
Destiny 2
Derek Goeckeritz: Environment Artist, Digital Arts 2008
Kevin Yanes: Multiplayer Designer, Game Development 2010
Tom Doyle: Lead Artist, Digital Media 1998
Josh Hamrick: Gameplay Design Lead, Game Development 2006
James Yavorsky: Character Artist, Computer Animation 2009
Mark Loperfido: Sound Designer, Recording Arts 2006
Rachel Swavely: Senior Technical Artist, Computer Animation 2009
Nicholas Johansson: Live Tester, Computer Animation 2010 & Game Design master's 2011
Cody Reinhart: Technical Requirement Specialist, Game Design 2017
Nioh
Prey
Wolfenstein II - Winner
Francisco Cruz III: Lighting Artist, Computer Animation 2005
Best Action/Adventure Game
Assassin's Creed: Origins
Horizon Zero Dawn
Brian Miller: Environment Artist, Computer Animation 2004
The Legend of Zelda: Breath of the Wild - Winner
Super Mario Odyssey
Uncharted: Lost Legacy
Jared Sobotta: Environment Texture & Shader Artist, Game Art 2012
Andrew Ford: Character Animator, Computer Animation 2015
Zachary Gillespie: Cinematic Animator, Computer Animation 2015
Emily Scrivner: Dialogue Scripter, Game Development 2007
Jeremy Vickery: Lighting Artist, Digital Media 1997
Aaron Traciak: Cinematic Animator, Computer Animation 2015
Heather Cerian: Texture Artist, Computer Animation 2006
Kyle Gaulin: Lead Previs/Layout Artist, Computer Animation 2005
Benjamin Perry: Game Test Analyst, Game Design 2015
Best Role Playing Game
Divinity: Original Sin 2
Final Fantasy XV
Nier: Automata
Persona 5 - Winner
South Park: The Fracture But Whole
John Mast: Producer, Computer Animation 2002
Best Fighting Game
Arms
Injustice 2 - Winner
Justin Francis: Animator, Computer Animation 2013
Evan Salads: Associate Designer, Creative Writing master's 2011
Eric Wachauf: Associate Environment Artist, Game Art 2013
Marvel VS. Capcom: Infinite
Nidhogg 2
Tekken 7
Best Strategy Game
Halo Wars 2
Dillon Deveney: Test Associate I, Creative Writing 2014 & Game Design master's 2015
Mario + Rabbids Kingdom Battle - Winner
Tooth and Tail
Total War: Warhammer II
XCOM 2: War of the Chosen
Thomas Powers: Community Coordinator, Entertainment Business 2013
Samuel Batista: UI Programmer, Game Development 2009
Jeffrey Joyce: Lead Tools and Build Engineer, Game Development 2006
Best Family Game
Mario Kart 8 Deluxe
Mario + Rabbids Kingdom Battle
Sonic Mania
Splatoon 2
Super Mario Odyssey - Winner
Best Sports/Racing Game
FIFA 18
Daci (Tsung-Tse) Huang: Project Lead, Recording Engineering 2013
Forza Motorsport 7 - Winner
Nick Marcantel: Technical Analyst, Creative Writing 2014 & Game Design master's 2015
GT Sport
NBA 2K18
Project Cars 2
Pro Evolution Soccer 2018
Best Multiplayer Game
Call of Duty: World War II
Cody Rinehart: Technical Requirements Specialist, Game Design 2017
Destiny 2
Derek Goeckeritz: Environment Artist, Digital Arts 2008
Kevin Yanes: Multiplayer Designer, Game Development 2010
Tom Doyle: Lead Artist, Digital Media 1998
Josh Hamrick: Gameplay Design Lead, Game Development 2006
James Yavorsky: Character Artist, Computer Animation 2009
Mark Loperfido: Sound Designer, Recording Arts 2006
Rachel Swavely: Senior Technical Artist, Computer Animation 2009
Nicholas Johansson: Live Tester, Computer Animation 2010 & Game Design master's 2011
Cody Reinhart: Technical Requirement Specialist, Game Design 2017
Fortnite
Chris Morgan: Trailer Character Animator, Computer Animation 2007
Patrick Dickson: QA Tester, Game Design 2015
Saul Abreu: Freelance Software Engineer, Game Development 2010
Chelsea Kissinger: QA Tester, Computer Animation 2013
Aaron Carlisle: Prop Rigger, Computer Animation 2015
Albert Jen: QA Engineer, Game Development 2011
Joshua Dieckmann: Dev QA Lead, Recording Arts 2000
Ari Patrick: Associate Producer, Game Development 2009 & Game Design master's 2010
Grant Shonkwiler: Producer, Game Development 2008
Mario Kart 8 Deluxe
PlayerUnknown's Battlegrounds - Winner
Brandon Schwarz: Environment Artist, Game Art 2014
Splatoon 2
Most Anticipated Game
God of War
Aaron Snyder: Character Technical Artist, Computer Animation 2012
The Last Part of Us II - Winner
Kyle Gaulin: Previs/Layout Artist, Computer Animation 2005
Marvel's Spider-Man
Kyle Gaulin: Senior Cinematic Animator, Computer Animation 2005
Monster Hunter: World
Red Dead Redemption II
Donald (DJ) Jones: Designer, Game Development 2005
Justin Hoffman: Associate Network Programmer, Game Development 2014
Jonathan Logsdon: Technical Animator, Computer Animation 2008
John Diaz: Technical Designer, Game Development 2006
Best Esports Game
Counter Strike: Global Offensive
Dota 2
League of Legends
Overwatch - Winner
Dylan Jones: Lead Character Technical Artist, Computer Animation 2006
Derek Mulder: Senior Software Engineer, Game Development 2004
Nigel Nikitovich: Compatibility Analyst II, Computer Animation 2009
Kyle Webb: Associate Sound Designer, Recording Arts 2005 & Entertainment Business 2007
Thomas Powers: Associate Community Manager, Entertainment Business 2013
Dan Wallace: Environment Modeling Artist, Computer Animation 2007
Andrew Klimas: 3D Artist, Game Art 2011
David Clyde: Content Pipeline Engineer, Game Development 2003
Rocket League
Jared Adkins: FX Artist, Digital Media 2012
Morgan Snight: UI/UX Lead, Game Art 2006