Published Aug 16, 2018
Alexandria Perryman: Recording Arts Grad Serves as an Audio Engineer at NASA's Johnson Space Center
In addition to monitoring space walks and working to train astronauts on recording in space, Alex also produces the official NASA podcast.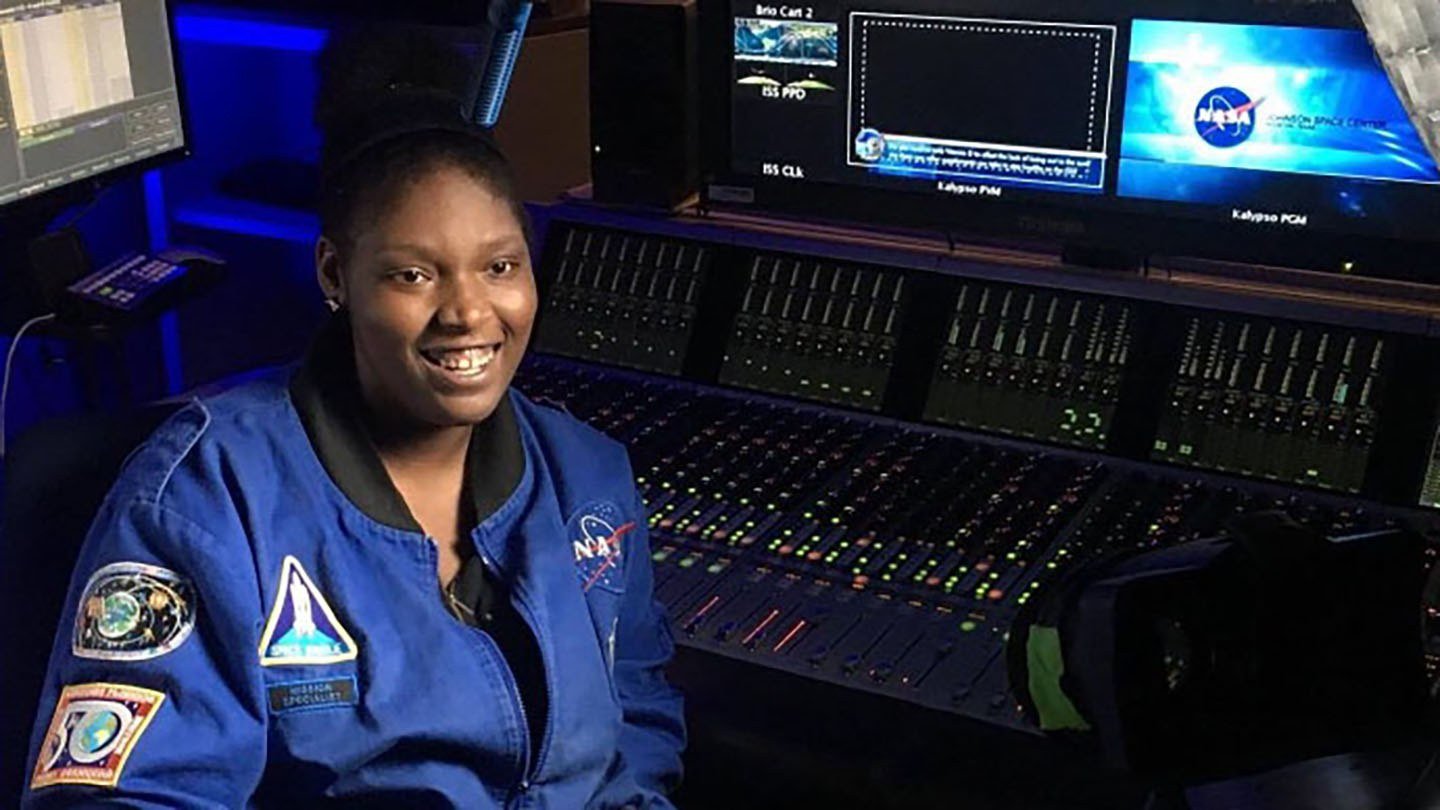 Like many audio engineers working in today's industry, Alexandria Perryman interacts with some of her coworkers remotely. And while the 240 miles between her office and theirs might not seem that far – it's roughly the distance between New York City and Washington, DC – it's quite literally out of this world. That's because Alex is an audio engineer at NASA's Johnson Space Center, where one of her jobs is to run audio for astronauts on the International Space Station.
"I don't have many typical days at work," says Alex, a 2015 graduate of Full Sail's Recording Arts program. "Every mission is different. One day I might be working a space walk, making sure the astronauts have a clear connection to mission control. The next day I might be mixing audio for a video that's going up on our YouTube channel."
Lately, she's been working with NASA's educational partners to provide Skype links between astronauts and students. The effort is part of NASA's "Year of Education on Station" – a program where ISS crew member and teacher Ricky Arnold Skypes in via satellite and performs real-time experiments for kids in classrooms around the country.
"It's really difficult to send a Skype signal to space," says Alex. "We work with Mission Planning and Operations to determine when signal is most likely to be lost – basically in between satellites. Then we'll schedule sessions within optimal windows. In the year I've worked there, we've never lost a signal."
Archiving audio is another part of Alex's job. The communication loops between astronauts and mission control form an important historical record, and are preserved in the U.S. National Archives. And since the crew of the ISS cycles out every six months or so, NASA will often pull those loops during training or when new crew members need to reference solutions to a repeat problem. Alex and the other engineers monitor the day-to-day operations recordings on the ISS in real time, and are often the astronauts' first line of communication between the station and home.
"I get to know the astronauts really well before they go up, because I'm the one that's mic-ing them up for interviews on the ground. We also train them on how to use the audio equipment on the space station – they have to hook the mic into the camera and make sure the wireless receiver is turned on. The first time I ran a training, I was like 'Who am I to train an astronaut on anything?' But they're just people," she says.
In addition to all of her official duties, Alex also serves as the producer of NASA's official podcast Houston We Have a Podcast. She says it's been a learning experience in more ways than one.
"One day you're talking to an astronaut right before a launch. The next day, you might interview a scientist who designed an experiment that's going live on the ISS that day. We've talked to engineers who worked on the Mars rover and lunar sample curators. I've learned so much just by sitting in on the recording sessions."
"The podcast had been so much fun because you meet so many different people within NASA itself," she adds. "You get the sense that everyone's job is different yet equally important, because we're all working toward the same goal of furthering space exploration."