Published Jan 21, 2014
Alumni on Nominees for the 56th Annual Grammy Awards
Awards season is in full swing, and this weekend will bring music fans the 56th Annual Grammy Awards.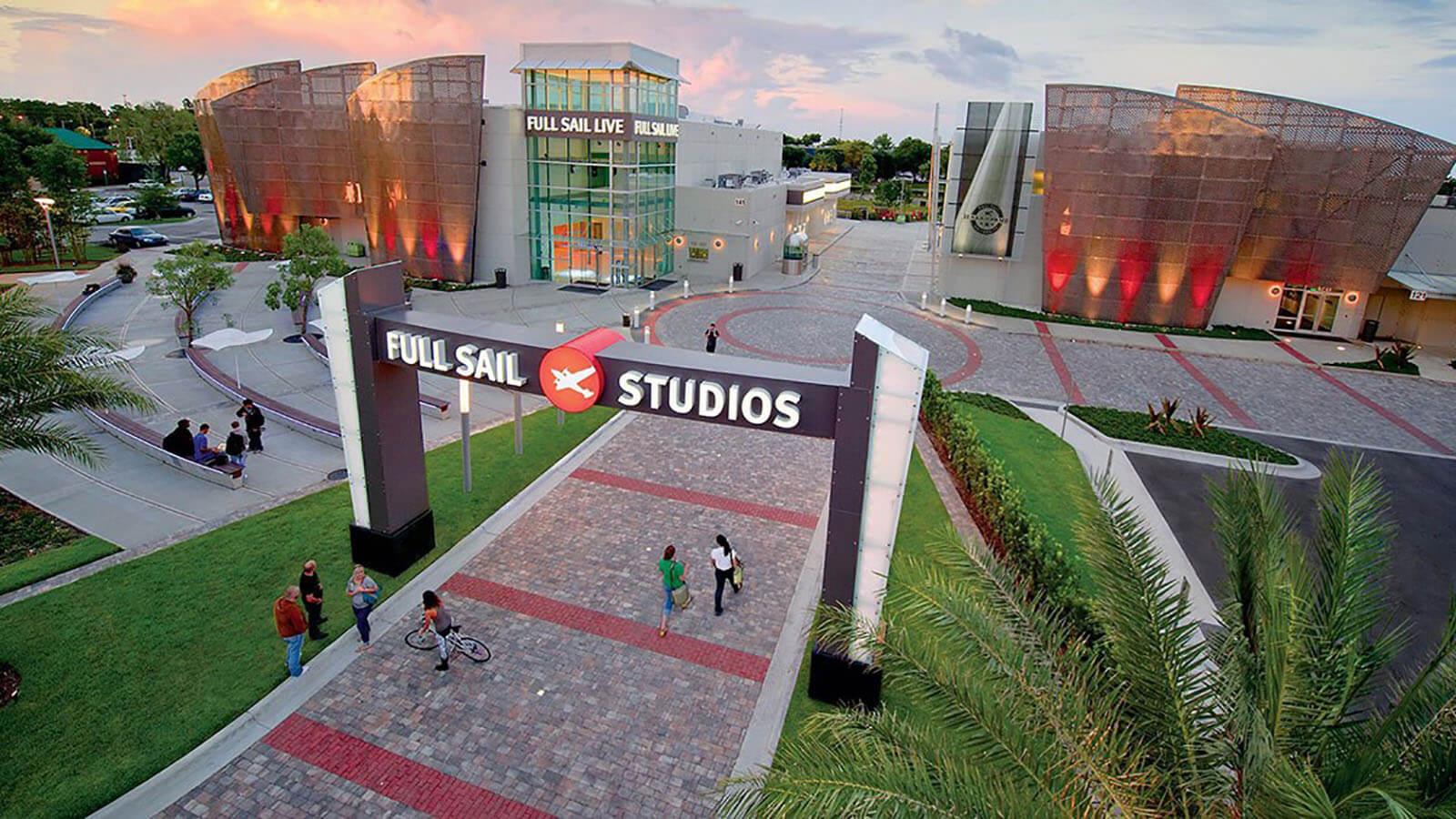 The nominees for the latest ceremony recognize the work of artists like Jay-Z, Pink, Taylor Swift, Tony Bennett, and Blake Shelton, among a host of others, and a large number of these projects featured creative involvement from Full Sail graduates.

This year 64 alumni were credited on 53 releases nominated in 42 Grammy categories. This includes projects up for the top award, Record of the Year, with Doug Tyo and Seth Waldmann on Daft Punk's summer hit "Get Lucky," and Andrew Coleman contributing to Robin Thicke's breakthrough "Blurred Lines." Grads also contributed to other major awards like Album of the Year and Song of the Year, and we'll be following the full results live on campus with a viewing party this Sunday.
Two categories in particular will be watched closely, as a pair of Recording Arts graduates will be in contention for their own statues. Brad Todd was vocal engineer on Faith Evans' R&B Divas, up for Best R&B Album. 1995 alum Andrew Coleman acted as engineer on Robin Thicke's Record of the Year nominee Blurred Lines, which is also up for Best Pop Vocal Album. The hit single of the same name will compete for Record of the Year and Best Pop Duo/Group Performance.
The diversity of our grads' work in the music industry is also apparent in the nominees list. Classic rock was represented with Mike Exeter and Jason Gossman, who worked on Black Sabbath's comeback 13, up for Best Rock Album. Best Rock Performance sees a nod for a new version of Led Zeppelin's epic "Kashmir," taken from their live reunion album Celebration Day. The title track from the record is also in contention for Best Rock song, and both nominees were mastered by John Davis (Recording Arts, 1994).
Many of our graduates are also heavily involved in the Latin music scene, which saw Sean Phelan, Sam Allison, and Dave Clauss work on three of the five nominees for Best Latin Pop Album. Dave Clauss' credit is on the Draco Rosa album Vida, for which he recently won a Latin Grammy statue for when it was awarded Album of the Year at the 14th Annual Latin Grammys. Adding to this diversity, alumni credits also ran through the Gospel and Contemporary Christian nominees, as well as all four Rap and Country categories.
Four alumni connected to the Full Sail Hall of Fame are also featured in the lineup of 56th Grammy noms. 2009 inductee Phil Tan continued his ongoing collaboration with Rihanna, contributing as mixer to her 2012 album Unapologetic (Best Urban Contemporary Album) and its single "Stay" (Best Pop Duo/Group Performance). Another 2009 inductee, Sebastian Krys, was composer, engineer, and producer on La Santa Cecilia's Treinta Dias (Best Latin, Rock, Urban, or Alternative Album), while 2010 inductee Leslie Brathwaite worked with Snoop Lion as composer, mixer, and engineer on Reincarnated (Best Reggae Album).
Additionally, upcoming Hall of Fame inductee Demacio "Demo" Castellon is also credited for his work as engineer/mixer on Jay-Z's surprise 2013 album release Magna Carta…Holy Grail.
Alumni involvement in so many Grammy nominated projects is an inspiring reminder of the range of great music released throughout the previous year, and an even better opportunity to get exposed to projects you may have missed. Students and staff are invited to watch the results of the 56th Annual Grammy Awards during our campus celebration this Sunday, January 26 in the Full Sail Live Venue. A red carpet walk will lead the event at 7 p.m., with the broadcast starting at 8 p.m.
The list of Full Sail alumni credited on this year's Grammy nominees are as follows.
Record of the Year
"Get Lucky" – Daft Punk & Pharrell Williams Dough Tyo (Recording Arts, 1999), Assistant Engineer Seth Waldmann (Recording Arts 1998), Assistant Engineer, Mixing Assistant
"Blurred Lines" – Robin Thicke featuring T.I & Pharrell Williams Andrew Coleman (Recording Arts, 1995), Engineer
Album of the Year
Random Access Memories – Daft Punk Seth Waldmann (Recording Arts, 1998), Assistant Engineer, Mixing Assistant Doug Tyo (Recording Arts, 1999), Assistant Engineer
RED – Taylor Swift Andrew "Drew" Bollman (Recording Arts, 1998), Assistant Matthew "Matty" Green (Recording Arts, 1991), Assistant Seth Morton (Recording Arts, 2005), Assistant Tim Roberts (Recording Arts, 1991), Assistant
Song of the Year
"Just Give Me A Reason" – Pink Featuring Nate Ruess Justin Hergett (Recording Arts, 2008), Mixing Assistant
Best Pop Duo/Group Performance
"Get Lucky" – Daft Punk & Pharrell Williams Seth Waldmann (Recording Arts, 1998), Assistant Engineer, Mixing Assistant Doug Tyo (Recording Arts, 1999), Assistant Engineer
"Just Give Me A Reason" – Pink featuring Nate Ruess Justin Hergett (Recording Arts, 2 Mixing Assistant 08RA
"Stay" – Rihanna featuring Mikky Ekko Phil Tan (Recording Arts, 1990), Mixing
"Blurred Lines" – Robin Thicke featuring T.I & Pharrell Williams Andrew Coleman (Recording Arts, 1995), Engineer
Best Pop Instrumental Album
The Beat – Boney James David Schwerkolt (Recording Arts, 2006), Assistant Engineer
Best Pop Vocal Album
Paradise – Lana Del Rey John Davis (Recording Arts, 1994), Mastering
Blurred Lines – Robin Thicke Andrew Coleman (Recording Arts, 1995), Engineer
Best Dance/Electronica Album
Random Access Memories – Daft Punk Seth Waldmann (Recording Arts, 1998), Assistant Engineer, Mixing Assistant Doug Tyo (Recording Arts, 1999), Assistant Engineer
18 Months – Calvin Harris Phil Tan (Recording Arts, 1990), Mixing
A Color Map Of The Sun – Calvin Harris Francisco Botero (Recording Arts, 2000), Assistant Engineer 00RA Wesley Fontenot (Recording Arts, 1999), Engineer
Best Traditional Pop Vocal Album
Viva Duets – Tony Bennett & Various Artists Alfred Figueroa (Recording Arts, 1996), Vocal Engineer José Maldonado (Recording Arts, 1995), Production Coordination
The Standards – Gloria Estefan Sam Bohl (Recording Arts, 2012), Assistant Engineer Alfred Figueroa (Recording Arts, 1996), Engineer Danny Ponce (Recording Arts, 2001), Engineer José Maldonado (Recording Arts, 1995), Production Manager
Cee Lo's Magic Moment – Cee Lo Green Deyder Cintron (Recording Arts, 2007), Assistant Engineer
Best Rock Performance
"Kashmir" – Led Zeppelin John Davis (Recording Arts, 1994), Mastering
Best Metal Performance
"God is Dead" – Black Sabbath Michael "Mike" Exeter (Recording Arts, 1992), Engineer Jason Gossman (Recording Arts, 2001), Editing
Best Rock Song
"God is Dead" – Black Sabbath Michael "Mike" Exeter (Recording Arts, 1992), Engineer Jason Gossman (Recording Arts, 2001), Editing
Best Rock Album
13 – Black Sabbath Michael "Mike" Exeter (Recording Arts, 1992), Engineer Jason Gossman (Recording Arts, 2001), Editing
Best Alternative Music Album
Hesitation Marks – Nine Inch Nails Dustin Mosley (Recording Arts, 2002), Engineer, Programming, Project Coordinator, Studio Manager
Best Traditional R&B Performance
"Please Come Home" – Gary Clark Jr. Brent Arrowood (Recording Arts, 2004), Assistant Engineer
"Side Effects Of You" – Fantasia Trehy Harris (Recording Arts, 2008), Assistant
Best Urban Contemporary Album
Love And War – Tamar Braxton Jeff Edwards (Recording Arts, 2002), Engineer
Side Effects Of You – Fantasia Trehy Harris (Recording Arts, 2008), Assistant
Unapologetic – Rihanna Phil Tan (Recording Arts, 1990), Mixing
Best R&B Album
R&B Divas – Faith Evans Kori Anders (Recording Arts, 2003), Mixing Brad Todd (Recording Arts, 1999), Vocal Engineer Tremaine "Six7" Williams (Recording Arts, 2004), Drum Programming
Girl On Fire – Alicia Keys Justin Hergett (Recording Arts, 2008), Mixing Assistant Chad Jolley (Recording Arts, 2005), Vocal Engineer Mikinari "Miki" Tsutsumi (Recording Arts, 2003), Assistant Engineer
Love In The Future – John Legend James "Jim" Caruana (Recording Arts, 1996), Engineer Kelly McConkey (Recording Arts, 2012), Assistant Engineer Jason Mott (Recording Arts, 2001), Engineer John Rivers (Recording Arts, 2004), Engineer
Better – Chrisette Michele Douglas "Doug" Ellison (Entertainment Business, 2014), Executive Producer Trehy Harris (Recording Arts, 2008), Assistant Mcferron "Mack" Woodward (Recording Arts, 2004), Engineer
Three Kings – TGT Devin Resnover (Music Business, Recording Arts, 2009), Composer
Best Rap Performance
"Tom Ford" – Jay-Z Demacio "Demo" Castellon (Recording Arts, 2001), Engineer, Mixing
Best Rap/Sung Collaboration
"Part II (On The Run)" – Jay-Z featuring Beyoncé Demacio "Demo" Castellon (Recording Arts, 2001), Engineer, Mixing
"Holy Grail" – Jay-Z featuring Justin Timberlake Demacio "Demo" Castellon (Recording Arts, 2001), Engineer, Mixing
"Remember You" – Khalifa featuring The Weekend Phil Tan (Recording Arts, 1990), Mixing
Best Rap Song
"Holy Grail" – Jay-Z featuring Justin Timberlake Demacio "Demo" Castellon (Recording Arts, 2001), Engineer, Mixing
Best Rap Album
Magna Carta…Holy Grail – Jay Z Demacio "Demo" Castellon (Recording Arts, 2001), Engineer, Mixing Jordan "DJ Swivel" Young (Recording Arts, 2005), Editing, Engineer
Best Country Solo Performance
"I Drive Your Truck" – Lee Brice Andrew "Drew" Bollman (Recording Arts, 1998), Assistant, Engineer Seth Morton (Recording Arts, 2005), Assistant Adam Taylor (Recording Arts, 2002), Assistant
"Wagon Wheel" – Darius Rucker Andrew "Drew" Bollman (Recording Arts, 1998), Assistant, Engineer
"Mine Would Be You" – Blake Shelton Andrew "Drew" Bollman (Recording Arts, 1998), Assistant, Engineer
Best Country Duo/Group Performance
"Highway Don't Care" – Tim McGraw, Taylor Swift & Keith Urban David Bryant (Recording Arts, 1993), Assistant
"You Can't Make Old Friends" – Kenny Rogers with Dolly Parton Shawn Daugherty (Recording Arts, 2004), Assistant Michael "Mike" Lancaster (Entertainment Business, Recording Arts, 2011), Assistant Seth Morton (Recording Arts, 2005), Assistant
Best Country Song
"Begin Again" – Taylor Swift Andrew "Drew" Bollman (Recording Arts,1998), Assistant Seth Morton (Recording Arts, 2005), Assistant
"I Drive Your Truck" – Lee Brice Andrew "Drew" Bollman (Recording Arts, 1998), Assistant, Engineer Seth Morton (Recording Arts, 2005), Assistant Adam Taylor (Recording Arts, 2002), Assistant
"Highway Don't Care" – Tim McGraw, Taylor Swift & Keith Urban David Bryant (Recording Arts, 1993), Assistant
"Mine Would Be You" – Blake Shelton Andrew "Drew" Bollman (Recording Arts, 1998), Assistant, Engineer
Best Country Album
Based On A True Story – Blake Shelton Andrew "Drew" Bollman (Recording Arts, 1998), Assistant, Engineer
RED – Taylor Swift Andrew "Drew" Bollman (Recording Arts, 1998), Assistant Matthew "Matty" Green (Recording Arts, 1991), Assistant Seth Morton (Recording Arts, 2005), Assistant Tim Roberts (Recording Arts, 1991), Assistant
Best New Age Album
Love's River – Laura Sullivan Michael Starita (Recording Arts, 1997), Engineer
Best Large Jazz Ensemble Album
Brooklyn Babylon – Darcy James Argue's Secret Society Brian Montgomery (Recording Arts, 1996), Engineer, Mixing, Producer
Best Gospel Song
"Have Your Way" – Calvin Frazier & Deitrick Haddon Todd Fairall (Recording Arts, 1992), Engineer, Mixing
Best Contemporary Christian Music Song
"Whom Shall I Fear (God Of Angel Armies)" – Ed Cash, Scott Cash & Chris Tomlin Sean Moffitt (Recording Arts, 2004), Mixing
Best Gospel Album
Grace – Tasha Cobbs Jarrett Dyson (Recording Arts, 2007), A&R
Greater Than – Tye Tribbett Brandon Jones (Recording Arts, 2007), Arranger, Keyboards, Piano, Producer
Best Contemporary Christian Music Album
We Won't Be Shaken – Building 429 Sean Moffitt (Recording Arts, 2004), Mixing
All The People Said Amen – Matt Maher Sean Moffitt (Recording Arts, 2004), Mixing
Overcomer – Mandisa Sean Moffitt (Recording Arts, 2004), Mixing
Burning Lights – Chris Tomlin Sean Moffitt (Recording Arts, 2004), Mixing
Best Latin Pop Album
Faith, Hope Y Amor – Frankie J Sean Phelan (Recording Arts, 2006), Mixing
Viajero Frecuente – Ricardo Montaner Sam Allison (Recording Arts, 2005), Assistant
Vida – Draco Rosa Dave Clauss (Recording Arts, 2006), Engineer
Best Latin, Rock, Urban, or Alternative Album
Treinta Dias – La Santa Cecilia Sebastian Krys (Recording Arts, 1991), Composer, Engineer, Producer
Repeat After Me – Los Amigos Invisibles Eduardo Larez (Recording Arts, 1996), Engineer Rafael Rondon (Recording Arts, 1991), Engineer Michael Starita (Recording Arts, 1997), Engineer
Best Blues Album
Get Up! – Ben Harper with Charlie Musselwhite Bill Mims (Recording Arts, 2001), Engineer
Best Reggae Album
Reincarnated – Snoop Lion Leslie Brathwaite (Recording Arts, 1992), Composer, Mixing, Producer James Wisner (Recording Arts, 2003), Engineer, Mixing
Best Musical Theater Album
Kinky Boots Deril Lee, (Recording Arts, 2005), Engineer
Best Compilation Soundtrack for Visual Media
Django Unchained – Various Artists Trehy Harris (Recording Arts, 2008), Mixing Assistant
The Great Gatsby – Various Artists Dustin Capulong (Recording Arts, 2008), Assistant Engineer Dylan Dresdow (Recording Arts, 1997), Mixing Joseph Griffith (Recording Arts, 2010), Assistant Padraic Kerin (Recording Arts, 2001), Engineer
Best Score Soundtrack for Visual Media
The Great Gatsby – Various Artists Dustin Capulong (Recording Arts, 2008), Assistant Engineer Dylan Dresdow (Recording Arts, 1997), Mixing Joseph Griffith (Recording Arts, 2010), Assistant Padraic Kerin (Recording Arts, 2001), Engineer
Best Instrumental Composition
"Bound Away" – Chuck Owen & The Jazz Surge Jason Blackerby (Recording Arts, 2002), Assistant Engineer
Best Instrumental Arrangement
"Side Hikes" – Chuck Owen & The Jazz Surge Jason Blackerby (Recording Arts, 2002), Assistant Engineer
Best Instrumental Arrangement Accompanying Vocalist(s)
"What A Wonderful World" – Gloria Estefan Sam Bohl (Recording Arts, 2011), Assistant Engineer Alfred Figueroa (Recording Arts, 1996), Engineer Danny Ponce (Recording Arts, 2001), Engineer José Maldonado (Recording Arts, 1995), Production Manager
Best Historical Album
Charlie is My Darling – The Rolling Stones Rafael Ventura (Recording Arts, 2011), Assistant Engineer, Audio Restoration
Best Engineered Album, Non-Classical
The Moorings – Andrew Duhon Ben Lorio (Recording Arts, 2002), Engineer
Random Access Memories – Daft Punk Doug Tyo (Recording Arts, 1999), Assistant Engineer Seth Waldmann (Recording Arts, 1998), Assistant Engineer, Mixing Assistant